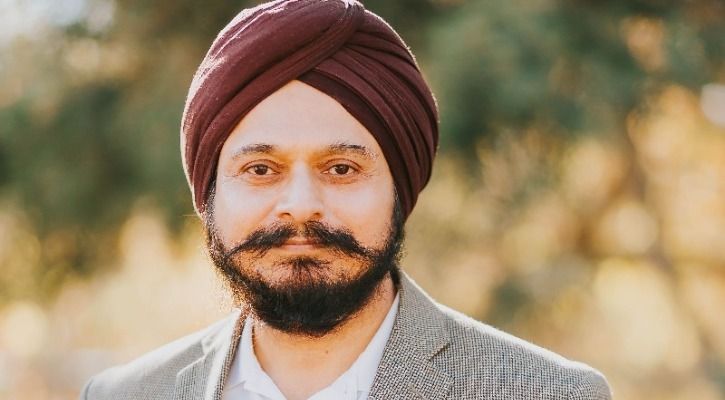 Gurtej Sandhu spoke to Vaishali Umredkar of Electronics Maker about the latest developments and innovations in memory technology, at Micron Technology.
About Micron Technology's Memory Mastermind
Gurtej Sandhu is Senior Fellow and Vice President at Micron Technology. In his current role, he is responsible for Micron's end-to-end (Si-to-Package) R&D technology roadmaps. This scope includes driving cross-functional alignment across various departments and business units to proactively identify technology gaps and managing the engineering organization to resource and execute on developing innovative technology solutions for future memory scaling. Dr. Sandhu's responsibilities include leading several internal project teams worldwide and managing interactions with research consortia around the world. At Micron, Dr. Sandhu has held several engineering and management roles and is actively involved with a broad range of process technologies and has pioneered several process technologies currently employed in mainstream semiconductor chip manufacturing.
Dr. Sandhu received a degree in electrical engineering at the Indian Institute of Technology, New Delhi, and a PhD in physics at the University of North Carolina, Chapel Hill, in 1990. He holds over 1,300 U.S. patents and is recognized as one of the top inventors in the world.
Q: Can you please share your experience with Micron and your role in the organization?
At Micron, I am trying to predict the role technology can play in the next 3 to 5 years. Technology solutions are rapidly helping society adapt and manage the temporary and permanent changes stemming from this pandemic. We are trying to anticipate and solve those problems so that we can incorporate those technology solutions into next generation products.
Part of this activity also happens in India. I am in fact a part of this technology development initiative to accelerate innovations. We hire people working on cutting-edge technologies and want to use them to solve these identified set of challenges. In fact, our expansion in Hyderabad is one of the fastest. The new building is coming up next year in Hyderabad. We see a lot of value proposition for our company here in India. India provides Micron with the opportunity for value-added growth and access to a large pool of engineering talent. The quick ramp-up of our design and engineering teams is indeed a testimony to the talent India has developed in this space.
Q: Which are the key technology focus areas?
The two main memory products in the market are DRAM memory chip and NAND flash memory, which combine to make up almost 60-70% of the ~memory market share. This market is worth more than 100 billion dollars. So, we certainly want to focus on scaling of these technologies.
The demand for upgraded technology is constant and ensures Micron keeps innovating to maintain its leadership. So, we need to shrink the technology, offer low cost and higher performance on our chips. We have been doing that for many decades. We have always focused on the next cycle of innovation and what we can do in terms of technology innovation to enable that scaling. Now there are a few more things coming at the system level and today; the way the memory is being used is fast changing. In times to come, there will be a lot of emphasis on how we make use of large amounts of bits stored in memory chips and manage that information in a way to give the most benefit and efficiency into the system.
In fact, I am extremely excited about artificial intelligence or machine learning as technologies. AI works on large amounts of data processing and these large amounts of data are required to train models, so they can be utilized effectively. The other part of what's interesting is the way the artificial intelligence circuitry works. So there's a potential opportunity for the memory technology to maybe enable new types of devices or circuits.
Q: How will AI bring the compute element closer to memory?
In any AI-based system, lot of information or data needs to be fed to the processor. Potentially, there's a direction to explore, which is called in-memory compute, where the idea is instead of trying to push lots of data into a processor, moving some of the processing elements into the memory component. So if the processing is done on the memory chip, the bandwidth of data movement can be much higher on a chip rather than chip to chip. So, chip to chip is the bottleneck. This is an idea of where compute or in-memory compute could enable some of the applications to be implemented much faster.
Q: There are many applications where memory can play a significant role. Could you tell us about these applications?
When I joined Micron, the only major application was PC. Today, the applications have exploded, and phones, tablets, enterprise applications, and medical devices form a large part of the market.
Also, automobiles, due to their on board infotainment systems, have emerged as another major market. And when autonomous cars hit the roads, the amounts of DRAM they come packed with will make them akin to moving data centers to enable instant processing of spatial information.
Q: Can you shed some light on any latest product innovations happening at micron?
Micron is currently the undisputed leader in both DRAM and NAND. Late last year, we announced the world's first 176-layer 3D NAND flash memory, achieving unprecedented, industry-pioneering density and performance. Together, Micron's new 176-layer technology and advanced architecture represent a radical breakthrough, enabling immense gains in application performance across a range of storage use cases spanning data center, intelligent edge and mobile devices. That is clearly ahead of anything our competition has announced in that space.
In the space of DRAM, we have been very aggressive in terms of introducing new high-performance technologies and so forth. As the only company with a portfolio of DRAM, NAND and 3DXPoint technologies, Micron is uniquely positioned to benefit from the secular data growth that is driving the cloud, enterprise and networking markets.
Also, we along with Tata Communications recently announced the launch of the world's first cloud-based embedded SIM, a ground-breaking solution built on Micron's Authenta security platform which will accelerate and simplify the deployment of IoT devices at a global scale.
Q: In this COVID-19 situation, how are you managing your business growth, customers support and services?
COVID-19 has been a challenge, but we have moved with agility to address the evolving needs of the market. While mobile end-markets were impacted in the interim, these were offset by demand from data centers and streaming services, owing to people working from home.
Q: Any comments on the predictions for 2021?
I see AI hitting main street, an acceleration of advanced driver-assistance systems, and 5G powering tele-everything — with these shifts fueling radical changes in memory and storage, and exponential demand for high-bandwidth, energy-efficient solutions from the cloud to the intelligent edge to consumer devices.