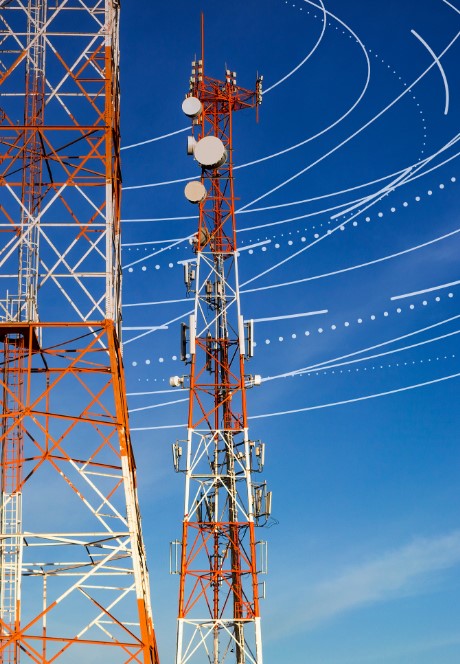 With digital DC/DC converters for RF power applications
By Phil Goff, Product Marketing Manager – Telecom, Flex Power Modules
It doesn't seem long since '5G' was more of an aspiration than a reality, but demand has driven the development and rollout of the technology to the extent that by 2025, 5G network coverage is likely to include one third of the global population [1]. As of early 2021, 61 countries already had commercial 5G networks in operation with the number set to increase further, according to the Global Mobile Suppliers Association, GSMA [2].
Global rollout requires cooperation and standardization, and organizations have been set up to achieve this for Radio Access Networks (RAN). The OpenRAN project group, part of the 'Telecom Infra Project'(TIP) based in Massachusetts US, is an initiative to define and build 2G/3G/4G/5G interoperable solutions based on general-purpose vendor-neutral hardware, open interfaces and software. 'Disaggregation' is a theme for the organization – the breakdown of the infrastructure into interoperable elements to enable alternative, competitive ways to build mobile networks. The O-RAN Alliance, based in Germany, was founded by major telecoms operators and now includes vendors and academic institutions. This organization's mission is to focus on technical aspects of 5G implementation, generating standards and supporting development of open software, RAN architectures, testing and integration.
5G specification enables faster downloads
The benefits from 5G include theoretical download speeds greater than 50Gbps with 50x lower latency than 4G, enabling the Internet of Things (IoT) for factory and home automation and 'V2x' – communication between vehicles and infrastructure for control of autonomous vehicles. By 2025, the resulting global data traffic is predicted to be around 160 Exabytes, with connected devices set to exceed one million per square kilometer, as reported at an IoT solutions world congress [3]. The speed increase is enabled by higher bandwidth from operating frequencies that are around 4 GHz now and increasing further in the future into the millimeter wave bands. This inevitably reduces range, and a solution is to improve coverage with significantly more 'femto', 'micro' and 'mini' cells, installed on utility poles and indoors in offices and public buildings, for example. The technique of 'beam forming' is also used with 5G – multiple input/multiple output (MIMO) arrays of small antennas are electronically 'steered', with signal processing algorithms determining the most efficient transmission path. This is scaled up to 'massive MIMO' to achieve high data throughput with effective user-tracking. With the higher performance and complexity of 5G, an installation typically consumes twice or more the power compared with 4G [4] and a large installation will have multiples antennas, legacy radio units for 2G/3G/4G and control and data processing electronics, so total consumption can easily be over 10 kW. Energy bills for telecom operators therefore are an increasingly critical issue.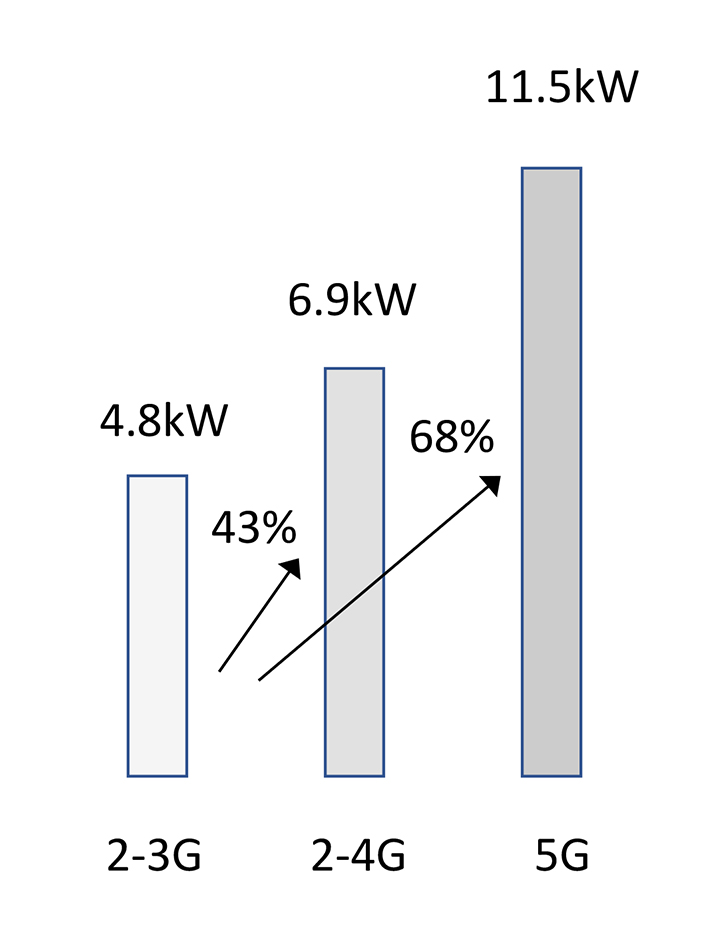 Figure 1: Cell installation power consumption increases with each generation
Large cell installations can consume more than 10 kW
RF output power from a single antenna varies from milliwatts to over 100 W for the largest 5G MIMO array, but an RF power amplifier (RFPA) is only 50-60% efficient at GHz frequencies, so each could consume more than 200 W. Power rails required are 26-32 V for LDMOS-based PAs operating up to around 4 GHz, but there is a trend toward gallium nitride (GaN) devices, which provide better efficiency at higher frequencies than LDMOS, although rated currently at lower powers. GaN requires 50-60 V for optimum performance. For either PA technology, the voltage is generated by a DC-DC converter, typically from a 48 V battery-backed, system supply input. The RFPA and its power supplies are located at the antenna, in a remote radio head (RRH) or Radio Unit (RU), in a sealed aluminium enclosure and are subject to extremes of temperature. As a result, and to save energy, the DC/DCs must be small and efficient for high power density and low internal temperature rise. They must also be able to utilize conduction cooling and operate reliably with full sun on the enclosure and start up with air temperatures well below freezing at night. Overall weight as well as size is also important for ease of installation, ideally requiring just one engineer.
Brick DC/DCs are ideal for the RFPA power
DC-DC converters in an industry standard 'brick' format are an ideal solution for these applications. Designed for conduction cooling through an integrated baseplate, they are now available with power densities exceeding 30 W/cm3or 1300 W continuous in a 'half brick' package just 57.9 x 61 x 12.7 mm. An example is the BMR685 [5] series from Flex Power Modules (Figure 2), rated at 26 A output. This part has an adjustable output between 25 V to 55 V which can cover the requirements of both LDMOS and GaN and can deliver 1300 W at 50 V and 780 W at 30 V output.Input range is 36-75 V (100 V/100 ms). Flex Power Modules has worked with radio manufacturers, OpenRAN and the O-RAN alliance to ensure that their DC-DC converters meet the 5G industry requirements.As a result, the BMR685features very high efficiency at 97.2% with 50% load, 50 V out, maintained to over 93% at 10% load and 48 V input, enabling low loss in standby and low duty cycle operation.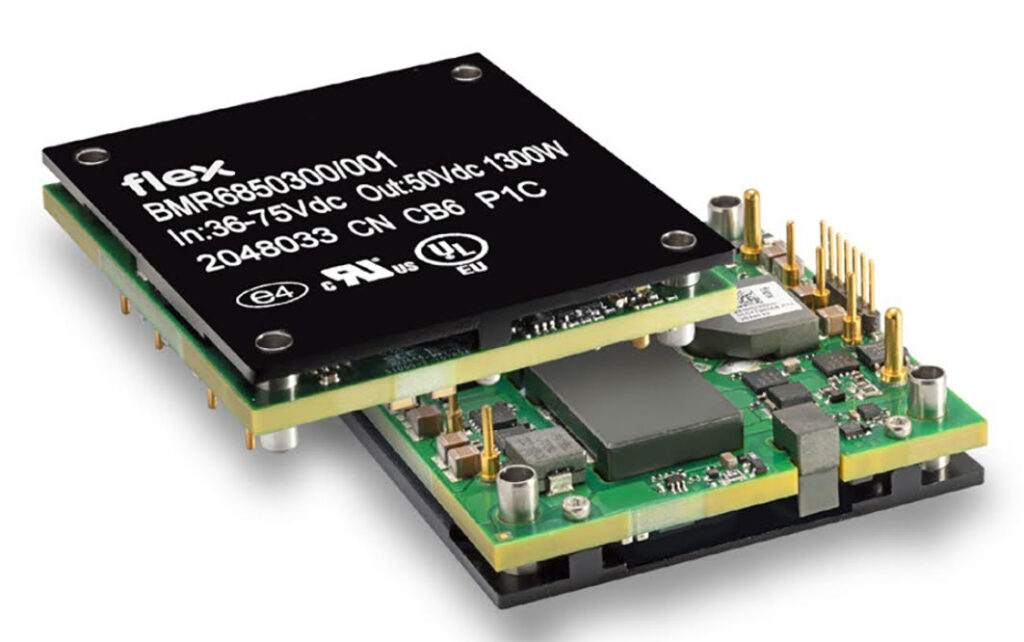 Figure 2: The BMR685 DC-DC from Flex with 1300 W output in a half brick format
The BMR685 also provides 2250 V agency-rated input-output isolation to IEC/EN/UL 62368-1, a low noise output with fast load transient response and a host of digital control and monitoring functions. Remote on/off, remote sensing, output trim and a power good signal are provided as hardware functions with dedicated pins, and an industry standard pinoutI2CinterfaceusingPMBusTM commands is also available. This enables remote monitoring of temperature, voltage and current, and setting of output voltage and thresholds of fault sensing and alarms. A unique feature of the product is a 'snapshot' mode where status, fault flag and operating parameters are stored in non-volatile memory if the input supply disconnects, on a fault for example. The parameters represent a summary of the DC/DC operation prior to the input falling and can be used for fault diagnosis. The product has been designed and is produced under the Flex Power Modules rigorous quality control system which results in an MTBF for the series of 4.97 million hours at 40°C, according to Telcordia SR-332 issue 4. This corresponds to 201 FITs (Failures in 109 hours).
The BMR685 matches the 5G cell environmental requirements with a rated base plate temperature of 40°C to +100°C, characterized in the data sheet for operation in a cold wall sealed box, for realistic results in the application. The product is supported by a FloTHERMTM thermal model and the free-to-use Flex Power Designer software, which helps engineers to sketch, simulate, configure and monitor the DC-DC's performance. Figure 3 is a snapshot of a typical Flex Power Designer screen, in this case showing the power loss and efficiency curves for the BMR685 at full load, 50 V output, 48 V input.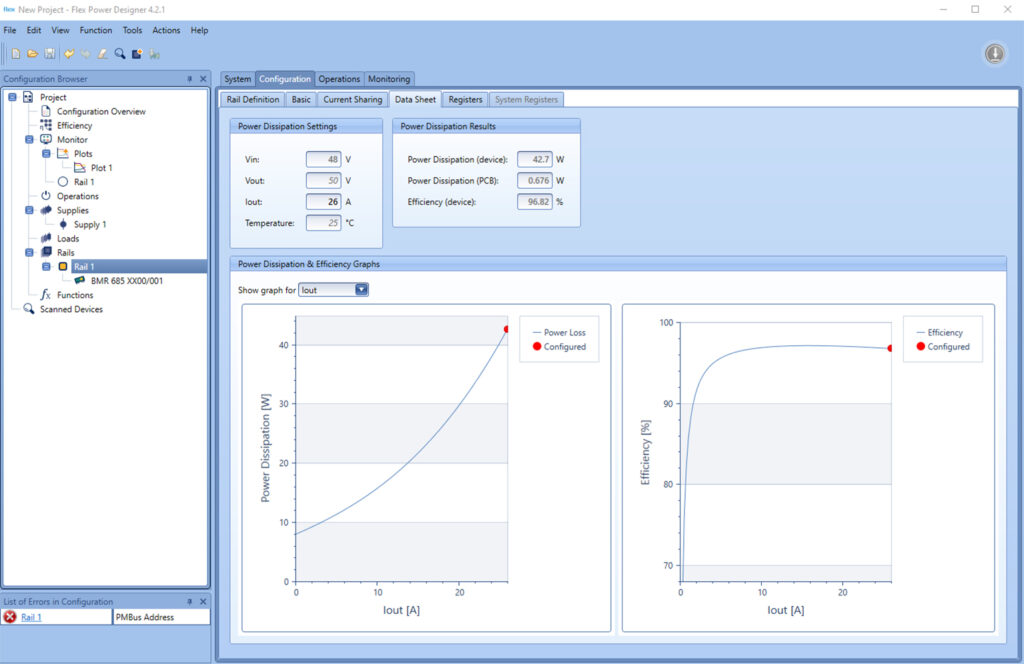 Figure 3: The Flex Power Designer GUI
For lower power requirements, the Flex BMR683 has similar functionality with a 500 W output rating in a quarter-brick format.
Keeping pace with 5G developments
The BMR685 is the latest development in a range of DC-DC products suitable for RFPA applications from Flex Power Modules. These range from 60-72 W models in sixteenth-bricks to parts at various higher power levels in eighth, quarter and half brick formats. The flagship is the BMR685 at 1300 W but more products are in the pipeline, featuring yet-higher peak power levels to match the emerging network requirements.
6G is now at the 'aspirational' stage but with talk of it being potentially 100 x faster than 5G, we can be sure that it will be a radically different architecture, with different power requirements. Manufacturers such as Flex Power Modules stand ready to support the new standards with power conversion products that showcase the best in performance and quality.
References
[1] https://www.gsma.com/futurenetworks/ip_services/understanding-5g/5g-innovation/
[2] https://www.rcrwireless.com/20210210/5g/gsa-61-countries-have-live-5g-networks
[3] https://www.iotsworldcongress.com/advantatges-of-5g-and-how-will-benefit-iot/
[4] https://www.mtnconsulting.biz/product/operators-facing-power-cost-crunch/
[5] https://flexpowermodules.com/products/bmr685