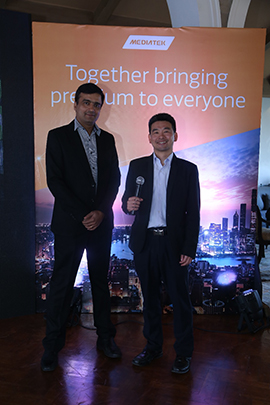 New Delhi, January 30, 2018: MediaTek, a global fabless semiconductor leader, today unveiled its future-ready smart technologies for India. At an exclusive media and partner event, MediaTek showcased innovations on the smartphone side that bring premium features to mid-range devices and help consumers in India get more from the devices they use every day.
2018 promises to be a big year for innovation in technology.  MediaTek is heavily focused on India and its next phase of growth and expansion with products and collaborative solutions to make the mass consumer transition from feature phones to smartphones a reality.
T L Lee, General Manager, Wireless Communication, MediaTek, said: "India is growth intensive, a market of immense opportunities with its own set of aspirations and needs. We continue to intensify our technology collaboration in India, even beyond smartphones, and recognize its importance in the global marketplace.
"MediaTek is already powering New Premium devices in India – smartphones that have high end features and experiences as well as the power and performance users demand, yet affordable to everyone. We will continue to innovate on the smartphone side this year in India to deliver devices that have become the primary access point for a connected lifestyle."
Part of MediaTek's offerings to grow and serve the India marketplace include:
Collaboration with the India government on a smartphone design training program to bring smartphone expertise in-country.
Android certification programs – GMS Express and GMS Express Plus – to help device makers bring Android powered phone to market faster and ensure users have a quality Android experience across devices.
MediaTek Sensio™, a six-in-one biosensor module that can easily be incorporated into smartphone designs and give users access anywhere to monitor their health and fitness.
Several new chipset designs including MT 6739 and Helio P23 that bring the new premium to life in smartphone, offering full-featured technologies like Dual SIM and Dual VoLTE, Dual Camera and other photo and video enhancements, extended battery life, higher performance and improved connectivity. Intelligent chipset that give user more of what they want at an affordable price.
New Premium Expectations
Consumers' expectations and demands are shifting. Mid-range devices are catching up with flagship smartphones in terms of features, capabilities and power consumption. In order to fulfill such needs, MediaTek launched MT6739 with face-detection capabilities. The high-speed quad-core System on Chips (SoCs) are built for India's rapidly growing 4G market. The chipsets include features to bring latest 4G LTE functions and large, beautiful phone designs to mainstream users. Indian OEMs are now ready to launch devices powered by MT6739 in a market where – so say surveys — two out of three Indian feature phone users  (or about half a million) plan to upgrade their phones this year.  (Click on https://www.mediatek.com/products/smartphones/mt6739 for more details)
In December, MediaTek became the first System-on-Chip (SoC) partner to provide Google's AndroidTM Oreo (Go edition) solution to Indian mobile manufacturers. This paved the way for an OS developer, a chipset maker and OEMs to come together to provide smartphones,  customized for the market in a short span of time. This kind of collaboration with Google and OEM partners ties directly to MediaTek's mission to make great technology available to everyone so they can share more, connect more and do more to enrich consumers' lives. The close collaboration between Google and MediaTek on Android based devices and the GMS Express certification program ensures a faster time-to-market for device manufacturers and provides a quality Android smartphone experience to entry level device owners. (Click on https://www.mediatek.com/news-events/press-releases/mediatek-socs-are-optimized-and-ready-for-android-oreo-go-edition for more details)
MediaTek Sensio™ MT6381, the first 6-in-1 smartphone biosensor module, is set to disrupt the Indian healthcare industry on the cusp of a digital transformation. The embedded module allow quick check-and-monitoring of physical wellness on the daily-habit device, the smartphone. The Sensio MT6381 is a comprehensive software and module solution designed specifically to deliver valuable health data, consisting of optical, electrical and processing components. The customizable, compact solution means device manufacturers have the flexibility to embed the MediaTek Sensio module directly into all types of smartphones. With MediaTek Sensio, manufacturers are able to develop proprietary applications or leverage third-party applications and developer add-ons. (Click on https://www.mediatek.com/news-events/press-releases/mediatek-sensio-new-biosensor-solution-brings-health-monitoring-to-smartphones for more details)
Apart from products that will have a transformative impact in India, MediaTek is also focused on augmenting collaboration to nurture local talent to cater to India's fast-growing handset industry. In order to strengthen design capabilities among companies in India, the second MediaTek Smartphone Design Training Program was announced late last year, along with the Ministry of Electronics and Information Technology (MeitY). Such programs fuel MediaTek's broader participation in 'Make in India' and 'Skill India' initiative thus making it a ready ally in India's aspirations to become a design and manufacturing hub. (Click on http://i.mediatek.com/makeinindia-sdtp2018 for more details)