Power-management ICs offer high performance, small size, efficiency, and protection needed by advanced auto subsystems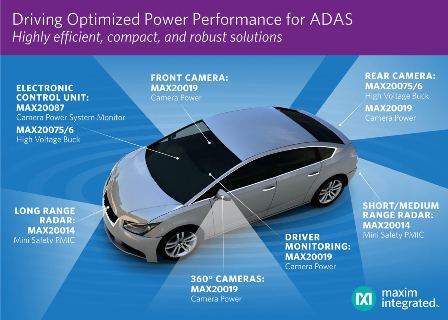 San Jose, CA—July 17, 2018—With a series of power-management ICs (PMICs) from Maxim Integrated Products, Inc. (NASDAQ: MXIM), designers can optimize power for automotive advanced driver-assistance systems (ADAS) functions to achieve high performance, small size, efficiency, and electrical protection.
Maxim's power management for ADAS products: http://bit.ly/PowerforADAS
Details about Maxim's ADAS solutions: http://bit.ly/MaximADAS
Hi-res image: http://bit.ly/ADASPowerPhoto
ADAS functions, many of which are now mandatory or will be soon, increase vehicle safety and enhance the driving experience. Although these functions receive considerable design attention, managing DC power in electrically harsh vehicle environments is a less-publicized yet critical challenge for ADAS system designers.
Maxim's array of application-optimized ICs regulate, manage, and protect DC power. These products solve critical problems for ADAS systems designers by offering a unique combination of package size, high operating efficiency, low quiescent current, integrated ASIL-B/D electrical protection, and reduced EMI.
The series of PMICs which Maxim has released include:
MAX20019 Dual Synchronous Step-Down Converter – Provides the industry's smallest 3.2MHz dual step-down power supply in a 2mm × 3mm package size (compared to the closest competing solutions that offer single channel parts in either a 2mm x 2mm or 3mm x 3mm package size)
MAX20087 Quad Camera Power Protector – ASIL-B/D grade camera module protector IC includes an I2C interface to report on overvoltage/undervoltage/fault conditions; monitors up to four 600mA coax channels and isolates faults from individual camera modules
MAX20075 and MAX20076 Step-Down Converters – Offers the industry's lowest quiescent current with peak and valley mode options; provides a high peak efficiency of 91% for always-on applications compared to competing solutions, while featuring a 40-V load-dump tolerance
MAX20014 Triple-Output Converter – Features one synchronous boost and two synchronous step-down converters for smaller, simpler, and lower cost designs (competing approaches require two ICs plus discrete components); features 2.2MHz switching frequency and spread-spectrum capability for reduced EMI and comes in a small 4mm x 4mm package size
Commentary
"As the automotive market moves towards offering more advanced driving features, with a focus on ADAS functionalities, it has a direct impact on the growth and demand for more advanced PMICs," said Kevin Anderson, senior analyst, Power IC Research for IHS Markit. "We forecast that the total market for power semiconductors (discretes, power modules and power ICs) in automotive applications will increase from $7.9 billion in 2016 to more than $13.7 billion in 2023."
"Designers must meet demanding requirements along with difficult constraints, which standard catalog parts cannot do effectively," said Warren Tsai, director of business management for the Automotive Business Unit at Maxim Integrated. "With this array of carefully-tailored, application-specific ICs, Maxim is addressing the complex and unique needs of ADAS designers."
Availability and Pricing:
For availability and pricing information, please visit the individual product pages to inquire about specific products and EV Kits.