ZON M3 single-phase energy meter SoC achieves ±0.1% accuracy over 5000:1 dynamic range. 
New Delhi, India —April 15, 2014—Maxim Integrated's  ZON™ M3 (MAX71315) single-phase electricity meter SoC  now benefit engineers to have a highly accurate, low-cost design system for e-meters and solid-state meters.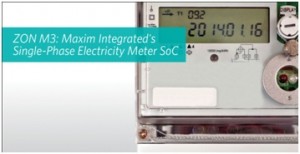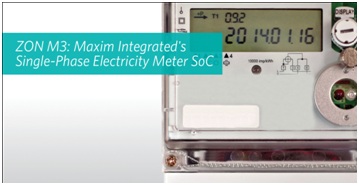 Superior metering metrology is essential for accurate monitoring and billing. Additionally, meter manufacturers must consider cost in their designs, as millions of meters are being deployed throughout the globe. The ZON M3 energy-meter solution integrates four 24-bit ADCs for 4-channel data collection and ±0.1% measurement accuracy over 5000:1 dynamic range. A 32-bit metrology compute engine (CE) ensures high-accuracy processing of all collected data. Its two touch-switch inputs eliminate mechanical switches and improve user experience, and its infrared (IR) communications interface eliminates the typical extra IR receiver module. All the high integration reduces cost and improves user experience.
Comments:
GREGORY GUEZ, Business Director for Energy Solutions at Maxim Integrated:
 "The ZON M3 electricity meter SoC is the perfect answer for residential market challenges. It enables high accuracy and reduces BOM cost for e-meters, submeters, and solid-state meters around the globe."
JULIA ZHU, Senior Analyst at IHS China:
"New technical standards will enhance smart meter technology and may even revolutionize the whole value chain, from chip design to meter manufacturing. The two cornerstones of the new standard, performance and reliability, will be key to making a difference in the smart meter market."
Key Features
Superior metering accuracy: over ±0.1% over 5000:1 dynamic range
High integration: integrated touch-switch inputs and IR communications improve user experience and reduce system cost; multiple interfaces (SPI, I2C, and 4 USART) for design versatility; real-time clock (RTC) with temperature compensation and digital temperature sensor for highly accurate temperature compensation; ample Flash and RAM memory for long-term service
High performance: a 32-bit metrology CE ensures high-accuracy processing of all collected data
Availability
The ZON M3 electricity meter is available in a 100-pin LQFP package.
A ZON M3 reference design is available to qualified customers. Hi-res images for the ZON M3 end application and ZON M3 block diagram are available.
About Maxim Integrated
At Maxim Integrated, our designs make the world more integrated. And with analog integration, the possibilities are endless. In Fiscal 2013, we reported revenues of $2.4 billion.