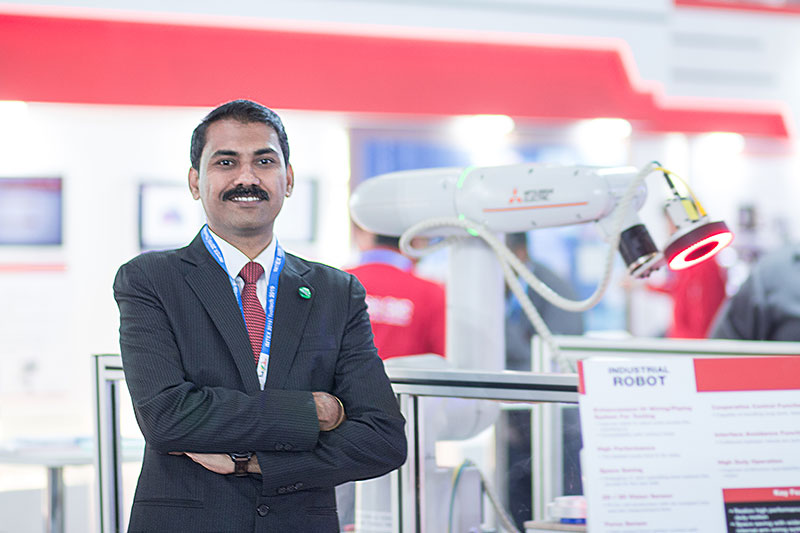 Mitsubishi Electric India Pvt. Ltd. recently participated in IMTEX 2019 exhibition where they have launched Collaborative Robot 1st time in India. Also they have displayed the products for CNC. EM got the opportunity to Interview with Mr. Madhusudhanan N.S, Senior Manager-Robotics Business Development, Factory Automation & Industrial Division, Mitsubishi Electric India Pvt. Ltd. Excerpts from Interview:
Brief us about the potential status of the collaborative Robot?
For the first time, Mitsubishi Electric has delved into dedicated development of Human-Robot Cooperation (HRC). The newly developed HRC Industrial Robot has many important differentiators over alternative products available in the market. The Cobot comes with a load capacity of 5 kg and reach of around 900mm.
It sports innovative control and programming options such as the teaching functionality, which includes a 'direct control' mode in the Arm itself allowing the operator to move the Robot from one position to another, by hand. A dedicated teach pendant can also be plugged into the Robot to provide an intuitive interface to 'teach' the Robot its task, without the need of any special programming expertise. Once the set-up is complete, the operator terminal can be easily removed to give the Robot full freedom of movement.
What's the USP of the collaborative robot that makes it different from the other competitors?
Our Collaborative Robots are equipped with LED Light Indicator on the Arm, which displays the Status of the Robot dynamically. This feature is helpful for effective human interaction. Instructions to control the Robot are highlighted on the arm itself (currently in the developmental stage) and the final product is scheduled to arrive in mid-September 2019.
What do you think will be your real competitor after the launch?
As of now, our major competitors already have similar product offerings, however, in our Robot, the teaching mechanism can be activated and operated through the arm itself. This is a unique feature and will help us to have an edge over the competition.
Why it took so long to launch in India?
We believe that we have entered the market at the right time. Now, the market is familiar with the concept of Collaborative Robots and as a leading technology provider we are continuously evolving our products, to ensure utmost safety and quality standards before launching a product and our endeavor is to make sure that the entire ecosystem is more collaborative.
What is your experience of recently attended IMTEX exhibition 2019?
IMTEX 2019 has presented great business opportunities and a platform to understand the recent developments in the machine tool and the automotive industry. It was an excellent opportunity to meet and interact with the major decision makers, understand the current trends of the industry and various customer expectations from the sector. The event was also a splendid platform for suppliers to market their products.