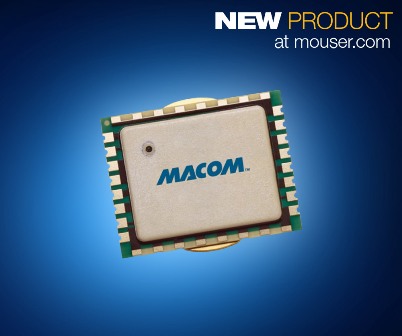 July 8, 2019 – Mouser Electronics, Inc., the industry's leading New Product Introduction (NPI) distributor with the widest selection of semiconductors and electronic components, is now stocking the MAMG-100227-010C0L broadband power amplifier module from MACOM. The module offers outstanding design flexibility for a broad selection of radio and communications applications, including military tactical communications and electronic countermeasures, wireless public safety communications, and land mobile radio systems.
The MACOM MAMG-100227-010C0L, available from Mouser Electronics, is a fully matched 10 W power amplifier module based on gallium nitride-on-silicon (GaN-on-Si) technology. Operating in the broadband 225 MHz to 2600 MHz range, the module offers up to 40 percent power added efficiency (PAE) and 22 dB power gain.
The module supports up to 36 V operation (28 V typical) in a robust operating temperature range of minus 40 to 85 degrees Celsius. With flexible top-side and bottom-side mounting configurability and a 14 mm × 18 mm package, the module supports radio designs with strict size, weight, and power (SWaP) specifications. The module boasts integrated gold-plated copper heatsink and a laminated air cavity package, eliminating the need for PCB space and componentry associated with unmatched PA modules.
To learn more, visit www.mouser.com/macom-2-stage-hybrid-module.
Mouser / MACOM 2-Stage Hybrid GaN Module
Page Two
With its broad product line and unsurpassed customer service, Mouser strives to empower innovation among design engineers and buyers by delivering advanced technologies. Mouser stocks the world's widest selection of the latest semiconductors and electronic components for the newest design projects. Mouser Electronics' website is continually updated and offers advanced search methods to help customers quickly locate inventory. Mouser.com also houses data sheets, supplier-specific reference designs, application notes, technical design information, and engineering tools.