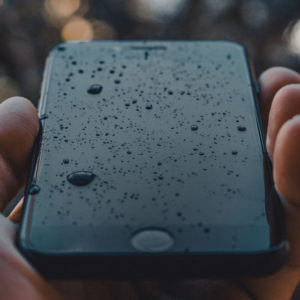 Since the introduction of smartphones, the pieces of technology have been in our hands more and more often. Nearly 75% of Americans have a laptop or a home computer, but the number of people with mobile devices is a great deal higher. Leaving us virtually inseparable, the increased attachment to our devices has caused more than a fair share of mishaps. Now with these devices no longer being simple phones, but the tools we use for games, communication, and even research, like 91% of consumers who read an online review before making any purchase, The loss of a phone can be devastating.
It doesn't matter how careful you may think you are, you've likely felt the stomach sinking feeling of dropping your phone on the ground. Then the anticipatory 50/50 anxiety of wondering, hoping with fingers crossed, that your screen isn't smashed to shards. For some of us more butterfingered folks, this feeling is unfortunately commonplace.
About 35% of iPhones suffer some form of damage in a given year, thus the clumsier cohort usually takes a few protective measures to ensure their phone fumbles don't result in excessive damage. Heavy-duty cases and device replacement insurance from wireless service providers are the most common precautions.
Erica Bennett was with her family on a riverboat tour in South Carolina back in 2018 when her phone fell over the side into the river. When 26 million people are taking public transportation in some facet or another on a daily basis, you can imagine the swelling coffers of lost-and-founds nationwide. This time, however, lost was really lost. During the tour, they reported not even noticing her phone was gone until they went to collect their things after the tour. Fortunately, the phone was in a waterproof case when it fell. Unfortunately, they couldn't find it in the murky depths on the Edisto River. Even more unfortunate was that the phone contained text messages from Erica's deceased father, something irreplaceable comparatively.
YouTuber Michael Bennett (no relation to Erica and her family) was river diving for his YouTube channel Nugget Noggin. On his channel, he dives in search of little nuggets of randomness that the waters have claimed. Fifteen months after Erica lost her phone, Michael Bennett came upon a rare find during a dive in Edisto River.
"I came across something that looked kind of like a rope maybe attached to car keys, and when I pulled it up, I saw a phone inside of a waterproof case, and I'm like no way this is unbelievable," Michael Bennett said.
To his surprise, when he put the phone on a charger, it worked but was passcode locked. He got crafty, removed the SIM card from the device and put it in another device where he was able to determine the owner's contact information and sent her the device.
Overjoyed by its discovery, Erica said it was emotional and utterly shocking to find the device working after spending that much time in a river. Even the self-charging phone case with the phone was still functional.
Now that she has recovered her device, she reported being in the process of transferring the device's data. We're also hoping she starts using cloud storage.