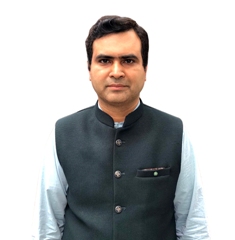 Founded in 2012, Ambrane India is one of the leading IT firms in computer peripherals, Mobile Accessories and power banks, has become one of the fastest growing companies in India. Ranked No. 1 in power Banks, Ambrane has been at the forefront of ushering in the revolution challenging the several established players in the business. The brand has progressed to become a 'game changer' in the Power Bank Industry.
Mr. Ashok Rajpal, CEO & Managing Director, Ambrane India shares his thought on company performance and services during this challenging time, investment plans and future predictions.
How do you see the first quarter of FY 21-22 which was badly affected during lockdown across all major markets? What were the major challenges for the market in the last few months?
Initially, during the pandemic, businesses came to a standstill and were affected for a prolonged period. Our digital presence has helped us stay connected with our customers during this period, and due to our strong online presence in the E-commerce market, we have been on the road to recovery immediately after the first lockdown. In terms of challenges, it was the Manufacturing operations that got semi-paralyzed. Availability of Raw Materials and Labour, along with Supply chain challenges, did lead to disruption. However, this challenge has also pushed India to review & build its Manufacturing eco-system for a true 'Aatmarnirbhar Bharat'. There were no challenges on the market side but rather an active demand for some category products that were difficult to fulfill considering the manufacturing hurdles.
How you are catering to service issues as customers can't visit the service center physically due to the current pandemic? How do you handle tech support in New Normal?
In sync with the Government guidelines, our service centres were shut for a brief period. Post the unlocking keeping the customer & employees' health paramount, we started devising new procedures. To ensure continuity, we have facilitated our customers with reverse pick-up so that they can get the repairs or replacements done at their doorstep. Ambrane has partnered with the best courier services i.e Ecomm and FedEx. In this process, there is no compromise on the service quality provided by us. It is challenging to handle tech support while working from the office at 50% capacity, but the customer care team is working as per government guidelines. The team is taking care of the customer queries, on calls, and our social media handles. We have also built Youtube videos to build visual aids to the tech support that simplifies most of the questions.
Do you think more localization of manufacturing in India will help the manufacturing industry?
Localization is a win-win proposition for everyone. The 'Make in India' initiative has been in focus and adapted by various Industries for some time now. It's has become the job of both Government and Industries to come forward and push this agenda with the Global Outlook. Local Manufacturing will enable a great deal of flexibility that allows cost efficiencies, control over the quality, faster turnaround times in production, etc. This shall help generate employment and also build a talent pool to develop specialized skill sets. Such scale and diversity shall drive companies to innovate. Undoubtedly, Localization is the gateway to further opportunities for India.
How has the national or even international supply chain and manpower been affected by repeated lockdowns?
Covid19 has posed significant challenges for supply chains at the global level. Multiple lockdowns have impacted the flow of raw materials or even finished goods, disrupting manufacturing. It's the pandemic that has brought to light the unseen vulnerabilities. On the other hand, many organizations have suffered severe staff shortages, accelerating & magnifying the existing problems.
What are your future plans in regards to modernisation of your Manufacturing unit? How much investment do you plan to make?
The Manufacturing sector is now getting ready for the post-pandemic world. Digitizing and automating the manufacturing operations has now become the priority. Ambrane has adopted the new age technologies to build high levels of productivity and efficiency while increasing product quality. These systems are focused on operations of assembling, processing, and handling of materials.
Projection of the third wave has been made, what future preparations are Ambrane to deal with this?
We currently are following a comprehensive checklist that needs to be followed for a possible third wave. We have organized Vaccination Camps in the office for our staff and their family as Vaccination is the prime solution to prevent third wave. On the business side, we have adopted Cloud for our operations, which has enabled a smooth and safe workflow even in the Work from Home situation. We are also addressing the key anticipated Manufacturing pain points – Migration of Labor and raw material scarcity.