New switches serve additional market segments requiring close-differential characteristics at a competitive price
China, Beijing, February 3, 2015 — Littelfuse, Inc., the global leader in circuit protection, has released the MACD-14 and MASM-14 Series, a high-precision extension of its reed switch product line. (The MASM-14 is the surface mount version of the MACD-14.) These reed switches have close-differential characteristics that benefit customer applications with space limitations and strict requirements for accuracy. In addition, the MACD-14 and MASM-14 Series allow circuit designers to enjoy enhanced layout and design flexibility.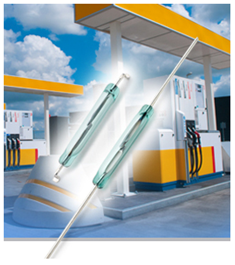 "The close-differential characteristics of the MACD-14 and MASM-14 Series allow us to serve new market segments that require high-precision sensing at a competitive price," said Gwenn Gmeinder, business development manager at Littelfuse. "These switches are ideal for level and proximity sensing in water pump, brake fluid reservoir, windshield washer fluid level and small appliance applications."
The MACD-14 and MASM-14 Series offer these key features and benefits:
• Through-hole, surface-mount and custom forms provide layout and design flexibility
• Hermetically sealed switch contacts are not affected by harsh environments
• Close differential (low close/open hysteresis) provides precise switching for applications with limited space
• Switching capability of 200 Vdc at up to 10 Watts provides high load switching capability and flexibility in a compact package
• Available sensitivity range of 10-30 AT for high-accuracy performance under all operating conditions.
"As design footprints and components continue to shrink, many of our customers are challenged by the very limited travel space available for the magnet to both activate and de-activate the reed switch or sensor," explained Gmeinder. "The close differential of the MACD-14 and MASM-14 Series allows our customers do more with less space and less budget."