Award represents highest recognition possible of a supplier's performance within TTI Asia
Beijing, China, April 28, 2016 — Littelfuse, Inc., the global leader in circuit protection, was recently recognized with a 2015 Supplier Excellence Award from TTI Asia. Littelfuse Electronics Business Unit has now achieved "Platinum" status in Asia for winning this recognition for five consecutive years.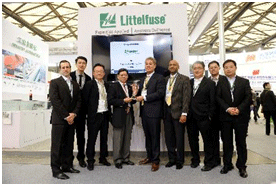 Peter Kim, Vice President of Asia Pacific Sales for the Electronics Business Unit of Littelfuse accepted the award on behalf of the company at a ceremony held at the Electronica China event in Shanghai, China.  "To be recognized again this year by TTI Asia, a highly respected leader in electronics distribution is a tremendous honor," said Peter. "Receiving this award for five consecutive years, highlight our commitment in providing industry leading quality and service that is valued by our customers.  Based on this performance and alignment with TTI Asia, our outlook on growth continues to be positive."
Anthony Chan, President of TTI Asia, noted, "Achievement of this award represents the consistent, ongoing dedication of both Littelfuse and TTI teams in Asia to offer superior value to our end customers.  As a strategic partner of TTI Asia, Littelfuse embodies a deep commitment to customer service that is essential to long term mutual growth.
Photo caption: TTI Asia team congratulates Littelfuse on winning a Platinum Supplier Excellence Award. Pictured from left to right: Dan Gilman, director of product management, EBU sensors, Littelfuse; Sam Sung, vice president, product management, TTI; Jonathan Chang, regional vice president sales (Central & North China), TTI; Anthony Chan, president, Asia-Pacific,  TTI; Peter Kim, vice president, Asia Pacific sales, Littelfuse; Bharat Shenoy, director of product management, EBU passives, Littelfuse; KY Ong, director, South-East Asia sales, Asia channels and global EMS, Littelfuse ; Jason Tan, senior supplier marketing manager, TTI; David Zha, director, China and Hong Kong sales, Littelfuse.