Lextar Electronics Corp. ("Lextar" or the "Company) announced that it wins the Good Design Award 2013 in Japan with its latest dual emitting LED pendant lamp – Harmonia, for its slim, sleek design and dual-sided illumination that can build light harmony in any surroundings. This is the third-time recognition from Japan Good Design Award after "Ceres" and "Colibri" LED bulbs in 2012. Lextar will debut this new product at Hong Kong International Lighting Fair (Autumn Edition) from starting from October 27th.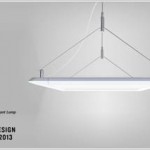 The concept of Harmonia was to create an environment where people live in harmony with light and space. The dual side emitting design is to spread the light softly and evenly to the space to create a comfortable lighting environment to people. Taking twin advantages of vertically integrated business model and ODM experiences for global lighting brands, Lextar presents a dual emitting LED pendant lamp that conveys event and gentle light across the slim panel, and further breaks the stereotypes of LED light source with uncomfortable dazzle and glare. By means of unique thin film material, this new product distributes perfect light proportion of 30% upward and 70% downward, enabling an upward illumination on a suspended flat panel light that delivers pleasant brightness to the environment. Add to that, the reinforced mechanical design creates an ultra slim panel of merely 1.3cm, maintaining its flatness when suspended. "Harmonia" incorporates optical, mechanical, material and aesthetic design, making it the winner of Good Design Award 2013, the most influential and well recognized design award in Japan and Asia.
"Given enthusiastic responses to Lextar's panel light fixtures, this time Harmonia creates a new market of design fixtures where value innovation is raised ahead of industry", said Emerson Yen, the senior associate vice president from marketing division of Lextar. This prestigious Good Design award demonstrates Lextar's high capabilities of industrial design and technology development. Prior to this, Lextar's product design team has also won various recognitions including iF and Red Dot awards from Germany, Good Design Award from Japan, and domestic Taiwan Excellence and Golden Pin award, all of the mentioned lifting the values that few players in the industry offered.