Interview with Mr. Abhishek Shukla, Vendor Development & Marketing, Saison Components & Solution
Saison works as authorised representative of foreign OEM's in India and help them in getting business from the Indian market.
One of the focussed segments of Saison in coming years is the lighting industry. Already working with big names such as Philips, Havells, Syska, Bajaj, Pyrotech and many more for electronic components such as inductors, MOV's, resistors, capacitors etc., Saison focuses to cater maximum lighting manufacturers in the coming years.
Give an overview of LED Industry growth in India and growing application?
LED is the future!!!
The LED market in India has been constantly growing over almost 50% for the last five years and is expected to sustain this growth rate in the coming five years as well as LED is a reliable and energy-efficient source of lighting which has gained a prominent spot in the Indian lighting market, owing to their numerous benefits over older lighting technology. Although late, the government of India has announced a lot of incentives and measures such as UJALA and SLNP in order to prioritize LED manufacturing in the country. Moreover, major players have also done efforts in bringing awareness about LED in India.
According to a report by ELCOMA, the lighting industry is expected to reduce energy consumption for lighting from the present 18% of total power consumption to 13% by 2020 by introducing more energy efficient products and working more closely with the government to execute various schemes and awareness programmes.
Frost and Sullivan says that India currently is one of the biggest markets for LED lights in the world. There are numbers that support this claim. F&S believe that by the year 2021, LED light penetration in India's lighting market will be a whopping 57 per cent which itself would be a huge achievement. The revenue generated by LED market in India has displayed a CAGR of 56.1% over the past 5 years.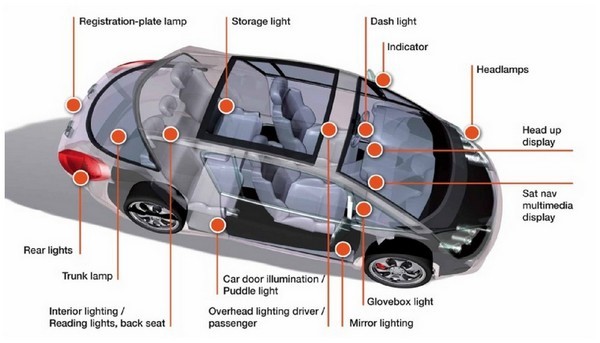 India LED lighting market stood at around $ 920 million in 2016, and is projected to grow at a CAGR of 23%, in value terms, during 2016-2022, to reach $ 3,758.74 million by 2022, on account of rising personal disposable income, growing government initiatives encouraging use of LED lights and increasing focus on smart city projects. For instance, Delhi-Mumbai Industrial Corridor Development Corporation (DMICDC) plan was announced to develop 7 smart cities in Gujarat, Haryana, Maharashtra, Rajasthan, Uttar Pradesh and Madhya Pradesh. These projects were expected to further increase government emphasis on energy efficient lighting products such as LEDs in the coming years. Favourable government initiatives and policies such as state specific and national level programs that offer LED lighting products at subsidized rates are contributing in a huge way towards boosting LED adoption in the country. Additionally, with increasing consumer awareness, demand for LED lights from the residential as well as commercial sectors in the country is growing at a fast pace. Rising adoption of LED lighting in the residential sector can be attributed to low power consumption and long product lifecycle of these lighting solutions.
The top four demand-generating application areas are:
Street lighting
2. Residential lighting
3. Office space lighting
4. Industrial lighting
Furthermore, applications of LED are increasing day by day and thus are the quantities, and the above figures say it all.
What are the LED application trends in Automotive
Increasing vehicle sales and production and technological advancements triggered by growing safety concerns and stringent lighting regulations are the key drivers of the automotive lighting market.
Asia is estimated to be the largest consumer of automotive lighting in the world. China, India, Japan, and South-Korea are the main contributors to the automotive lighting market in the continent. Owing to the increasing sales of premium vehicles, low manufacturing costs, and favourable government policies, several automotive companies are expanding their facilities in Asia-Oceania.
In the automotive lighting market, the LED technology segment is expected to grow at over 8% CAGR from 2018 to 2025. Lighting in automobiles is a major application in the global LED market, which is developing rapidly with other niche industrial LED products. Traditionally, LED technology was used in rear lighting in vehicles, however, due to advanced features such as better lighting systems and power efficiency, they are being increasingly used as front lighting or headlamps. Countries including China, Japan, and India are increasingly integrating LEDs into the interior automotive lighting and rear position lamp segments, driving the automotive lighting market growth. In addition, the lighting system manufacturers in China are rapidly making progress in making vehicles technologically-advanced by developing advanced technologies such as Daylight Running Lights (DRLs) and many are using standard LEDs for the DRL products.
LED fog lights and headlights offer significant growth opportunities to the automotive lighting market due to the growing focus on headlights including turn signal lights, H/L beams, and DRLs.
The interior lighting application in automotive lighting market is expected to grow at 8.2% CAGR from 2018 to 2025. The interior lighting solutions in the automotive lighting market are gaining traction due to the implementation of enhanced lighting systems in the high-end and modern passenger cars that offer ambient and mood lighting features. Earlier, these systems were deployed in luxury cars only, however, due to the high demand, the solutions are being implemented in the passenger & commercial vehicles. The lighting solutions are utilized for providing driver safety and ensuring a clear visibility.
LED light sources are replacing all other types of automotive lights. They are available for high and low beam headlamps, rear combination lamps, brake lights, turn signals, interior reading lights (map lights), daytime running lamps (DRLs), dome lights, fog lamps, accent lights, centre high-mount stop lamps, position and marker lamps, etc. They are also replacing other conventional lights for ambient lighting, dashboard and cabin, etc.
In fact, the market for LED lighting for vehicles is increasing as the consumers have recognized their benefits, including the fact that the colour of LEDs is very similar to daylight. Besides the fact that it enhances safety and comfort on the road, LED lights offer many other advantages.
What are the challenges facing by LED Lighting industry in India?
As per my view, in India, the customer's mind-set is the biggest challenge. Adopting LED took a long time with the Indian consumers because of common questions like quality, real need or reliability of the product.
Second & obvious challenge is the price, as it is very difficult to get the right quality product at best price, which is only possible by reducing the BOM cost.
Since the LED lights range from a much lower price, local manufacturers receive low margins which in turn brings intense competition from Chinese Players, as their products are available at cheaper price.
What are your innovations towards affordable LED products?
We worked on the root cause of high valued LED products which is the inside component cost and are thus offering lowest price quality product.
Our high quality products such as Electrolytic Capacitor, Ceramic capacitor, Diodes, resistors, Varistors, MOSFET, COB, SMD LED etc are quite cost competitive.
The innovation would be the LED SOLAR SYSTEM, which is eco-friendly and has a boundless energy source with features such as smart dimming control system which also reduces CO2 emissions.
As per my opinion, this would be a great combination of technology and naturally available power and would be an economically feasible use of environmental friendly green energy.