February 4, 2021 – Mouser Electronics, Inc., the New Product Introduction (NPI) leader empowering innovation, announces a new eBook in collaboration with KEMET, highlighting new technologies and strategies to design power distribution networks. In 7 Experts on New Approaches for Power Distribution Network Design, leading engineers from companies such as KEMET, Analog Devices, and Samtec offer valuable insights into tackling the complexities of powering precision digital circuits.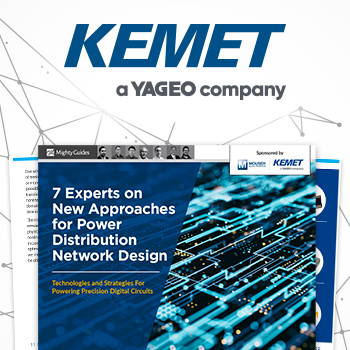 Given the growing demand for high-density computing devices, power distribution networks (PDN) must deliver efficient and reliable power to increasingly complex circuits. Engineers are employing new strategies, techniques, and technologies to overcome the difficulties in PDN design; the new eBook from KEMET and Mouser provides a survey of some of the industry's top engineering minds, offering a diverse source of inspiration for designers facing similar challenges.
7 Experts on New Approaches for Power Distribution Network Design features a collection of expert viewpoints on how to best manage the demands of PDN design for high-density devices. The eBook includes convenient links and ordering information for the latest KEMET products ideal for use in PDN design. For example, KEMET's T540 & T541 are solid electrolytic capacitors with a conductive polymer cathode capable of delivering very low equivalent series resistance (ESR) and improved capacitance retention at high frequencies.
Mouser stocks a wide range of KEMET products, including inductors, actuators, sensors, and engineering kits. To learn more, visit https://www.mouser.com/manufacturer/kemet-electronics/. To read the new eBook, go to https://www.mouser.com/news/kemet-power-distribution/mobile/index.html.
As a global authorized distributor, Mouser offers the world's widest selection of the newest semiconductors and electronic components — in stock and ready to ship. Mouser's customers can expect 100% certified, genuine products that are fully traceable from each of its manufacturer partners. To help speed customers' designs, Mouser's website hosts an extensive library of technical resources, including a Technical Resource Center, along with product data sheets, supplier-specific reference designs, application notes, technical design information, engineering tools and other helpful information.