·         Introduces India's first environment friendly mobile Solar Gensets
·         Targets Rs. 200 crore revenue from this product segment by FY 2016
·         Instant power generation with easy installation, operation, maintenance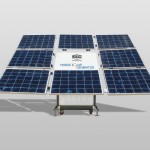 New Delhi, 11thSeptember 2013: Jakson Power Solutions, India's leading power solutions company, has announced the launch of new innovative solar products to strengthen its foothold in rapidly growing solar segment. As part of its growth strategy in solar business, the company has launched India's firstsolar powered generators and solar-based water purifiers which are based on plug and play concept.
The company has expanded its manufacturing facility in Greater Noida (NCR region) to manufacture these new solar products with an annual capacity to manufacture 5,000 units of solar generator and 10,000 units of solar water purifier. Jakson has invested approx. Rs. 40 crore in expansion of the plant adding a new shed of approx. 1,50,000 sq. ft along with plant and machinery. With this launch, the company is targeting additional revenue of Rs. 200 crore from this segment by FY2016. The company plans to setup a new dealers and distributions network to market these new products in India. The company is also planning to export these products to Africa, Middle East and South East Asian countries in a big way.
Speaking on the occasion of the launch of solar products, Mr. Sameer Gupta, Managing Director, Jakson Power Solutions, said "we are delighted to set new trends in this segment. With the launch of these environment friendly and efficient products, we intend to address critical areas of chronic power deficit and clean drinking water. "
Jakson mobile solar generators are compact power units capable of delivering uninterrupted and clean power. The product is offered in the range of 0.5 kW- 25 KW. Mobilesolar generators are quickly deployable, ready to use, factory assembled, all weatherpower stations designed to reliably generate clean power using solar energy. The 0.5 – 2 KW models are ideal for use in residences, small offices, clinics, shops etc. The high ranging 12- 25 KW models can be put to use in off-grid locations like highly critical Defense applications,Telecom,Remote locations, rural electrification, disaster management and oil & gas projects.
The solar water purifiers, developed under technology transfer from Bhaba Atomic Research Center (BARC) are based on Reverse Osmosis (RO) and Ultra Filtration (UF) technologies. They are independent stand-alone systems that work using solar energy to provide safe and clean drinkable water. The products are ideal for use in residences,hospitals, schools, remote rural & disaster affected areas.
"With the increasing direct and hidden power costs, the need for greater efficiency and sustainability are driving the demand for cleaner solutions that allow for rapid deployment and all – terrain capability. Our mobile solar products are ideally designed to meet these challenges offering exceptional reliability and consistent performance," added Mr. Sundeep Gupta, Joint Managing Director, Jakson Power Solutions.