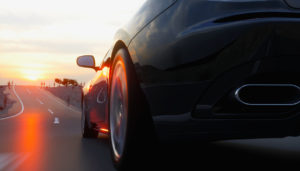 It's difficult to watch the news without seeing some kind of story covering new car technology. From self-driving cars to greener methods of transportation, there are all kinds of car technologies out there. But can these high tech cars save lives?
Most people would agree that technological advances in cars are helping drivers become safer than ever. When you think about how far automobile technology has some since GPS was first introduced to cars in 1996, it seems like it's been a lifetime. And when you consider that almost 9 out of 10 serious car accidents are the result of driver error, more high tech updates like self-driving vehicles seems like a great idea.
Even seatbelt technology has evolved to help make automobiles safer for passengers.
"Two parts of the seatbelt that really work during a crash are the pretensioner and the limiter," explains Jeff Plungis of Consumer Reports. "The pretensioner pulls the belt tight during the crash so you don't fly forward and the load limiter lets out a little bit of slack as that's happening so that as you're flying into the seatbelt you don't get hurt by the belt."
Plungis also believes that safety should not be a luxury, which poses the question of high tech cars actually saving lives.
While high tech safety features like forward collision warning and automatic emergency braking help drivers avoid accidents, Consumer Reports found that these features were only available in 44% of 2019 model vehicles. So any leasing driver with a typical 12,000 miles per year agreement may not even have these features on their 2019 model.
The research from consumer reports doesn't include the percentage of high tech cars comparative to all cars on the road, either. Considering the average car on the road today is pushing 10 years old, it's unlikely that a typical driver could afford a high tech luxury vehicle, as well.
Despite accessibility issues, car makers continue insisting that self-driving technology will be the pinnacle of automobile safety. Could it help prevent some of the 50,000 towing-related accidents reported every year? Fiat Chrysler, seems to think it's the ultimate answer to road safety. The company has just announced a partnership with autonomous vehicle start-up Aurora to develop self-driving automobiles for corporate customers.
"This would allow for a variety of customized solutions for commercial vehicle customers at a time when changing lifestyles and online shopping patterns are creating logistical opportunities," Fiat Chrysler said in their announcement of the agreement.
Indeed, lifestyles and the use of ride-hailing apps have changed with the generations. Millennials are advent users of these convenient apps, which could be connected to the fact that between 71% and 73% of millennials drink beer, liquor, or wine. The ability to have a fun night out and a safe ride home is becoming an expectation for younger generations. From their new partnership, Fiat Chrysler seems to know this.
Fiat Chrysler's above statement opens up a few possibilities, especially when it comes to ride- or other service-hailing vehicles. As the fiscal year begins to round out (the IRS runs this between October 1 and September 30), we have time yet to see what fruits this collaboration brings.
When it comes to safety, new automobile technology is helping. However, its limited accessibility could be costing drivers who can't afford these "luxury" options.