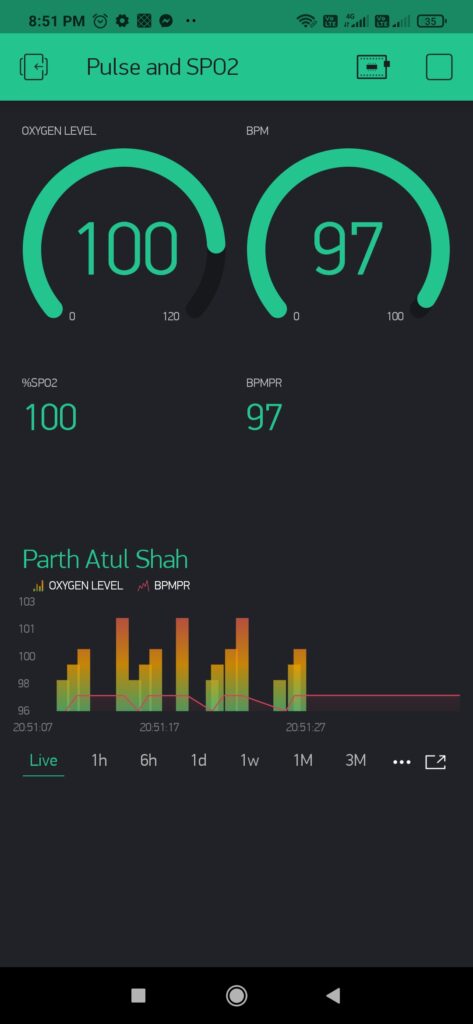 Makerspace at Anant National University provides students with a facility where ideas can be converted into real products and artefacts. One such idea E-Oximeter is the latest IoT innovation, which shall help the patients and the Doctor to monitor their pulse rate and O2 levels anytime, anywhere. Designed and developed by Parth A Shah – Manager, Makerspace & Assistant Professor School of Design, the E-Oximeter will show the Pulse rate (bpmPR) and oxygen level (%Spo2) straight into Doctor's phone, which will be easy for Doctor, Nursing Staff and Caretaker to monitor the readings from anyplace. Internet of things is the technology installed in the product, a part of Industry 4.0.
The product consists of Node MCU controller at heart, through which the max30102 sensor will share data with the help of the Internet. It is operating on 3.3 V because the Lipo battery is plugged, which is a rechargeable battery. At the battery input, the mobile type B socket is connected to recharge the battery. Using an open-source application for Android, the Blynk app Spo2% vs bpmPR vs time graph reading and Pointer for reading the values, it is an application where a user needs to download the app, and by using ID and Password, one can see the readings remotely. It is working on cloud technology. The device is compact and rechargeable, and it can quickly charge with the mobile charger.
Speaking on his innovation, Mr. Parth Shah – Makerspace Team added, 'I am glad to have worked upon this device, and do my bit for the fight against Covid19. Keeping in mind the pandemic situation and the challenged availability of doctors and medical staff, E-Oximeter will set the records LIVE, straight to the doctor's phone without hesitation, which saves time to take follow-ups. It is also a Smart jacket to follow social distancing norms."
Makerspace Team at Anant National University has also launched IOT based Smart bin & U.V sterilizers. The Makerspace Lab at AnantU has electronics equipped with a complete set of Arduino boards and supported accessories and daughter boards with sensors and actuators that make it possible to invent, create and tinker.