Thunderbolt 3 is a hardware interface developed by Intel.] It shares USB-C connectors with USB, and can require special "active" cables for maximum performance for cable lengths over 0.5 meters (1.5 feet). Compared to Thunderbolt 2, it doubles the bandwidth to 40 Gbit/s (5 GB/s), allowing up to 4-lane PCIe 3.0, 8-lane DisplayPort 1.2, and USB 3.1 10 Gbit/s.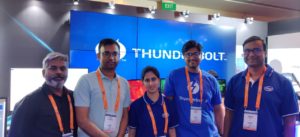 Intel's Thunderbolt 3 controller (codenamed Alpine Ridge, or the new Titan Ridge) halves power consumption, and simultaneously drives two external 4K displays at 60 Hz (or a single external 4K display at 120 Hz, or a 5K display at 60 Hz when using Apple's implementation for the late-2016 MacBook Pros) instead of just the single display previous controllers can drive. The new controller supports PCIe 3.0 and other protocols, including DisplayPort 1.2 (allowing for 4K resolutions at 60 Hz).[56] Thunderbolt 3 has limited power delivery capabilities on copper cables and no power delivery capability on optical cables. Using USB-C on copper cables, it can incorporate USB Power Delivery, allowing the ports to source or sink up to 100 watts of power. This eliminates the need for a separate power supply from some devices. Thunderbolt 3 allows backwards compatibility with the first two versions by the use of adapters or transitional cables.[57][58][59]
Intel offers three varieties for each of the controllers:[60]
Double Port (DP) uses a PCIe 3.0 ×4 link to provide two Thunderbolt 3 ports (DSL6540, JHL6540, JHL7540)
Single Port (SP) uses a PCIe 3.0 ×4 link to provide one Thunderbolt 3 port (DSL6340, JHL6340, JHL7340)
Low Power (LP) uses a PCIe 3.0 ×2 link to provide one Thunderbolt 3 port (JHL6240).
This follows previous practice, where higher-end devices such as the second-generation Mac Pro, iMac, Retina MacBook Pro, and Mac Miniuse two-port controllers; while lower-end, lower-power devices such as the MacBook Air use the one-port version.
Support was added to Intel's Skylake architecture chipsets, shipping during late 2015 into early 2016

Devices with Thunderbolt 3 ports began shipping at the beginning of December 2015, including notebooks running Microsoft Windows (from Acer, Asus, Clevo, HP, Dell, Dell Alienware, Lenovo, MSI, Razer, and Sony), as well as motherboards (from Gigabyte Technology), and a 0.5 m Thunderbolt 3 passive USB-C cable (from Lintes Technology).[61]
In October 2016, Apple announced the updated MacBook Pro, which features two or four Thunderbolt 3 ports depending on the model In June 2017, Apple announced new iMac models that feature two Thunderbolt 3 ports, as well as the iMac Pro, which featured four ports when released in December 2017.
On 8 January 2018, Intel announced a product refresh (codenamed Titan Ridge) with "enhanced robustness" and support for DisplayPort 1.4. The new peripheral controller can now act as a USB sink (compatible with regular USB-C ports).[64]
Intel offers a single port (JHL7340) and double port (JHL7540) version of this host controller and a peripheral controller supporting two Thunderbolt 3 ports (JHL7440).
Unlike Thunderbolt 1 and 2 cables, which are available in longer lengths via optical cables, Thunderbolt 3 optical cables have yet to be released (see Copper vs. optical).
USB4
The USB4 specification was released on 29 August 2019 by USB Implementers Forum,based on the Thunderbolt 3 protocol specification.
It supports 40 Gbit/s (5 GB/s) throughput, is compatible with Thunderbolt 3, and backwards compatible with USB 3.2 and USB 2.0.[67][68] The architecture defines a method to share a single high-speed link with multiple end device types dynamically that best serves the transfer of data by type and application.
Thunderbolt 4[edit]
Thunderbolt 4 will arrive with new CPU-integrated Thunderbolt 4 Tiger Lake mobile processors, destined for thin and light laptops later this year, Intel announced during its CES 2020 keynote.[69]
Intel says it will be four times faster than USB 3 although they weren't specific about the USB 3.2 version that they were referring to since there are 4 versions of USB 3.2 exist since 2019. Nevertheless, Thunderbolt 3, with a bandwidth of 40 Gbit/s, is already four or more times faster than three of those versions (USB 3.2 Gen 1×1, 1×2, and 2×1, which have rates of 5, 10, and 10 Gbit/s).