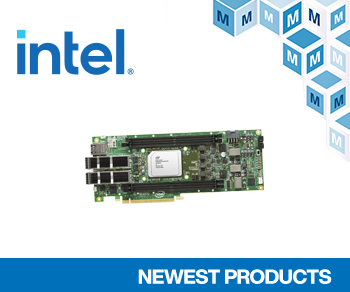 January 13, 2021 – Mouser Electronics, Inc., the New Product Introduction (NPI) leader empowering innovation, is now stocking the Intel® Agilex™ F-Series field programmable gate array (FPGA) Development Kit. The kit's PCI-SIG-compliant development board allows engineers to develop and test PCI Express (PCIe) 4.0 designs using the onboard Agilex F-Series FPGA. Providing a complete design environment with all hardware and software, the kit is also capable of evaluating SoC features and performance using a hard processor system (HPS).
The Intel Agilex F-Series FPGA Development Kit, available from Mouser Electronics, is mounted with the Agilex F-Series FPGA with 1400 KLE in a 2486-ball BGA package. The extensive development kit includes four DDR4 DIMM sockets and two DDR4 DIMM modules. The kit's HPS interface supports UART, Ethernet, an SD card socket, eMMC, and a Mictor connector. The kit also features a PCIe x16 Gen 4 golden finger connected to P-Tile transceivers. The kit's comprehensive software assets include design examples, board design files, documentation, and Intel Quartus® Prime Pro Edition software.
Coming soon, the Agilex family of FPGAs and SoCs deliver customized solutions for data-centric business challenges in the network, embedded, and data center markets. The high-performance Agilex series relies on heterogeneous 3D system-in-package technology to integrate an FPGA fabric built on 10nm process technology. The FPGAs and SoCs boast an array of features including robust memory integration, hardened protocol support, 2nd generation Intel Hyperflex™ FPGA fabric, and a configurable DSP engine.
As a global authorized distributor, Mouser offers the world's widest selection of the newest semiconductors and electronic components — in stock and ready to ship. Mouser's customers can expect 100% certified, genuine products that are fully traceable from each of its manufacturer partners. To help speed customers' designs, Mouser's website hosts an extensive library of technical resources, including a Technical Resource Center, along with product data sheets, supplier-specific reference designs, application notes, technical design information, engineering tools and other helpful information.