Coming out of an extremely strong year 2013, the SIPLACE team will present its market-leading hardware, software and service solutions at the APEX trade show (Mandalay Bay Convention Center, Booth 273) with live shows and demonstrations, once again providing tangible proof of its innovative strengths. On display, amongst other highlights, will be the industry's fastest and most flexible placement machines, the SIPLACE SX and SIPLACE X4i S. At 150,000 cph (components per hour), the SIPLACE X4i S shines with the industry's best speed rating, while the highly successful SIPLACE SX is considered the reference platform for high flexibility and high value manufacturing environments with its unique interchangeable gantries. Another strong focus point for APEX 2014 will be the company's intelligent workflow support: Workflows covered includescheduling, NPI, production and optimization and the SIPLACE team will present sophisticated software tools for all these key areas. Each workflow is designed to help production planners, setup preparation technicians, machine operators, line managers, production managers and maintenance engineers alike. The SIPLACE team also will emphasize its global technology leadership by showcasing its findings on the entire 03015 process chain ranging from board and pad design to solder paste application to placement and reflow. Live placement of 03015 can be seen on the booth.
"We are really pleased to see that more and more manufacturers in the region are switching to SIPLACE equipment", reports Jeff Timms, SIPLACE CEO for the Americas. "The reason is obvious: Not only does SIPLACE easily adapt to a customer's current manufacturing process but SIPLACE is the only SMT equipment supplier to provide hardware, software and services able to live up to our region's sophisticated demand for quality, flexibility and workflow support. At the APEX 2014 we are going to prove this once again."
SIPLACE's #1 machine portfolio for the sophisticated American electronics manufacturers
"The combination of our placement systems and software tools allows us to optimize our customer's workflows and provide them with significant competitive advantages", says Timms. THE SIPLACE SX and SIPLACE X4i S are perfectly suited to the Americas manufacturing demands for flexibility and high performance.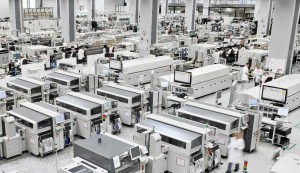 The new SIPLACE X4i S positions the SIPLACE X-Series as the platform of choice for high-volume applications. But since flexibility plays an increasingly important role in this segment, the SIPLACE X-Series also offers options like the SIPLACE Glue Feeder, Linear Dip Flux Unit and support forPoP placement applications. The new version also features SIPLACE's interchangeable gantries, giving manufacturers additional flexibly when responding to changing demand levels.
The highly flexible SIPLACE SX still is the #1 solution of choice in the Americas, because its gantries, including placement heads, can be easily added or removed by the user. This makes it possible to moveplacement capacity between lines or to rent extra gantries when short-term demand spikes make this necessary. These features are complemented by the SIPLACE MultiStar placement head, which can automatically switch between three placement modes (Collect & Place, Pick & Place and Mixed Mode). This unique ability allows the SIPLACE line to remain perfectly balanced and optimized, no matter what product or component mix needs to be run on the line.
In the spotlight: Workflows
The comprehensive SIPLACE software suite was designed to complement the powerful SIPLACE X, SIPLACE SX and SIPLACE CA platforms. The software tools are designed to support and optimize key workflows in areas of scheduling, NPI, production and optimization. The latest planning tool, SiCluster Professional Multiline, allows users to create family set ups across an entire factory of SMT production lines. The tool creates assigns products in families to allow the least amount of changeovers for a given production schedule for the whole plant. It even takes into account line-specific restrictions (feeder options, AOI, etc.) as well as product-specific restrictions (certain products must not be combined in the same setups). To learn more please visit the SIPLACE team at booth 273 during APEX 2014.