ROHM was established in Kyoto in 1958 as initially a manufacturer of small electronic components. In 1967 production was expanded to include transistors and diodes, and in 1969 ICs and other semiconductor products were added to the lineup. Two years later (in 1971), going against conventional Japanese business culture, the company entered the US market by establishing a sales office and IC design center in Silicon Valley. Through the hard work and passionate dedication of its young work force, business flourished, causing the industry to take notice. ROHM's expansion overseas soon became a template for other companies and eventually was accepted as common business practice. 
With around 21,300 employees all over the world, ROHM is a global company listed on the Tokyo stock exchange. Lapis Semiconductor (former OKI Semiconductor), SiCrystal AG and Kionix are companies of ROHM Group. 
Four growth Engines
There are four product segments that ROHM looks to as the next growth engines:
'IC Synergy strategy' consolidating ROHM's analog technology and LAPIS Semiconductor's digital technology.
'Power device strategy' of enhancing the lineup of power devices based around SiC (Silicon Carbide), and contributing to energy conservation.
'LED total solutions strategy' encompassing LED elements, driver ICs, power modules, and LED-lighting finish goods.
'Sensor strategy' harnessing world-leading lineup of sensors.

 
ROHM in 2008 acquired LAPIS Semiconductor (formerly OKI Semiconductor), a technology leaderof system LSI chips used for digital consumer applications. Combining ROHM's analog technology with Lapis' digital technology, they have developed solutions including various display driver ICs, high-capacity memory devices, lithium-ion battery protection ICs and low-power consumption microcontrollers, and already seen the new products bring in revenues, such as dedicated chipset for Intel processors. 
ROHM will enhance its portfolio of SiC power devices, and is looking to expand into the automotive and the industrial machineryfield. As for silicon (Si) elements, ROHM will continue to expand the existing product lines including insulated-gate bipolar transistors (IGBT), high-efficiency MOSFETs and diodes.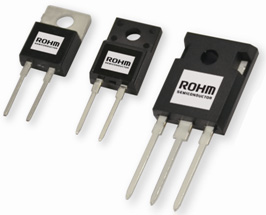 ROHM SiC Devices
ROHM's Silicon carbide diodes (also known as Silicon carbide Schottky diodes or SiC Schottky diodes) provide industry-leading performance. These SiC diodes combine forward voltage and fast recovery time to further advance silicon carbide (SiC) as superior to Si Fast recovery diodes.
ROHM's SCS1xxxAG series of high-performance silicon carbide Schottky diodes are a new class of silicon carbide diodes offering industry-leading low forward voltage, fast recovery time leading to improved power conversion efficiency. The SiC diodes are ideal for PFC/power supplies, solar panel inverters, uninterruptible power supplies(UPS), air conditioners and others.
These silicon carbide diodes(SiC diodes) maintain low forward voltage over a wide operating temperature range, which results in lower power dissipation under actual operating conditions.
With the acquisition of SiCrystal AG, ROHM has the complete manufacturing capability for silicon carbide semiconductors from ingot formation to power device fabrication. This allows the rapid development of advanced products and complete control of raw materials for industry's leading reliability and quality. 
For LED-related elements, ROHM is looking to provide total solutions including sensor devices, driver LSIs and discretes. ROHM also offers LED lighting products(Tube lights, Bulbs, Flood Bay lights) being sold through distribution channels. 
In addition, ROHM in 2009 acquired MEMS accelerometer manufacturer, Kionix Inc., USA, allowing ROHM to broaden its motion sensor offerings for developers of smartphones, PCs/Tablets and other consumer applications. ROHM will continue to expand its MEMS offerings including gyroscopes and other sensor devices. 
The product palette consists of Power Management & Motor Driver ICs, LED Driver for Lighting & Automotive, Audio & Video ICs, general purpose ICs, Sensor ICs & optical Sensors, SiC Power devices, MCU, Transistors, Diodes, Resistors, Printheads& CIS as well as customized products. ROHM's products are deployed in a broad range of target applications such as automotive, industrial, consumer, computer & office equipment, home appliances, white goods, medical as well as communication systems. 
Next-generation Lighting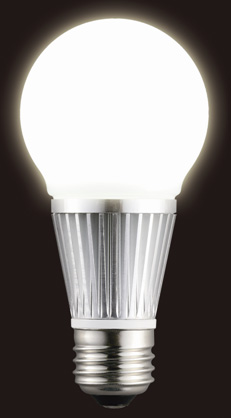 The constant evolution of lighting has resulted in the proliferation LED-based solutions that meet our current needs for greater energy efficiency, longer life, and increasing flexibility. ROHM began offering optimized LED lighting products in 2008 using the latest LED and semiconductor technologies, along with expertise garnered from 50 years as a leading semiconductor manufacturer.
ROHM's broad portfolio of lighting products provide an unprecedented level of customization and flexibility and are ideal for virtually any environment, from public spaces to commercial establishments and residential areas. The only limit is one's imagination. 
ROHM has developed LEDs for lighting utilizing a well-established in-house production system, along with extensive expertise gleaned from fifty years as a market leader in semiconductor products. This allows us to create semiconductor-based lighting devices and components optimized to user needs for form, function, and quality.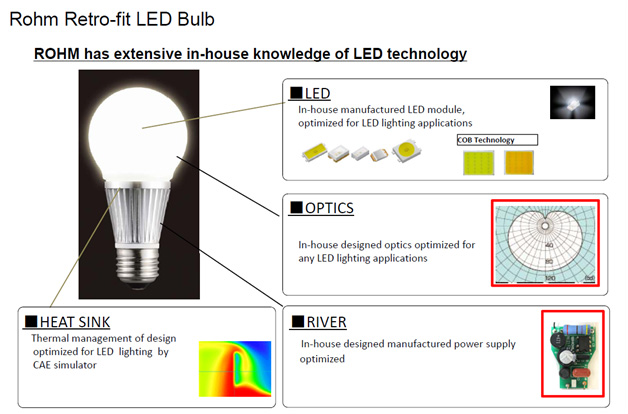 Light Distribution Technology
In order to increase the effectiveness of LED lighting devices we have worked on optimizing light distribution, mainly through LED configuration and the use of reflectors.
Eliminating Light Separation:
Colored lighting has a significant effect on both the effectiveness and presentation.
ROHM offers high color rendering LEDs and lighting solutions to fit virtually any requirement.
Improved color rendering technology
Conventional methods for creating white involve adding yellow phosphors to blue LEDs. In contrast, ROHM's unique technology adds green and red phosphors to blue LEDs, increasing color rendering characteristics by approximately 20%, to a color rendering index of Ra95. This is equivalent to a CIE rank of 1A, the highest, making them suitable for use in art museums and for color testing.

 
Research & Development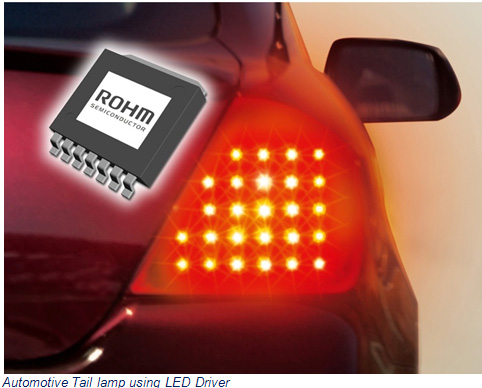 At ROHM's R&D technology bases worldwide, more than 3,000 engineers are engaged in the development of products and production technologies, such as Next-Generation Semiconductors, Composite Devices, Nano-Bionics, New Material Devices, Display Devices, Photonics, Solid
State Lighting, Advanced Compound Semiconductors, and other technologies. 
In-house Production
The Company runs state-of-the art manufacturing plants in Japan, Korea, Malaysia, Thailand, Philippines and China. To ensure product quality and reliability, the majority of ROHM's manufacturing equipment for the back-end process is developed in-house and in use globally, enabling the Company to manufacture and supply high-quality products worldwide. For the assembly process, ROHM has enhanced its production system in anticipation of future market growth, enabling the company to respond quickly to growth in demand.
Services
While developing products that improve the efficiency and performance of electronic devices, ROHM offers its customers all options and scopes of a "one-stop-shop" which means that customers are not only able to purchase components but also the subsystems and complete solutions. 
Production/Quality Assurance
ROHM Group pays strict attention to the development and design of new products, development of production systems, procurement of raw materials and inall aspects of the manufacturing process. All employees, from sales to management, strive for 'Quality First' on a daily basis.
ROHM established product analysis centers called QA (Quality Assurance) Centers equipped with a variety of analysis equipment in 10 locations across the globe. These centers enable ROHM to quickly respond to quality issues virtually anywhere in the world. 
Design Centers
When developing and designing products, ROHM Group places great importance on accurately assessing customer needs and promptly providing products that meet their requirements.
To achieve this, multiple design centers have been established throughout the world as local development bases, providing a global system that can closely connect with customers. Placing developers and designers in each locale enables ROHM to achieve true globalization and generates new products that match the needs of local customers. 
Academic – Industrial Collaboration
ROHM partners with universities and research institutes both in Japan and overseas to actively pursue development activities.
In order to develop innovative technology that can advance culture and society, ROHM considers it essential to build strong relationships with research institutes, universities and companies in dissimilar fields and take on co-operative initiatives.
To promote academic-industrial collaboration, ROHM donated 'ROHM Plaza' to Ritsumeikan University, Doshisha University, and Kyoto University in Kyoto, ROHM's hometown. These plazas are designed to carry out comprehensive academic-industry cooperative research. 
ROHM Automotive solutions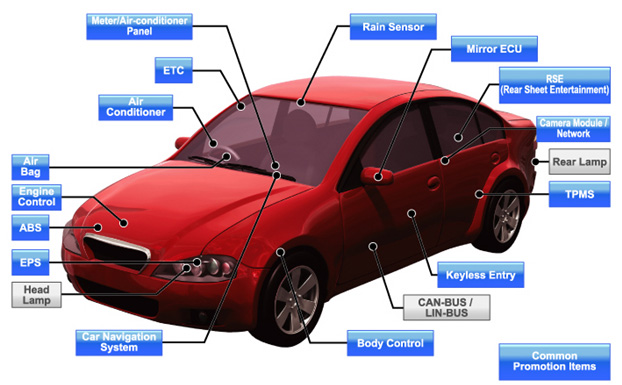 Synergy Strategy
It involves creating new added value by fuly exploiting the synergy created by combining ROHM's expertise in anlaog IC technology and LAPIS Semiconductor's strength in digital IC Technology. 
Power Device Strategy
Involvs integrating device, power IC control, and module technologies in order to develop power semiconductors capable of efficient power conversion. The focus on developing power devices comprised of silicon carbide (SiC), a compound that acheives far better energy svings and miniturization than convetional silicon (Si). 
LED Strategy
The strategy involves contributing to energy conservation in society by providing total LED solutions for the lighting industry, from LED components to driver Ics and power supply modules. 
Sensor Strategy
This is the fourth strategy responding to the needs of the sensor device market. In which there is a growing demand for sensors in a variety of applications, including smartphons, automotive safety devices, security systems, and even medical instrments. 
With four growth engines positioned at the core, the ROHM Group has the potenatial to make significant contributions to virtually all aspects of society.