Infineon Technologies is a leading automotive sensor supplier in key applications such as Anti-Blocking Systems, remote keyless entry, monitoring of side
airbags or Tire Pressure Sensors. Worldwide they supply pressure and magnetic sensors as well as wireless control ICs and radar devices in areas such as safety, powertrain and body electronics.
Here is the interview with Mr. Girish and Mr. Sourabh, Infineon Technologies India to speak more about their automotive sensor products and market growth.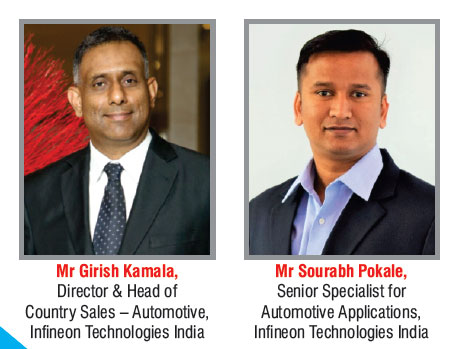 •             What is your outlook for Automotive Sensors product growth?
We expect the demand for automotive sensors to grow at a significant rate in the coming years. There are over 20 families of sensors in a passenger car and more than 10 families of sensors in a two-wheeler (2W) today. This will further grow due to increased focus on safety, comfort and efficiency in vehicles of the future. Demand for safety sensors will see an upward rise due to higher usage in applications like anti-lock braking system (ABS), electronic stability control (ESC), tire pressure monitoring system (TPMS) and wheel speed sensor (WSS). On the other hand, higher penetration of electric vehicles (EV) will drive the need for current sensors like Angle sensors, Battery Management System (BMS) sensors and pressure sensors to monitor the various systems in the vehicle. Advanced driver-assistance systems (ADAS) and connectivity applications will increase the need for sensors for Radar, Lidar, wireless control and ToF 3D image sensors.
Infineon offers an array of Integrated Circuits (IC) for various automotive sensor applications in 2W (fig 1), passenger vehicle (PV) (fig 2), commercial vehicle (CV) and off-road segments.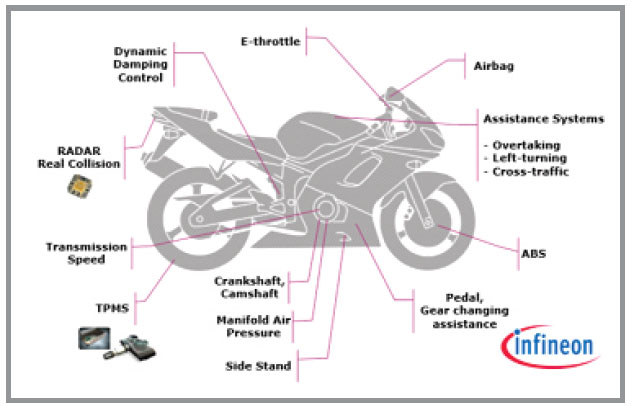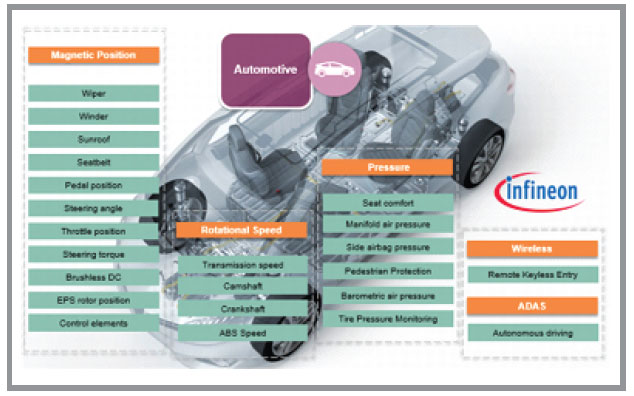 •             Which are the major areas driving this market?
The growth in the near term has come from increasing penetration of sensor-rich applications, particularly in electrified powertrains, such as for motor resolvers and battery current sensors, and for the emerging market regions, such as Mass Air Flow (MAF) sensors for Gasoline Direct Injection (GDI) systems where fuel economy and emission standards have tightened. Demand has also increased from tougher requirements for exhaust systems in mature market regions as a result from both tighter mandates and tougher test cycles, such as the new Real-world Driving Emissions (RDE) and World-harmonized Light-duty Test Procedure (WLTP) test cycles. Technological advances in areas of increased electrification and ADAS are also contributing significantly to the increased use and penetration of sensors.
The demand for sensors in the Indian market is expected to grow at a CAGR of 10+ percent in the next five years. One of the major growth drivers is government mandates for passenger safety, fuel economy and vehicle emissions. Additionally, Automotive electronic systems and controls are becoming more reliant on sensors as consumers expect a safe, comfortable, fuel efficient and non-polluting vehicle.
•             Which are the key values Infineon sensors offer to its customers?
Infineon develops sensors that make life easier and safer by offering a wide array of sensors for various applications. The sensors are broadly classified into five categories: Magnetic Position, Rotational Speed, Pressure, ADAS, and Wireless and Magnetic Current sensor (Figure 3).
With a strong focus on automotive applications, many of our sensors provide both analog as well as digital interfaces. The integrated pressure sensors adhere to highest functional safety due to integrated diagnosis capability and support a large variation of transfer functions.
The family of 3D Magnetic sensors supports customers for component reduction, high flexibility to address wide application range and offers platform adaptability due to device configurability.
In summary, our sensor portfolio offers our customers the opportunity for system cost reduction, application robustness, time to market, multi-platform usage at competitive prices.
•             According to you which sensors show strongest growth?
The highest growth application areas that we see are sensors in applications like Matrix Headlamps; Wireless PHEV/EV Charging, Solid-State Display with CDC, ADAS applications, Steer-by-Wire systems; Passive Entry with NFC and Fuel Cell EVs.
These are followed by applications for Battery EV, BMS, Mild Hybrid and Plug-in Hybrid applications, TPMS and current sensing applications.
The transition towards V2X, autonomous and semi-autonomous vehicles, occupant and pedestrian safety, in-vehicle entertainment, emulating your living room within the vehicle cabin will drive the need for sensors in the following applications: Night Vision, Drowsiness monitoring, Adaptive LED lighting, Occupant sensing, radar and lidar to name a few.
Most vehicles produced in India are compact vehicles, wherein we are seeing an increased usage of electronics and feedback systems for safety, comfort and fuel mileage and reduced vehicle systems. Basic body features emerging markets, relatively basic body features such as electric windows/mirrors, HVAC and keyless entry systems are expected to see good growth as vehicle manufacturers seek to differentiate their products in a crowded marketplace. While demand for sensors in safety and powertrain applications will be driven by regulations and ones being considered namely ABS/ESC, airbag systems and Bharat Stage 6 emission requirements.
•             Please highlight your products for Automotive sensors?
Infineon's XENSIV™ family was developed to meet today's sensing challenges in automotive applications. Building on the company's in-depth system understanding, it is the broadest portfolio of sensor types in the market, giving customers the widest selection of ready-to-use solutions offering fast time-to-market. Spanning magnetic sensors, current sensors, pressure sensors, acoustic sensors, 3D image sensors (REAL3™) and radar sensor MMICs (RASIC™ for automotive), XENSIV™ ensures the perfect fit for all performance and integrity needs.
XENSIV™ sensors are designed to "smartify" lives by enabling "things" to "see", "hear", "feel" and "understand" their environment. They empower customers to build more intelligence into their designs, thus paving the way for new and compelling applications offering more intuitive interaction and contextual awareness. Infineon also joins forces with its ecosystem partners to jointly develop innovative, synergized use cases that give customers a clear market lead in emerging areas such as autonomous vehicles.
Building on the 40 years of experience that Infineon has clocked up in developing sensor products and its world-leading sensing technology portfolio, XENSIV™ delivers exceptional accuracy and best-in-class measurement performance. All XENSIV™ sensors are designed for the utmost in reliability. Enhanced design and production standards coupled with extended testing under the harshest conditions are reflected in the field-proven quality of this portfolio. Because of this robustness, customers worldwide can rely on XENSIV™ for system stability, durability and integrity over their entire product lifetime. This is a key success factor for safety-critical applications in automotive designs, for instance.
In addition, customers have the added reassurance of a proven track record. Over the past 10 years, Infineon has shipped more than 20 billion units and clearly demonstrated its ability to develop ready-to-use sensor solutions that match real-world, customer-specific needs while optimizing system design overall. Looking ahead, Infineon is committed to a path of continuous innovation and technology excellence to keep its customers ahead of the sensing curve.