Munich, Germany – 7 November, 2023 – Infineon Technologies AG (FSE: IFX / OTCQX: IFNNY) today announced a new family of microcontrollers (MCUs) in the PSoC™ portfolio of Arm® Cortex®-based high-performance, low-power, secured devices. PSoC Edge is designed for next generation responsive compute and control applications, featuring hardware-assisted machine learning (ML) acceleration. The new family of MCUs deliver next-level end-user experiences by enabling end products to be more intelligent and intuitively usable, by lowering the barrier in human-machine interaction and adding contextual awareness to end applications. They do so while providing robust privacy and safety protection through embedded Infineon Edge Protect technologies.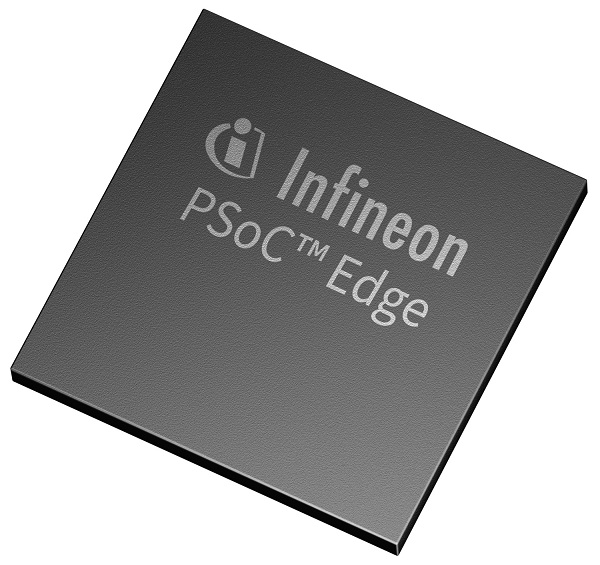 "Infineon's new PSoC Edge portfolio is built on years of experience delivering solutions to intelligently control, interact, and connect our world with highly usable and powerful MCU-based systems," said Steve Tateosian, Senior Vice President of Microcontrollers of Infineon. "They offer an ideal mix of scalable power and performance to support emerging AI/ML requirements, extensive HMI capabilities and security features required for next-generation applications. All supported with a deep ecosystem of software and tools, fit for task."
The PSoC Edge devices are based on high performance Arm Cortex-M55, including Helium™ DSP support paired with Arm Ethos-U55 and Cortex-M33 paired with Infineon's ultra-low power NNLite — a proprietary hardware accelerator intended to accelerate the neural networks used in Machine learning and AI application. Support for "always-on" sensing and response makes the devices ideal for advanced IoT and industrial segments such as smart home, security, wearables, robotics, and many more. The family of devices come with ample on-chip memories, including non-volatile RRAM, as well as high speed, secured external memory support. The PSoC Edge family provides scalability for increasingly sophisticated next-generation intelligent systems, while enabling software reuse and portability.
The enhanced intelligence of the PSoC Edge family extends support for advanced graphics, voice, audio, and vision-based applications to the existing PSoC portfolio. The new family enables easy migration of applications within the family, as well as an upgrade path from existing designs.
Supported by a rich set of enablement, developers can leverage the power of PSoC Edge for their current and future design needs. With strong ecosystem partners, comprehensive documentation, and the industry-recognized ModusToolbox™ software, including integration with the Imagimob Studio AI solution, PSoC Edge accelerates time-to-market.
ModusToolbox software support
Infineon's ModusToolbox software platform provides a collection of development tools, libraries, and embedded runtime assets for a flexible and comprehensive development experience. ModusToolbox supports a wide range of use cases including consumer IoT, industrial, smart home, wearable, and many other applications.
Imagimob Studio Edge AI enablement
Imagimob Studio is an Edge AI development platform, integrated into ModusToolbox, and delivers end to end ML development, from data in to model deployed. Starter projects and Imagimob's Ready Models make it simple to get started. Together with PSoC Edge, Imagimob makes it possible to deploy state of the art machine learning models for the edge.
Availability
The PSoC Edge family is available for early access customers now. For more information or to request participation in the early access program, visit www.infineon.com/psocedge.