It's been a turbulent year in the electronics industry.
2020 was supposed to be a strong year. Then, the coronavirus outbreak hit. Suddenly, a large percentage of countries implemented various measures to mitigate the outbreak, such as stay-at-home orders as well as business and store closures.
Economic turmoil and job losses soon followed, not to mention the human tragedy involved.
More recently, though, the manufacturing business appears to be bouncing back, New growth and opportunities for the manufacturing industry underway as the year comes
to a close. To gain some insights in the market, Electronics Maker discussed the status of the key electronics segments with some of the electronics industry leaders.
2021: Outlook…Trends…and Key Focus
Focused Segments
• Engineering Services
• Electronics Component Distribution
• Semiconductor
• Test & Measurement
• Connectors
• Robotics & Automation
• Electronics Assembly
• Power & Energy
Participatied Companies
QuEST Global, Digi-Key, Avnet, element14, STMicroelectronics, NXP, Renesas Electronics, ON Semiconductor, Silicon Labs, Littelfuse, Tektronix, Anritsu, Harwin, ABB, Indium Corporation, Hitachi ABB Power Grids
QuEST Global
OUTLOOK
The ongoing pandemic has changed all industries and has had a tremendous impact across sectors. The Hi-Tech sector, involving industries focused on online, cloud, virtual tools, and mobility-based applications and services, will continue to grow along with demand for cybersecurity systems, applications, and services. The need for seamless connectivity will lead to the telecom sector's growth, focusing on virtual and 5G networking.
We have already noticed growth in medical technology focused on digital healthcare solutions and services, personal care health devices, along with COVID-19 care solutions and wearables.
The automotive sector around semi-autonomous, driver safety and connected car products and solutions should see increased traction. This should also lead to high demand for automotive applications for autonomous driving and driver safety applications, 5G networking, and edge computing. The oil and gas industry should see a shift towards cleaner energy solutions and digital-based solutions for cost optimization. At the same time, the power sector should see a focus on renewable energy solutions. The rail sector should see growth, owing to the increased demand for metro based mobility infrastructure solutions and high-speed trains.
TRENDS
We have already noticed specific technology trends in 2020 that should take center stage in 2021. More applications will be migrated to the cloud. There would be an added drive on application modernization to new micro-services based architecture that would make them suitable for the cloud. Data engineering should see an increased focus across industry sectors and involve the full lifecycle of data management – from collection, cleansing, structuring, storage, and analytics with a more in-depth focus on Machine Learning and Deep Learning-based data modeling for analytics and AI support.
We should also notice increased automation using AI tools and DevOps based software testing and release management. The industrial sector will look at factory automation through the rendering of IoT based solutions. At the same time, there will be a rise in augmented and mixed reality-based solutions for better consumer experience, on-field support, training, and user experience applications.
KEY FOCUS
In 2021, our key focus would be to stabilize the business environment by helping our customers with cost efficiencies and infusion of digital technologies to assist in their future transformations.
Digi-Key
OUTLOOK
The importance of available inventory in the channel is increasingly critical in order to support unpredictable situations and disruptions and is something that Digi-Key is heavily investing in to prepare for future unknowns and to start 2021 with a healthy foundation.
There's going to be a continuation of merger and acquisition activity into both semiconductor and non-semiconductor technologies. Suppliers will continue to develop with broader product portfolios. Product lifecycles will continue to shorten with the continuation of advancement of technology, and products will continue to improve which will allow for shortening of time to market activities. In addition, the supplier community will continue to diversify their factories from a geographic perspective and not be so dependent in one localized area.
We do believe there will be a vaccine and we will resume with a new normal in the not-so-distant future. We've learned a lot about ourselves and discovered some better, more efficient ways to do things moving forward. This year has proven that technology innovation is always going to be a driving force behind making things better, and we look forward to a better 2021 for the industry.
TRENDS
We have recently adopted a new tagline of "enabling the world's ideas," and that phrase really encompasses everything we do as a broadline ecommerce distributor. We support many industries and applications in different ways and enable innovation in all areas. At a high level, we expect to see continuous innovation and product development in the areas of automation, energy saving and recycling, and wireless network enabled applications to drive efficiency improvement. As a distributor, we continue to invest in broadening our product portfolio and access to unlimited adjacent products and technologies to provide a singular shopping experience for all things related to technology innovation and ease of doing business together.
COVID-19 has definitely increased demand in certain verticals and applications to support infrastructure, medical, work-from-home stations, industrial applications, and handheld type products. Wireless has been very strong, microcontrollers, and sensor-type products that have been used to support many medical applications have also been in high demand. We anticipate these recent trends to continue to dominate in the new year as well.
KEY FOCUS
We have three key focuses for 2021. First is to continue out-performing in customer satisfaction by managing a stable inventory and focusing on on-time delivery globally. Our valued customers have noted this continued commitment through social media, thank you letters and emails, and continued support of Digi-Key, and it is always appreciated.
Secondly, we aim to manage a stable on-site essential and healthy workforce, as well as healthy work-from-home force until it is safe for our team to all office together again.
And lastly, we are on track to open our expanded product distribution center (PDC) in 2021, and we very much look forward to making that transition and continuing to serve both our customers and employees well from our new state-of-the-art facility.
Avnet
OUTLOOK
The industry is expected to rebound and witness recovery in 2021. Future Horizons predicts that in 2021, the global semiconductor market will grow 12% to $480bn.
Things are likely to pick up in the second quarter next year when the vaccine is successfully launched. While the market is still unpredictable, we are already seeing the automotive industry picking up pace, in both electric and traditional vehicles. Covid-19 has driven demand in the telecommunication industry as a result of remote working, online learning, home gaming and so on. With the pandemic currently showing no signs of slowing down, the telecommunication industry will continue to go strong. We are seeing a similar trend in our gaming customers as well.
TRENDS
Covid-19 has accelerated the need for touchless technology, resulting in wireless technology such as Bluetooth and NFC becoming increasingly popular. E-payment volumes have soared, partially brought about by the e-commerce boom. But the adoption rate will differ depending on how developed the communication infrastructure is. We are also seeing a spurt of real-time location systems (RTLS) and remote-predictive maintenance solutions as workplaces start to reopen.
5G will enable further levels of innovation across multiple market segments, including healthcare, automotive, smart cities and industrial automation. Take the connected car for instance, the autonomous vehicle must continuously interact with its environment, communicate with other vehicles, roadside infrastructure, pedestrians, and other entities to ensure a reliable and safe operation. These interactions will rely heavily on 5G's capabilities.
The world is shifting towards clean, eco-friendly energy sources. The IEA forecasts that the renewable electricity capacity will rebound in 2021 as delayed projects are expected to come online. Currently, India is the third largest producer of solar energy in the world. Avnet has developed a system in India that converts and uses solar energy to run agriculture pumps, delivers maximum power to the motor depending on solar energy, while offering maximum protection to the motor and the drive.
KEY FOCUS
Our first and foremost priority is to ensure the safety of all our employees. We have the necessary precautions and business continuity plans in place since the pandemic and will continue to do so.
Avnet is committed to providing a stable and reliable supply chain for our customers. This is particularly crucial in the current environment where demand is much greater than supply, further increasing the challenges of procuring components and products during this pandemic period. The global shortage of capacitors, for instance, has affected the production of electric vehicles (EVs).
With product life cycles getting much shorter now, businesses need to be quick in introducing new products to the market or risk being superseded by their competitors. Avnet has been supporting our suppliers and customers in demand creation. Our extensive ecosystem of experts support customers at every stage of the product lifecycle. We deliver design, product, marketing and supply chain expertise that help companies reduce the time, cost and complexities of bringing products to market.
element14
OUTLOOK
Things may be positive in 2021 for the electronics industry. The Corona pandemic brought a demand for medical applications; medical sensors and related components detect biological, chemical, and physical signals and increase health equipment efficiency. Biomedical engineering will grow strongly, bringing a fresh platter of electronics component demands. With work and education from home, demand for communication equipment for broadband service access and computing devices for e-learning is rising. As people across the globe avoid public transport there is new demand in transportation, broadening from electric cars to support demand for personal transportation of all types – from cars to electric scooters. The greater challenges that we have faced around climate change and energy have become more important with increased focus on smart energy. The frequency of virtual exhibitions (online trade events) may also rise, depending on circumstances.
TRENDS
Real deployment of 5G will happen as demand for digital collaboration using video, data, and voice increases multifold. AI and ML will get widely deployed in Edge Devices and IoT. Electric Vehicles will roll out across the world. There will be demand for charging stations, and investment in Battery technologies will increase. Automation will be seen everywhere across industries. Industry automation 4.0 marked by the convergence of IT and OT, advanced robotics, Machine Learning, Artificial Intelligence, and Big Data/Analytics will be the order of the day.
KEY FOCUS
Our focus will be to increase our digital presence and drive more business through our e-commerce channels. We want to provide the best possible online learning experience to engineers through our community and a well-thought-out content strategy. We will have more NPIs and focus on Industry Automation, IoT, and the Educational segment.
Industry Segment – Semiconductor
STMicroelectronics
OUTLOOK
While predicting the industry outlook is not our business, ST is operating on the assumption that after a flattish 2020, which was impacted in H1 by the pandemic's impact on our end markets, the market will grow again in 2021.
TRENDS
As ST, we see a number of very strong trends. Most of these, like the electrification and digitization in the automotive markets, were already in place before the current global situation, and others, like the industrialization of the IoT and the adoption and integration of Artificial Intelligence into embedded applications, have accelerated by the circumstances in 2020.
On electrification and digitization in automotive markets, ST is seeing the continuation of strong growth in our SiC business – in fact, while that business is taking off in the automotive market, it is moving rapidly into the industrial space. Half of our customer engagements for SiC projects are for Industrial applications. And in digitization, that is being driven by the ongoing trends toward Electronic Control Units (ECUs) and Smart Gateways, as well as the growing demand for multi-application, deterministic, Integrated Controllers for the automotive market to maximize safety and security, where ST just made an announcement with a well-known and -regarded tier-one automotive electronic module supplier. There is also an intense effort toward Level 2 and Level 2+ in Advanced Driver Assistance Systems (ADAS), where we are quite active.
Then there is the industrialization of the IoT, which has accelerated. Here, we're seeing tremendous innovation from our customers and – just to offer a couple of examples, Aura Aware used our FlightSense Time-of-Flight sensors in a social-distancing application and Schneider Electric is using Artificial Intelligence running on ST's leading STM32 microcontrollers in a people-counting sensor that has great value in attendance and building usage applications. We've got many more examples that highlight ST's strong positioning to address these trends.
KEY FOCUS
At ST we will continue to ensure both the ongoing health and safety of our employees and continuity of our business operations for our customers through the current challenges. These priorities remain of utmost importance for the company.
Then, the focus will remain on continuing to implement the strategic decisions ST Management has made stemming from secular growing market trends and addressing key societal needs. Even with the challenges of 2020, the underlying principles of company's strategy have not changed, and ST remains determined to continue making the company stronger, executing the sales and operating plans, and outperforming the markets we serve.
Renesas Electronics
OUTLOOK
The industry should experience robust growth barring additional macroeconomic or pandemic related shocks. For at least the first couple of quarters, the trends we saw in 2H20 to continue. These include increased bandwidth consumption, strong demand for laptops/tablets, spending on home appliances, healthcare, and focus on improved air quality/environmental sensing to continue. Additionally, the smart phone new models move towards 5G is helping revive some of the weak demand we saw in 2020. The low-inventories of new vehicles (moving towards Hybrid/ electric-vehicles) and shut-down of automotive factories has led to an imbalance between demand and supply on the automotive side and we expect demand to be strong till the two get in balance.
TRENDS
The major technology trend which will continue to dominate will be the move of AI to the edge. The availability of high-bandwidth irrespective of connectivity mode will be a major theme and this impacts many fields including telemedicine, satcom etc…. We will see increased investment in "5G" both in the sub-6GHz area and more focus on the MMW part of the spectrum. The increased focus on environment both within buildings as well as outside will drive greater demand for environmental sensors, personal healthcare devices, as well overall energy efficiency improvements. On the automotive side we expect push to HV/EV to intensify and improved ADAS system deployments as well as in-cabin AQM to be on the increase.
KEY FOCUS
The primary focus is the health and well-being of all of our employees. However from a product and technology perspective it is all about enabling the data-centric economy with our MCU, MPU, mixed-signal/analog and power products. We have started an aggressive pace of product launches in 2020 and I expect that this pace will intensify in 2021 as we introduce our most advanced ARM core based MCU's, connectivity products, as well as our leading edge memory interface, timing, RF, optical and power devices. We also will be launching several new 64-bit MPU's to address a wider range of applications covering the spectrum from video to industrial automation. Additionally expect to see our first RISC-V products as well several new proprietary core devices from 16-32 bit to hit the marketplace as well.
NXP
OUTLOOK
A lot has changed in the year 2020, majorly owing to the Covid outbreak. While many businesses were able to sustain the disruption caused by the pandemic, there were a lot who struggled to survive. But one thing that turned out to be the saviour for organizations across industries was the rightful use of technology which enabled a quick transition to a less-contact society. The attempt to cope up with outbreak brought about radical changes across industries making way for digital technologies to be adopted widely. And the momentum will continue to grow at a speedy pace with wireless connectivity technologies, Cloud-based tools, IoT and many other innovations that changed lives and the way businesses operate.
Semiconductors are extremely critical for any electronic device and now with the world focusing on reopening and getting the economic engine humming again, semiconductors are going to play a crucial role. In fact, with more and more aspects of our lives going digital, the role of semiconductors is going to be more important than ever before, and the industry may emerge even stronger in the new normal.
TRENDS
While many new-age technologies have been around for some time now, we must remember that technology is constantly evolving. Sharing below a few trends expected over the next year.
2020 saw the adoption of contactless technologies such as digital payments, facial recognition, online education, and other smart devices at a huge scale. The current pandemic has acted as catalyst in bringing about the next wave of digital transformation and contactless technologies will continue to pave the way for a contactless society at a macro level.
Artificial Intelligence will become more prevalent than before. Coupled with machine learning algorithms, huge chunks of data and crafting out successful plots from the same will be seen through it.
The electronic and semiconductor fraternity is of the opinion that IoT will reshape the industry in the year 2021. In fact, the coming year will likely see the evolution of IoT from mere Internet of Things to Intelligence of Things through integration of AI.
In the automotive sector, the emergence of safety sensors in cars should continue to grow and with the current pandemic, vehicle automation will be one of the key focus.
The rise of IoT, autonomous vehicles, smart devices ecosystem and 5G have highlighted the need for greater focus on EDGE computing.
Secure and seamless wireless technologies such as Ultrawideband (UWB) and NFC will continue to run the show over the next year as well.
KEY FOCUS
Semiconductors are at the core of almost every industry as they play a key role in development and support of many critical areas. And this has all risen manifold due to the ongoing pandemic. Contactless technologies like UWB have been one of our key focus areas and shall continue to do so in 2021 as well. NXP's innovative solutions empowered by UWB technology have pushed the masses to embrace the Internet of Things as they brace themselves for a contactless lifestyle on-the-go in this new normal
The pandemic has acted as a catalyst in the growth of digital payments as well. Since currency bills carry a risk of virus transmission, contactless digital payments, either in the form of cards or e-wallets are becoming the norm so as to avoid the spread of COVID-19. We at NXP recently announced our new MIFARE DESFire EV3 IC that enables service providers and end users to benefit from convenient and reliable contactless access and payment solutions.
With the continuous evolution of automotive technology, we look forward to inch closer towards autonomous vehicles over the coming year.
5G and enhanced connectivity will be another focus area next year for the semiconductor industry at large. The need for faster and more reliable internet and higher bandwidth coming from 5G will unlock more opportunities in the times to come.
ON Semiconductor
OUTLOOK
The semiconductor industry is expected to follow the global macroeconomic recovery that is taking shape following the brief but acute pandemic induced recession experienced in 2020.
The semiconductor industry is critical in providing enabling technology to every vertical market sector. In 2021, the demand for clean energy will be a major driver for the semiconductor industry as governments and people strive to reduce carbon emissions. Clean energy isn't only about power generation, it is about how every last fraction of a Watt is consumed.
New semiconductor technologies such as Gallium Nitride (GaN) and Silicon Carbide (SiC) are essential to deliver optimal efficiency in almost every application that uses power in some way. The temptation here is to rip out and replace every power supply with a more efficient solution based on GaN and/or SiC, but of course, that isn't viable. What we will see, however, is a real desire to specify and design-in the very best technology, to create the most efficient power solutions moving forward.
If I were to predict one thing for 2021, it would be increased demand for more efficient power semiconductors. Many semiconductor vendors recognize this demand, but ON Semiconductor is the only one to make energy efficient innovations core to its vision.
TRENDS
I expect the two big megatrends of 5G and AI to be at the forefront of technology innovation next year. But I think we're approaching an inflection point, which will see these technologies start to converge in interesting ways.
To put it succinctly, we can expect AI to be used in more numerous ways, to help us develop as a global society. We will use AI to identify patterns in vast amounts of data, to work through complex problems quickly, to exhaust the possible iterations and derive solutions, far quicker than humans. I believe that 2021 will be the year when AI really establishes its place in the world.
Now, if AI is the 'what', then 5G is the 'how'. The amount of information needed to drive AI will come from everywhere. The IoT is now the IoE, or Internet of Everything. The volume of data this will generate is on an upward trend and the curve is steep. We will only be able to move that data from where it starts to where it's needed through an ultra-highspeed backbone, and 5G will be that backbone.
At the edge, we can expect to see Wi-Fi 6 and Wi-Fi 6E (6 GHz) handling a lot of the data that flows to and from smart sensors and smart actuators. This local connectivity will be just as important as the high-speed backbone and prove equally critical.
Next year we can see the convergence of AI, 5G and Wi-Fi 6 leading to entirely new possibilities. The bedrock of this new infrastructure is semiconductor technology. ON Semiconductor is a pioneer in the newest and most promising technologies, including Wi-Fi 6/6E.
KEY FOCUS
The very short answer to this question is 'Think Global'. The semiconductor industry is truly global, we can't afford to think of it any other way. The current pandemic is also global. At ON Semiconductor, we acknowledge our responsibility as a global employer, supplier and business partner. If we have a single focus for 2021, then it would be to think and act globally, drawing on the resources and talent of a global industry to benefit all of society.
It gives me great optimisim to hear that we now have several potential vaccines coming to market. The huge effort of everyone involved in realizing those solutions would not have been possible if the medical sector didn't operate globally. The same is true of the way technology companies at every level have responded to deliver more drugs, more healthcare equipment, manufacture more PPE and distribute all of this to the areas where they are needed most.
A global supply chain is fundamental to that success. ON Semiconductor is focused on its place in the global value chain, and how it can continue to improve on that while also contributing to a more sustainable future.
Silicon Labs
OUTLOOK
The IoT will continue to grow at a rapid rate. Growth in IoT was already well underway prior to the global pandemic. However, the pandemic has compelled millions of people to embrace connected IoT technologies to live, work and play remotely from their homes. While the impact of the pandemic varies across the world, its impact on the way we will live, work and play going forward is being felt everywhere. Smart Home consumer IoT devices ranging from voice assistants, smart watches, home climate, lighting and security sensors will proliferate. Even smart pet collars will proliferate to help locate lost dogs and cats if they should get out of the house.
We also see the industry coming together to embrace wireless protocol standardization and interoperability. If any one thing holds the mass adoption of IoT back, it is incompatibility issues where devices are not able to work with one another. Silicon Labs currently occupies a unique position in the wireless space as the only company with the ability to connect ecosystems and platforms across hundreds of wireless protocols. We are glad to see the industry as a whole realizing that interoperability via standards is key to overall industry success. One of the most encouraging and ambitious efforts currently underway is Project Connected Home over IP (aka Project CHIP). This is a Zigbee Alliance working group.
TRENDS
AI/machine learning will become much more integrated into a wide range of applications, no longer requiring humans to provide explicit instructions for how machines will react in a given situation. AI and machine learning engines will be baked into IoT silicon, and doing so makes machine learning very easy to use for IoT device developers.
Bluetooth will continue to be used in new, interesting and effective ways. We are increasingly seeing Bluetooth being adopted in smart medical and social distancing devices, which are so important as the world continues to navigate through the ongoing pandemic. Bluetooth will also be used for precise asset tracking using new Angle of Arrival technology to determine the location of products, assets and people with sub one-meter accuracy. This has enormous application in retail, manufacturing, and transportation environments, among others.
Security will become a fundamental part of IoT devices, with embedded hardware and software security solutions purpose-built to protect IoT edge devices becoming the norm.
Similarly, we see expect to see more homes and buildings adopting smart sensors, lighting and security systems to help ensure homes and offices are as energy efficient, automated and secure as possible.
5G will take off in 2021, delivering huge leaps in data transfer speeds and capacity with much lower latency. This will have a huge, beneficial effect on IoT in general. But in order to drive mass adoption of 5G technology, 5G technology infrastructure providers will need to pivot to Power over Ethernet (PoE) best suited for 5G small cells.
As evidenced by Tesla joining the S&P 500 in December, electric vehicles are becoming mainstream. Government regulations mandating moves away from internal combustion vehicles to EV vehicles will accelerate this trend.
KEY FOCUS
We know we are an essential business, and we remain focused on execution to ensure our customers, partners and end users are getting the wireless technology solutions they depend on across a wide range of smart home, smart industry and smart city applications. We've also prioritized customers whose smart medical devices are actively helping to fight the COVID-19 pandemic. For example, we work with a number of customers who use our technology in life-saving smart medical equipment like ventilators, pulse oximeters, and blood glucose monitors. We continue to prioritize these customers to help ensure life-saving medical equipment get to the healthcare providers and patients who need them as quickly as possible.
Another key area of focus will be our continued leadership within the industry to encourage IoT device makers to ensure their solutions are secure, work across protocols. Security, standardization and interoperability are crucial to the long term success of the IoT, so as to Silicon Labs.
Littelfuse
OUTLOOK
Regardless of prevailing, pandemic-induced economic uncertainty, the global semiconductor market is poised for growth in 2021. India is likely to bounce back with an impressive 8.8 percent growth rate in 2021, thus regaining the position as the fastest-growing emerging economy. The second half of 2021 should reflect these positive trends.
After a disappointing Q1 through Q3 due to COVID-19, Q4 2020, the last quarter of the financial year in India's business, has seen a surge in demand. The momentum is likely to carry forward in 2021. The main reason for the surge has been in automotive. Both the personal mobility and commercial vehicle segments are growing due to a good monsoon season and the rural demand (especially tractors).
This growth will continue in 2021. We expect the government's reform process will move forward and that tenders in telecom, railways, defense, smart meters, and renewables will further fuel the demand. As "Make in India" gets more focus, local electronics manufacturing will get a boost in government incentives.
TRENDS
Since the start of the pandemic, more and more of the workforce is moving to telecommute for their jobs. The ever-evolving guidelines for how we communicate and connect in public spaces is resulting in technology trends that are the guiding force behind change management. The biggest technology trends in 2021 will be the development of a more connected world and clean energy resources. These macro trends driving technological developments in electric vehicles, autonomous vehicles, smart industries, telecom, data center, renewable energies, artificial intelligence, enhanced robotics, big data, IoT, health care, and network connectivity.
KEY FOCUS
Our teams are focusing on automotive, building automation, power protection, 5G telecom networks, renewable energy, power conversion (UPS, inverters, EV, induction heating), and industrial (retrofits).
Industry Segment – Test & Measurement
Tektronix
OUTLOOK
As more people work and learn from home and continue to depend on technology to do so, we see an increasing demand for software and cloud-based solutions to enable easier collaboration. People need their phone batteries to last longer and their computers to download data faster, all while using less electrical power. Those consumer demands today are the same for engineers and enterprises just at different scales. Whether it's an autonomous vehicle, a smart power grid, or the future of aerospace, we continue to see growth and demand for faster computing and power-conversion and are excited to enable those innovations.
As we approach 2021, we expect to see greater convergence amongst major industries, with wireless and wired rapidly becoming one. This is not just with IoT and connected devices, but for the future of our experience as human beings in a very interconnected and highly technological world. The industry is expeditiously developing, and I expect to see an upward trend in the release of new and exciting technology that customers use in their everyday life.
TRENDS
We've reached what we refer to in the industry as a 5th wave of computing with the prominent rise of 5G, AI and IOT this past year. This sector will grow as new technology is released demanding greater speed and interconnectivity. There's a whole emerging ecosystem that will accompany these rising technologies, including the convergence of wired and wireless systems that will significantly impact the telecommunications sector in the years ahead. Everything is now being virtualized and standardized, requiring a level of collaboration that will lead to a lot of exciting software innovations.
As technology leaders, we're focused on discovering ways to compute faster and convert power quicker, all while using less energy to do so. The health of our planet demands greater efficiency from our tech, whether it's on our wrist or on our desk. At Tektronix, we are focused on the developments happening in the power, wired and wireless application spaces. These spaces are rapidly growing and developing, with a need for users to perform at a greater power level. There is a lot of growth predicted in AI-based applications, which will require a new level of integration between RF and digital engineers. I'm excited about the innovations our team is working on, and I'm looking forward to seeing all the developments that unfold throughout 2021.
KEY FOCUS
COVID-19 surely adds a layer of complexity to everyone's work, but overall it does not change our strategic focus. With so many engineers working from home and away from the lab due to COVID-19, and teams increasingly globally dispersed, Tektronix's new cloud-based and software products, such as the first direct from oscilloscope-to-cloud data platform TekScope, allow for easier collaboration between engineers wherever they are. As a company focused on driving solutions for engineers, Tektronix is deeply in tune with the needs of our customers.
Anritsu
OUTLOOK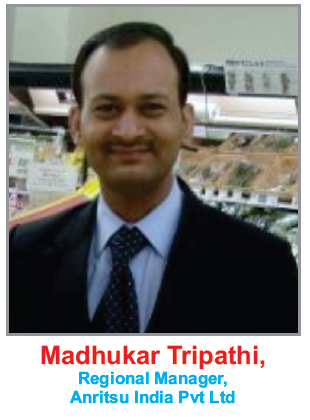 The latest Ericsson Mobility Report claims there will be 13M 5G mobile subscribers by the end of 2020 vs. a projected 2.6B by 2025. 5G will be reality in many countries and as a result Enhanced Mobile broadband experience will be trend setter in 2021. Therefore, telecom industry will continue to upgrade network & will work on spectrum optimization to improve network performance leading better customer experience and reduce OPEX. It will be possible by using SDN, NFV technologies. Standalone 5G deployment will also be seen in 2021. Dedicated 5G, Private 5G network demand will increase in 2021.
Digitalization will be key differentiator in 2021 & will lead market across all industries. All service providers will work towards connected society and will use digitization as key enabler/ tool to provide better customer service. We can expect some major merger & acquisition (M&A) in 2021 as well.
TRENDS
As per GSMA, 5G will account for as many as 1.2 billion connections by 2025. 5G will remain leader in technology trend during 2021.
According to GSMA's latest information about Mobile Economy series, Asia Pacific mobile operators are to invest over $400 billion on their networks between 2020 and 2025, of which $331 billion will be spent on 5G deployments. The report shows that the region is one of the fastest growing in the world and home to over half of the total global subscribers.
All this data indicated 5G will remain a hot topic and key focus for telecom industry across world. All use cases, application based on 5G network will be other focus area. These technology includes but not limited to Edge Computing, Cloud computing, Artificial Intelligence (AI), Augmented Reality (AR), Machine Learning (ML), Industrial Internet of Things (IIoT), Internet of Things (IoT), Network Virtualization Function (NFV) , Network slicing , Dynamic Spectrum Sharing (DSS), Industry 4.0, Cybersecurity , Connected Car, Autonomous car , Home Automation, Remote Surgery etc.
We can expect more 5G devices in market and competitive prices to enable wider acceptance of 5G. While 5G deployment is yet to see light in many geographies, 6G discussions have already started and will move start moving forward in 2021.
KEY FOCUS
Anritsu as telecom test and measurement instrument manufacturer company will work closely with key customers and technology enablers. Anritsu will help them to provide better products in market, launch new services in market, meet time to market demand. We have already adopted new normal and providing support to our customers remotely as well. Anritsu will continue to contribute its role for safer, connected society.
Industry Segment – Connectors
Harwin
OUTLOOK
We expect there to be strong growth in most sectors of the electronics industry over the next 12 months. Pent-up demand will be released and manufacturers' shipment volumes will increase. Manufacturers and their distribution partners need to be prepared though, so they can ensure that inventory levels aren't used up quickly and don't face lengthy lead times. Harwin has made sure it has stock capacity available to meet heightened demand.
TRENDS
The COVID-19 pandemic has already set the agenda for much of the technological progression we can expect to see in the year ahead. The roll-out of Industry 4.0 was already on the horizon before the outbreak occurred. However, the need to keep production and processing facilities running while also observing social distancing has meant the arrival of widespread industrial automation has come at a quicker rate. Manufacturers will likewise push ahead with the adoption of robotics as the investment involved continues to lower. This will allow them to keep their factory floor labour costs down, and mean their workforce can be focussed on jobs that make better use of the skills and training they've been given. With the working culture changing from one that is predominantly home rather than office oriented, reliance on cloud services has ramped up dramatically – and now people are used to it, this is going to be the way things continue. Before COVID hit, the main drivers for 5G deployment were likely to have come from the consumer and enterprise sectors. Now we see the initial impetus originating from the industrial space, with companies looking to implement private networks at their production sites.
International environment initiatives, combined with targets set down by various governments, will encourage electric vehicle uptake – with charging infrastructure installation activity certain to ramp up in the coming year. In order to reduce the acute strain placed on healthcare resources, home-based patient monitoring will likewise continue to grow in popularity. Increasing interest in commerical space applications is also worth mentioning, as the potential here is huge.
As well as participating in all the areas just mentioned here, Indian engineering expertise has a vital role to play in smart metering. India has already established itself as a world leader in this technology, and renewed international demand seems assured as roll-out activity begins to build up pace in the aftermath of COVID.
KEY FOCUS
Continued engineering innovation will remain at the forefront of Harwin's strategy. We were already way ahead of most manufacturers in moving to automated production, and this has allowed us to keep serving customers in critical markets, like medical and space, right through the lockdown period. The key markets that we have identified as strengthening in the next year, such as robotics, home healthcare, satellites and Industry 4.0, all need ultra-reliable high-density interconnects that push the performance envelope. Often they need solutions that are compact and lightweight, and in many cases must combine power and signal carrying functionality together. So looking ahead, our product roadmap reflects these requirements. In addition, our board-level EMI shielding solutions are gaining greater traction, as electronic systems get increasingly complex and component packed.
Industry Segment – Robotics and Automation
ABB
OUTLOOK
In the long-term, COVID is clearly a catalyst for change in the industry. While the lockdown and pandemic hasn't started any new trends on its own, it has accelerated existing trends, such as reshoring/ nearshoring to improve supply chain resilience; having production lines that are more flexible and better able to cope with significant changes in demand; or processes without human contact.
For 2021 and beyond, our customers are telling us that the need to accelerate the adoption of robotics and automation is critical, both to protect the health of their employees and to enhance business continuity, with businesses increasingly focused on flexibility and simplicity of installation and use. Many customers are discussing with us about efforts to bring production closer to home, and how automation technologies can help make production and logistics flexible and keep running in key segments, especially in Healthcare, Pharmaceuticals, Logistics and Food & Beverage.
For logistics, the experience of panic buying and the growth of home delivery, especially for groceries, during the pandemic, has put the efficiency and flexibility of these picking and sorting operations, and the role of automation, into greater focus. Healthcare will continue to be another emerging segment for robotics, with a number of our robots deployed around the globe supporting laboratory workers with COVID-19 testing, for example. Moreover, robotics can certainly provide solutions to many and varied challenges as businesses seek to protect their workforce through social distancing and aim to minimize the impact of a future pandemic.
Collaboration has been an existing, growing trend even before Covid-19. The adoption of cobots is part of a long-term industrial trend towards greater adoption of Industry 4.0 to make manufacturing more flexible and efficient. Enabling machines and people to share workspaces without putting speed and safety at risk is increasingly important, as it helps maximize flexibility and efficiency. The development of new technologies that enable collaboration will ensure that operators can work alongside robots without the need for extensive and expensive fencing. This helps to cut both the cost of an installation as well as the overall footprint, ideal for laboratories and other locations where space is at a premium, as well as maximizing production line flexibility and efficiency. We expect to continue seeing this grow over the next few years.
Industry Segment – Electronics Assembly
Indium Corporation
OUTLOOK
In 2021, we'll continue to see more electronics in cars. Hybrid and electric vehicles use electronic power modules at higher and higher voltages and current densities, with long-range-capable battery systems to match. Increased safety is galvanizing the proliferation of advanced driver-assistance systems (ADAS) which are starting to become the norm. The changing nature of urban car ownership is the force behind truly autonomous vehicles, which are just in their infancy. Enabling this while ensuring long-term reliability drives our innovation in assembly materials for automotive modules and packages. Indium Corporation remains the only materials supplier on the reliability-focused Automotive Electronics Council.
We're working to meet the needs of many other industries, including 5G, which is the force behind the "Internet of Everything." There are interesting assembly and design challenges for 5G, which demand highly reliable remote functionality with continual connectivity: high-speed download and upload are "given." New cutting-edge solutions are developed for both infrastructure hardware and mobile devices. Our recent focus has been on enabling drop shock reliability at low temperature for cellphones, through to cooling RF amplifiers in base stations using innovative solder Thermal Interface Materials.
TRENDS
We will see enhanced functionality in smaller packages, as both disaggregated semiconductor die and SMT components have to be assembled in the same functional unit. Roadmaps in heterogeneous integration and assembly (HIA) and system-in-package (SiP)are helpful,but challenges remain in package design. Emerging flip-chip and ball-attach assemblies necessitate specialty water-soluble and no-clean fluxes, and ultrafine system-in-package (SiP) solder paste. Even the microcontrollers used in cars are moving from the old wire bonding technology to flip-chip on leadframe, which further promotes the adoption of our specialty ultra-low residue semiconductor fluxes.
Big Data is one of the main forces behind the adoption of 7,5, and 3nm node semiconductor technology. On the server side, these large dies are used in high-power density high-performance computing (HPC) modules. These dies require unique thermal solutions: some standard types, such as lidded packages using indium metal(the process is process-proven and well-understood); and some other types require novel liquid metal technology that we are poised to bring to market.
It's also a very exciting time for the space industry where the possibilities seem limitless. At the time of writing, SpaceX has sent out more than 800 flat-panel broadband satellites into space. For a private agency with significant government funding, it's a marked change in pace from historic launch schedules.
KEY FOCUS
Our focus this year has remained on the importance of keeping our people and their families safe, healthy, and happy. As we emerge from the effects of the coronavirus, we want to ensure that our global organization is able to make and deliver great and innovative products while keeping each other safe. As always, Indium Corporation continues its commitment to working collaboratively with our customers and partners to inspire innovation and create cutting-edge solutions to the current and emerging challenges in a variety of industries. Indium Corporation's newer and developing offerings are enabling a huge variety of future technologies: from ultra-high purity tin enabling the creation of the world's smallest transistors, to novel thermal materials removing heat from high-performance computer chips, to ultrafine solder powders of novel alloys, allowing the creation of the tiny solder joints needed for mobile and wearable devices, we work tirelessly to prove again and again that materials science changes the world.
Industry Segment – Power and Energy
Hitachi ABB Power Grids
OUTLOOK
The electronics industry has changed greatly over the past year in the aftermath of the coronavirus outbreak. Changing demand and consumption patterns have given way to a brave new world that is ready to decarbonize and decentralize.
India holds a huge untapped potential with an e-mobility revolution taking its roots here, the government has shown will and ambition to transform the automobile industry and begun our transition to a cleaner, greener nation. Our transition to clean mobility will have us readjusting our power mix and prepare for a higher share of renewable grid integration in the coming year.
2021 will also have us witness a renewed interest in a nationwide network of accessible charging infrastructure and grid modernisation through deployment of intelligent digital solutions that can help us sustain an energy and e-mobility revolution simultaneously. It will also see our governments' push for infrastructure development under Make-in-India materialise, which means our energy needs will also rise and add additional pressure on our existing power grids.
In the interest of our future, the government should focus on deploying digitalised power technologies across sectors such as transport and infrastructure. This will maintain the resilience and longevity of mission-critical assets, reduce transmission and distribution losses and carbon emissions across industries, thus also increasing our energy efficiency in the process.
In a nutshell, we expect to see expansion in sectors like mobility (railway electrification, e-buses), industry (for e.g. energy management and asset optimisation), smart life (for example smart cities, energy storage) and IT (for example software solutions and data centres). We believe that there is significant potential to accelerate digitalisation and to help customers scale up by leveraging advanced power systems and digital technologies.
Fundamental market drivers seem intact, with the growing need for sustainable energy. As for us, we see ourselves growing in some strategically selected high-growth segments namely renewables, green energy corridor transmission, rail electrification and metro, data centres, grid digitalisation and smart sector integration. We will continue to make in India for India and other continents as exports are an area of focus as well. To support nation building projects, we have the largest installed base in the country. We hope to grow faster than the market, investing in building the right talent pool for the power sector going forward as well.
TRENDS
We believe that the power sector in 2021 will be greatly impacted by renewable energy, cybersecurity, big data and the Internet of Things.
In the aftermath of the coronavirus outbreak there has been a change in demand patterns, a realisation about the havoc climate change can wreck on our futures and a rise in uptake for renewable energy. This has led to an increased focus on greener technological solutions that can help reduce our combined carbon emissions
The subject of cybersecurity is also receiving immense attention from power companies as they have to protect grids from cyber-attacks. With more data coming out of customers' meters, utilities will focus on data protection, data analytics for generation planning, load forecasting, increasing customer awareness around energy efficiency and managing peaks. Big data and cloud computing are useful tools that will aid these initiatives. Cloud models are helping utilities to lower their existing IT overheads while offering advanced analytics and computing whereas IoT enables remote asset management and delivers detailed asset performance data in real-time with hourly, daily and weekly load profiles.
In a socially distanced world, it is critical to have a system that can monitor asset health without endangering personnel health and lives.
In addition to this, energy storage installation among end-users — such as renewable energy generators, grid operators and distributed generation — will dominate to a certain degree owing to an active push for clean, renewable energy on part of governments across the world and the accompanying smart grid development.