February 25, 2020 – Anritsu Corporation (President Hirokazu Hamada) is pleased to announce the start of sales of its industry-first measurement solution using the company's Signal Quality Analyzer-R MP1900A series for Tx/Rx LEQ*1 test systems specified in the PCI-Express® (PCIe) 5.0*2 Compliance Test*3 items.
The developed PCIe Gen5 Link Training MX183000A-PL025 option and PCIe 5.0 Tx/Rx LEQ Test Automation software have been certified by PCI-SIG for use with the MP1900A as a PCIe 3.0/4.0 Tx/Rx LEQ Test measurement platform. With this added support for PCIe 5.0 Tx/Rx LEQ tests, this system is the industry's first measurement solution covering the PCIe 3.0, 4.0, and 5.0 standards.
[Development Background]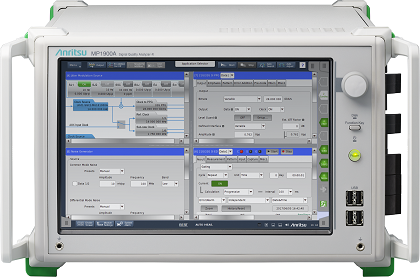 The start of 5G services offering high-speed communications using massive date volumes is expected to drive rapid advances in new technologies, such as IoT, AI, etc.
Data centers forming the backbone of this technology revolution are also experiencing increasing need for high-speed data processing and are adopting PCI Express technology for internal interfaces in data-center transmission equipment, servers, storage, etc., with expectations for early release of PCI 5.0 products offering transmission speeds of 32 GT/s.
To assure compatible connectivity, PCI-SIG stipulates conformance with the CEM*4 standard and is planning to put Compliance Test operations into effect in May.
Anritsu announced its Base Specification Rx test system required for the PCIe 5.0 early development stage IP and device testing in November 2019, and started commercial sales with the hope of speeding-up development of fast, high-density, low-power device designs. Anritsu is offering this CEM Specification Rx test system supporting Tx/Rx LEQ tests using this CEM standard to help customers bring their products to market as soon as possible.
[Product Outline]
The Signal Quality Analyzer-R MP1900A series is a multichannel BER measuring instrument with the functions and performance required for designing and testing next-generation network interfaces, such as 200/400/800G Ethernet, and high-speed-bus interfaces, such as PCI Express 4.0/5.0, USB3.2/4, and Thunderbolt.
With built-in pulse pattern generator (PPG) offering high-quality waveforms with industry-best levels (low intrinsic jitter of 115 fs rms), high-sensitivity (15 mV) error detector (ED), high-accuracy jitter (SJ, RJ, SSC, BUJ) generation sources, and CM-I/DM-I/white-noise sources, plus a Link Training function and support for LTSSM*5 analysis, it has a diverse application range, covering compliance and margin tests, troubleshooting, etc.
Additionally, the MP1900A provides all-in-one coverage for evaluating PCI Express and high-speed Ethernet equipment such as PAM4*6 optical modules and NICs used by data-center 200/400/800G Ethernet installations, facilitating introduction of next-generation interfaces and holding-down infrastructure capital costs.
[Product Details]
https://www.anritsu.com/en-IN/test-measurement/products/mp1900a
[Key Features]
■ All-in-One Gen1 to Gen5 Support
Software upgrades supporting PCI Express 1.0 (2.5 Gbit/s) to 5.0 (32 Gbit/s) help cut customers' capital infrastructure costs.
■ Support for Different Makers' Oscilloscopes
Support for real-time oscilloscopes from the three main makers, which are used to automate the complex Rx test measurement procedures, helps customers make effective and cost-saving use of their existing oscilloscopes for testing up to Gen5.
[Target Markets and Applications]
■ Target Markets: High-end servers, high-performance computers, communications equipment
■ Applications: R&D into high-speed electronic devices, chipsets, memory cards, graphics cards, etc.
[Technical Terms]
*1 Tx/Rx LEQ
Abbreviation for Transmitter/Receiver Link Equalization; generic name for transmitter and receiver equalizer characteristics evaluation and receiver jitter tolerance tests in Compliance Test electrical test items
*2 PCI Express 5.0
One standard for electrical bus connecting computer and peripherals; five different Gen1 to Gen 5 standards defined based on transmission speed
*3 Compliance Test
PCI-SIG-defined test method for obtaining certification based on test pass/fail criteria
*4 CEM
Abbreviation for Card Electromechanical; PCI-SIG standard defining card and motherboard electrical and mechanical specifications
*5 LTSSM
Abbreviation for Link Training Status State Machine; system for managing PCI Express Link status
*6 PAM4
Abbreviation for four-level Pulse Amplitude Modulation; transmission technology for controlling changes in voltage amplitude (pulse height). With PAM4, 2 bits of data are transferred using 4 levels in one time slot.
Contact:
Madhukar Tripathi
Anritsu India Pvt Ltd
Ground Floor , Office No 19
Logix Infotech Park, D-5 , Sect 59
NOIDA 201301 (UP)
Phone 91 120 4211330-32