Indium Corporation will feature its WS-446HF Flux for both flip-chip and ball-attach processes at SEMICON Taiwan 2019, September 18-20, in Taipei, Taiwan.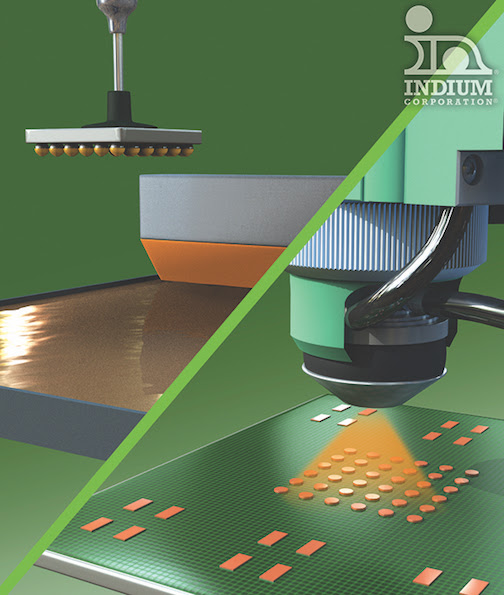 WS-446HF flux is a robust, NIA (no intentionally added), halogen-free, water-wash flux that is designed to provide one simple solution to complicated applications, especially those with a single cleaning step for both BGA ball-attach and flip-chip processes. It has a powerful activator system to promote good wetting on even the most demanding substrate metalizations, such as Cu OSP, ENEPIG, and ENIG. WS-446HF helps to improve production yield by minimizing non-wet open defects, missing balls, and eliminating Electro-Chemical Migration (ECM).
WS-446HF:
Promotes excellent solderability and wetting on a wide range of surfaces
Cleans well with room temperature DI water
Eliminates ECM or dendrite formation caused by residue
Indium Corporation has an industry-proven portfolio of products that meet the current and evolving challenges encountered in fine-pitch SiP and Heterogeneous Integration applications. For more information on Indium Corporation's materials for SiP, visit www.indium.com/SiP or visit Indium Corporation's booth #J2440.
Indium Corporation is a premier materials manufacturer and supplier to the global electronics, semiconductor, thin-film, and thermal management markets. Products include solders and fluxes; brazes; thermal interface materials; sputtering targets; indium, gallium, germanium, and tin metals and inorganic compounds; and NanoFoil®. Founded in 1934, the company has global technical support and factories located in China, India, Malaysia, Singapore, South Korea, the United Kingdom, and the USA.
For more information about Indium Corporation, visit www.indium.com or email abrown@indium.com. You can also follow our experts, From One Engineer To Another® (#FOETA), at www.facebook.com/indium or @IndiumCorp.