Several Indium Corporation technical experts will share their knowledge at the IPC APEX Expo in San Diego, Calif., USA, Jan. 29-31.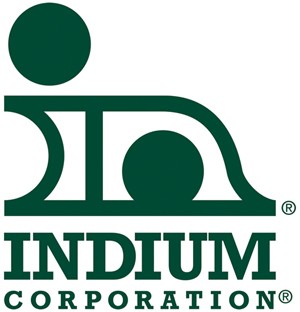 The following technical papers from Indium Corporation experts will be featured:
Fluxes Suppressing Non-Wet Opens at BGA Assembly by Ning-Cheng Lee, Vice President of Technology
An Investigation of the Mystery of DPAK Voiding by Kimberly Flanagan, Technical Support Engineer
Can a PCBA with a Modern No-Clean Solder Paste Flux Residue Offer Electrical Reliability Comparable to a Cleaned PCBA? by David Sbiroli, Technical Manager, Global Accounts
Dr. Lee will also lead the professional development course entitled Achieving High-Reliability for Lead-Free Solder Joints: Materials Consideration.
Indium Corporation experts will further serve as chairs for three technical sessions:
Low-Temperature Alloys II chaired by Miloš Lazić, Technical Support Engineer
Solder Paste Reliability II chaired by Miloš Lazić
Stencil Cleaning Task Group chaired by Greg Wade, Technical Support Engineer, Global Accounts
Indium Corporation is a premier materials manufacturer and supplier to the global electronics, semiconductor, thin-film, and thermal management markets. Products include solders and fluxes; brazes; thermal interface materials; sputtering targets; indium, gallium, germanium, and tin metals and inorganic compounds; and NanoFoil®. Founded in 1934, the company has global technical support and factories located in China, Malaysia, Singapore, South Korea, the United Kingdom, and the USA.
For more information about Indium Corporation, visit www.indium.com or email abrown@indium.com. You can also follow our experts, From One Engineer To Another® (#FOETA), at www.facebook.com/indium or @IndiumCorp.