Indium Corporation's experts met with several industry media outlets during IPC APEX Expo 2020 from Feb. 1-6 in San Diego, Calif., USA.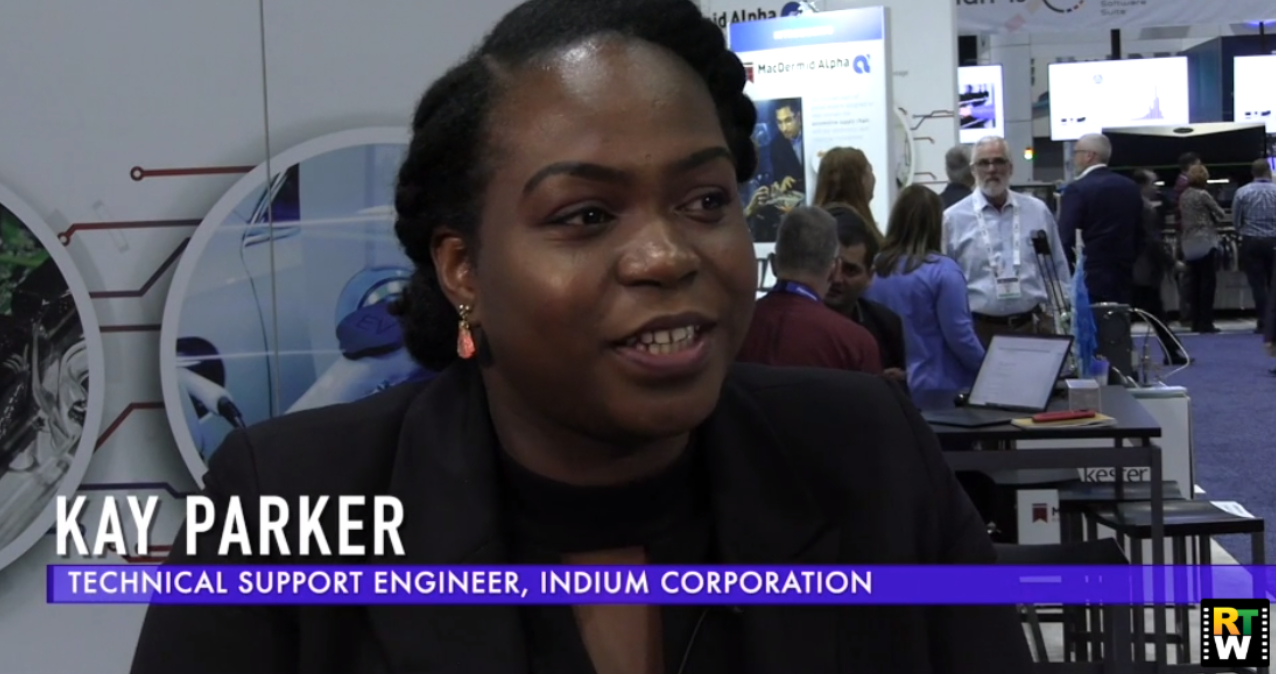 As part of Indium Corporation's ongoing mission to provide real solutions to the industry's current and emerging challenges, experts from the sales, marketing, and technical support fields shared their perspective on the company's role in emerging technologies, support of young professionals, and new products.
Chris Bastecki, Director of Sales and Global PCBA Marketing:
Participated in an interview with EMS Now to discuss Indium Corporation's emerging solutions that address customer challenges, especially in high-reliability and low-temperature applications.
Dr. Richard McDonough, Global Application Engineer/Semiconductor Product Specialist:
Discussed Indium Corporation's new silver sintering paste product offering with Global SMT & Packaging News. QuickSinter® delivers consistent, high-speed sintering on a variety of surfaces and die metallizations and works well in both high- and low-temperature pressureless applications.
Chris Nash, Product Manager, PCBA Assembly Solder Paste:
Spoke with RealTime with IPC APEX regarding the company's high-reliability solder products for 5G electrical reliability and ICT performance. Nash also reviewed Indium Corporation's presence in other markets, including the automotive industry.
Discussed the company's 85-year history with EDACafé. He also talked about Indium Corporation's new low-temperature alloy, Durafuse™ LT, as well as its new PicoShot™, and QuickSinter®
Participated in What's New in Electronics' 5G technologies roundtable. He provided insight on what 5G will mean for the industry, including the increasing needs of automotive electronics and Indium Corporation's approach to materials solutions for 5G.
Debated the challenges, applications, and trade-offs of low-temperature solders during a Global SMT & Packaging moderated panel. Nash discussed how Indium Corporation's new high-reliability low-temperature alloy technology Durafuse™ LT offers improved drop shock performance compared to other brittle low-temperature alloys, among other benefits.
Kay Parker, Technical Support Engineer:
Met with RealTime with IPC APEX to discuss her career as a young professional, including how she used her internship with Indium Corporation as a way to further her education, gain clarity through real-world experience, and ultimately, get a job with the company.
Tim Twining, Vice President of Marketing:
Provided Indium Corporation's outlook on industry trends and developments with What's New in Electronics TV.
Indium Corporation is a premier materials manufacturer and supplier to the global electronics, semiconductor, thin-film, and thermal management markets. Products include solders and fluxes; brazes; thermal interface materials; sputtering targets; indium, gallium, germanium, and tin metals and inorganic compounds; and NanoFoil®. Founded in 1934, the company has global technical support and factories located in China, India, Malaysia, Singapore, South Korea, the United Kingdom, and the USA.
For more information about Indium Corporation, visit www.indium.com or email jhuang@indium.com. You can also follow our experts, From One Engineer To Another® (#FOETA), at www.facebook.com/indium or @IndiumCorp.