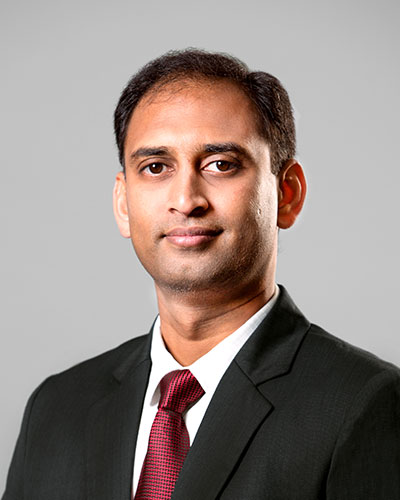 Genetec Inc. ("Genetec"), is a leading technology provider of unified security, public safety, operations, and business intelligence solutions. Recently Genetec has announced Mr. Anand Thirunagari as Country Lead for India and onboarded Inflow technologies as their pan-India distributor of products and services. In an interaction with Electronics maker, Mr. Anand discussed India's security scenario, trends and highlights Genetec products and company plans.
Given your expertise and understanding of the security market and its trends in SAARC region, how crucial is India's role in APAC security market?
India has an important role to play in APAC region. It's an evolving market for security and one of the fastest growing with over 24% YoY growth in year 2017. The country is seeing an accelerated shift towards IP based surveillance and Genetec being a leader in IP based surveillance is delivering innovations in the areas of security, operations and intelligence.
In India projects such as smart cities, digitisation of public security, utilisation of Nirbhaya fund among others has put the focus on surveillance technologies, CCTV Cameras and analytical tools have increased multi fold. According to reports India's video surveillance market is slated to grow at a CAGR of 13 per cent from 2016 to 2022. So right now, India is in a very exciting state and will play a very crucial role business wise in driving the security market in APAC region.
What is the role of surveillance in Indian smart city projects?
A city can become smart when it ensures the safety of its inhabitants and make communities feel protected. Genetec' s belief towards Smart Cities is a City which is Safe, City which is connected and a city which is human through collaboration. Video surveillance with other public safety technologies like Automatic license plate recognition, Mobile LPR based parking, Emergency call stations all put together make a city more safe , connected and human which are all essential and basic necessities for a city to embark on smart city journey.
Genetec Community connect program is one such initiative launched worldwide and is successful in cities like Detroit where a public private partnership can reduce significant burden on Govt agencies and a community feels to be an integral part of Govt initiatives and success to a city operation.
Briefly explain some of your benchmark products and their application.
In the Intelligence portfolio, Genetec Citigraf™ is a decision support system that unifies operations across city departments, disseminates timely information, and provides greater situational awareness.
Genetec Traffic Sense™, a traffic operations platform combines incident identification, verification, management and communication into a single Unified platform. It unifies security devices, traffic systems and incident response platforms in a single solution, allowing automation of actions, visualization of data and acts quickly to resolve traffic congestion.
Through our Unified platform Security Center™, we blend IP security systems within a single intuitive interface for simplifying operations. From access control, video surveillance, automatic license plate recognition, intrusion detection and analytics, Security Center™ empowers organizations through enhanced situational awareness, unified command control and connectivity to the cloud.
Through Genetec Auto Vu, Mobile ANPR for both on-street and off-street parking, can significantly increase enforcement efficiency and improve compliance by using an automatic license plate recognition (ALPR) system. With an ALPR camera, mounted on an enforcement vehicle, that scans license plates, officers are alerted in real-time to parking violations or scofflaws.
ML, AI & Big Data have become buzzwords for most organizations. Is Genetec applying any of these technologies for developing solutions or products?
We have been looking at ways to apply methods of machine learning and data science to our products for improving efficiency. We are using supervised and unsupervised ML techniques to improve the performance and value or our solutions for customers.  For example:
Unsupervised ML is being applied to help in prediction of crime.  For example, it can be possible leveraging crime data sets to help users to predict the likelihood of incidents in a neighbourhood based on historic trends and activity.
Genetec is also using supervised ML. Supervised ML is when computers are "trained" to properly classify inputs via feeding the application with structured datasets that correlate thousands of possible inputs and then over time the application is able to apply an "understanding" to new inputs based on historic data or patterns.
What kind of projects are you currently working on in India?
Some of the key verticals we are already working in India are Smart Cities, Building & Infrastructure and Public Transit Systems. We are currently in the implementation of a large-scalecity wide public safety roll out where the key engagement model is through Genetec community connect program where over 100,00 Public deployed cameras and other security assets are to be integrated with the city wide command & control.
What will be the Indian security industry trends in 2019?
In 2019, we will see more of consolidation of Silo systems to more of an Unified approach towards security and public safety. Adoption of Machine learning driven analytics in the areas of FRS, License plate recognition, predictive policing etc would start picking up momentum.
We also foresee a trend towards Cloud adoption and subscription-based services model in physical security industry as most companies have embarked journey in a Cloud first approach.
More Public private partnership driven based model would continue to grow.
What are the verticals you are planning to enter in India apart from the existing ones?
Genetec would keep its laser sharp focus in Cities &Infrastructure, Buildings & Industrial and Transit as focused vertical markets for India.
What is the expected growth trajectory that you envision for the company?
Genetec in India has grown over  550% in FY 2018. In India we are aiming to be among the top 3 contributors for the APAC revenues.