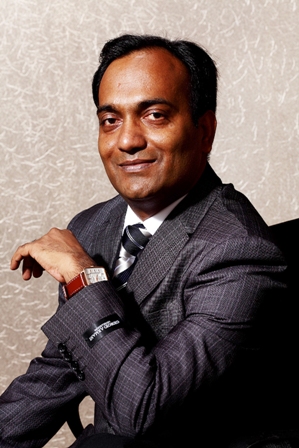 With a widespread presence in over 40 countries across the globe, Astrum has redefined 'new technology' that challenges the status quo. Each product of Astrum comes with hallmark quality, which is an assurance of quality and guarantee. Focusing on setting up a strong foothold, Astrum centers on R&D with strict quality assurance practices. Mr. Manoj Kumar Pansari, Chairman and Managing Director, Astrum India shares here more about products, manufacturing and market presence.
Please tell us more about your company, and highlight the technology advancement in your products?
Astrum is involved in the manufacturing of telecom and IT peripherals since 2008 and has a widespread presence in over 40 countries globally. Astrum has put all the efforts to break the trade-off between innovation, quality, and cost in India. Recently, Astrum has invested Rs.100 crore to set up a factory in Andhra Pradesh to manufacture its products in India too and be a part of "Make in India".
We at Astrum carry a huge product portfolio across multiple categories like Mobile Accessories, PC Accessories, Smart Products to name a few. We also have an extensive line of Audio Products within our product portfolio. Each of our product, stands testimony to the Quality and technology that makes us stand different. We continue to embody the brand value of offering best possible value and features at reasonable price. Some of the path breaking products in the Indian Market includes Power Bank PB310, Trolly Speaker TM155, Barrel Speaker ST400 and BT ClockST250. The brand in the past has won several awards, some of them being ABFA Awards 2017 for Outstanding Franchises & Outstanding Individual Brand. In 2018, we received 'Made in Hongkong, designed in Hongkong' Award, "Leading New Technology Brand" by 5th Mobility Editor's Choice Awards 2018 and also Global Excellence Awards as the 'Most Promising Brand of Hong Kong.
What are the advantages of your products for consumer vis-a-vis the competition?
India has always been a price sensitive market, more often than not; quality takes a beating to accommodate more aggressive price points. We at Astrum have been successful to break the trade-off between innovation, quality and cost. Our products are tailored with the new age technology, and at optimum price points we have struck the right chord with the consumers. Today Astrum has proudly earned its place amongst the leading brands for accessories in India, with strong acceptance from both Channel partners and customers.
Tell us about your research and Development work?
Our expert R&D Team focuses on 'quality without compromise' as we follow a stringent quality control procedure for all our products which has worked the best for the brand. Defining the engineering brilliance we focus to score not just in good looks but also in its features. As mentioned above, Astrum along with ensuring high quality standards stays focused on price performance as one of the key drivers for its product development. It's the perfect mix of 'Price and Quality'.
What is your market growth in India and global presence?
Astrum is currently one of the fastest growing Mobile Accessories Brand in India and is present at Pan India Level, including Tier-2 and Tier-3 cities too. In terms of current position/sales figures, it's too soon to comment. However, overall the Brand has seen a very strong response from the Market which is further helping us boost new ideas and plans. As mentioned before with a widespread presence in over 40 countries across the globe which includes South Africa, Australia, India, Hongkong, China, Hungary, Pakistan, Bangladesh, Dubai, Nigeria, Fiji, Singapore, Malaysia, Indonesia, Mauritius etc, Astrum has  undoubtedly redefined 'new technology' that challenges the status quo, focusing on setting up a strong foothold around the globe.
Give us some insight into your in-house manufacturing facility.
Astrum's manufacturing facility in India is located in Tirupati (Andhra Pradesh) with a size of 16,000 sq m. It will have multiple production line and categories such as audio, mobile chargers, power banks, etc. For this facility, we are investing Rs.100 crore in Tirupati (Andhra Pradesh). Initially, the manufacturing unit will start making power banks at a rate of approximately 100,000 pieces for the first few months, after which it will increase to 300,000 pieces. We are not only setting up a unit that will assemble SKD (semi knocked down) and CKD (completely knocked down) goods, but also a production facility for total manufacturing by invested Rs 1 billion in the project.
What are the challenges that you are currently facing in India?
Challenges in Indian market have always remained the same; low price expectations & high competition. Apart from this geographical penetration has also been one of the key Challenge, being such a large geography has always posed a challenge in terms of market penetration into Tier 2 & Tier 3 cities. To counter this challenge; Astrum is planning some very aggressive measures to reach out to the consumers in these cities. Another challenge that occurs are organizations in the market that offer pocket-friendly products, which attract customers to opt for it, but the area of concern arises when the fancy product fails in few days.
What is your opinion about India electronics consumer market opportunity?
The consumer electronics sector has witnessed the highest share in the total production of electronic goods in India. The India consumer electronics sector has attracted several strong investments in the form of merger & acquisition policies practiced by key participants of the global market and other FDI inflows.
India is likely to emerge as a potential future manufacturing hub for the regions, provided the government shows adequate support and focus towards this sector. Specific factors anticipated to push the manufacturing in India are inclusive of, reduction in borrowing costs, export incentives, reduction of customs duties on raw materials and components, and improvement in the ease of doing business. Also it is seen that introduction of artificial intelligence (AI) is set to project a bright future for the consumer, as well as industrial electronics in India.
What is your India focus and mission?       
Astrum is working on the area of IoT & AI and is prepared to launch some of those products soon with the focus of bringing more 'Smart' products to consumers that will help improving the quality of life. The company reinforces the concept of e-Waste management by establishing its upcoming manufacturing facility in Tirupati as a 100 percent environment friendly facility. Astrum's venture also aims to become the most trusted electronic gadgets manufacturer & provider by building a strong online presence and expanding its base into Tier-II & Tier-III cities in coming future. To achieve this, we are constantly focusing on innovation, strengthening our relationships with customers and following smart hiring practices.