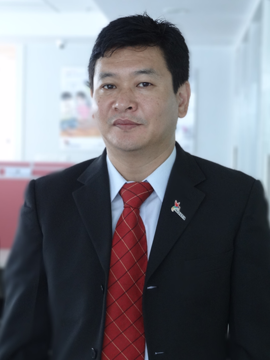 ADATA Technology, one of the world's largest vendors of DRAM Modules and USB Flash Drives, provides complete memory solutions, including memory cards, solid state drives, and portable hard drives. ADATA products are internationally recognized by Germany's iF Design Award, red dot Award, CES Best of Innovations Award, Japan's Good Design Award, Best Choice of Computex Award, and Taiwan Excellence Gold Award. The company's slogan of Love, Life, Dreams, embodies the ADATA brand and the role of innovative memory products in the human pursuit of universally cherished ideas.
Interview with Mr. Richard Tan, MD & Director, ADATA Technology India Pvt Ltd.
Tell us about ADATA and its presence?
ADATA Technology India Pvt Ltd has been present in India since 2010 as a subsidiary of ADATA Technology Co. Ltd. Last year taking a big leap towards Indian market – we established our own office setup in Mumbai and business expansion to LED lighting division as well, apart from the IT Storage product market that we have been catering to. In India we focus on sales and marketing of both LED and IT storage products through a team of professionals across the 4 leading metros and a slew of distributor network panning across the geography through its branches. We can easily boast of being present in more than 150+ towns and cities through our distributor network and around 300+ locations through dealers.

Which are the key products you are offering in the market?
In Storage we have products ranging from USB Pen Drives, Memory cards, External HDDs, SSD (Solid State Drives), Mobile Accessories, DRAM Modules etc. In LED Lighting we have Bulbs, Panel Lights, Street Lights, Tube lights completing a range for both indoor and outdoor lighting solutions. To reach out to the masses, we have multi product and multi-tiered distribution network, each one distributor taking lead for business development depending on the strength of product focus and reach.

What are the technological benefits you are offering in your products and your manufacturing strengths?
We at ADATA have been putting in a significant part of our resources in R&D and developing products keeping in mind the local needs and maintaining the high standards in quality. We have our manufacturing units in Taipei and Suzhou in China. To maintain the high standards of product quality and manufacturing standards we possess some of the best in the industry certificates like ISO9000, ISO14001, OHSAS18001, QC080000, RoHS etc. Now with BIS coming in to effect in India we have already started the process of getting the products qualified for the Indian standards as well. In recognition to our quality products – we have been getting conferred with major industry awards and certificates – to name a few are if Product Design Award, Reddot Award, Taiwan Excellence, Good Design, CES Best of Innovations etc. Like for instance – in mobile accessories we have power banks which have inbuilt 6 features for Over charging protection, over discharging protection, over voltage protection, over current protection, short circuit protection and over temperature protection. Though these 6 features might just look like an ordinary protection but in reality it saves users costly electronic devices thus saving in huge for end consumers.

What are the competitive features of your product in terms of quality and pricing?
Lifetime warranty on DRAMs and pen drives are considered a bench mark in the industry and ADATA was amongst the first vendors to initiate this. Our COB (Chip on board) technology again is another highlight in the USB flash drives that helps us gain lead over the competitors which helps us to come out with smaller and much sleeker looking USB drives. Then we were also the first ones to come out with military grade waterproof and shockproof External HDDs and USB Flash drives which we still can boast of being the only ones amongst the competitors. We were also the first to unveil a lifestyle external HDD with just 8.9 mm thickness in a metal body. Our R&D Team anticipating the high speed requirement for data transfers have already launched an External SSD giving an edge over the competitors

What is your vision and motto?
Our vision is to provide products and technology with agility and swiftness and enrich all of life's precious moments.
Tell us about your market growth overall and which are the influencing factors?
The market growth for ADATA has been fairly incredible in the last 2 years wherein we have grown around 35 to 40% YoY. The major contributors product wise have been DRAM Modules and External HDDs. In the SSD market segment which is still in its nascent stages – ADATA is amongst the top 3 vendors currently in India. In terms of region wise market share – ADATA is strong in regions like Kerala, Gujarat, Punjab, East and North Eastern region.
Can you share your recent milestones?
In terms of global perspective, ADATA was ranked 2nd largest DRAM manufacturer in 2014. Then some of our products like CE700 – the wireless charger went on to win the Computex D&I award, DDR4 won the if Good Design award. We also ventured in mobile accessories segment through wireless chargers and power banks. In terms of India – we ventured into LED business segment and setup our own office. Enhancing our customer support services we tied up with F1 Services as our RMA and Service partner and spread our wings to more than 60+ towns and cities across India. In terms of business development we added Fortune marketing as a distributor with a focus on the new and emerging market opportunities particularly the ecommerce.
What is your envision about India market opportunities?
The Indian market is seeing another wave of transition from the conventional mortar and bricks stores to LFRs to the flurry of ecommerce portals doing business and expanding every day. The expansion has given the markets a new impetus to the business and for ADATA as a brand it has been an excellent time in the last couple of quarters whereby we have gain foothold in the External HDDs category and made a mark.
What are your distribution strategies for marketing of products?
As mentioned earlier we have multi-tiered and multi distributor network setup. For DRAMs we have Rashi Peripherals and Compuage Infocom as a national distributor. For other products we have Technocrat, Creative, Neoteric and Fortune Marketing. In LED we have PV Lumens as our key master distributor.
Do you have any plans for business expansion?
Business expansion is an ever growing event without which the business cycle would just stop working. As mentioned we already have a network on distribution ready and depending on further needs and new products and technologies getting added to our basket.