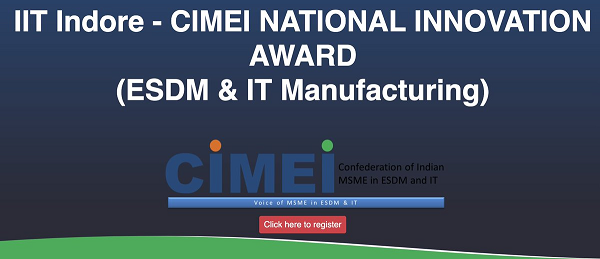 CIMEI is committed to upgrade Indian MSME in ESDM and in this journey CIMEI and IIT Indore has decided to recognize, reward and award the innovations in India.
We are glad to inform that CIMEI and IIT Indore has instituted an award namely, "National Innovation Award" (NIA). The awarded innovation will carry Patent and can be commercialize by Indian ESDM Sector to manufacture Indigenous electronic product with global standard. The National Innovation Awards will recognize the innovators focusing "ATAMANIRBHAR BHARAT" by IIT Indore & CIMEI.
There are 18 categories of awards and the Jury nominated by IIT Indore will announce the name of awardees.
AWARD CATEGORIES
| | |
| --- | --- |
| Aerospace/Military/Defense Innovation of the Year | 10. Academic Support Award |
| Display Product of the Year | 11. Electronics Component and Accessories Distributor of the Year |
| Embedded Solution Product of the Year | 12. Environmental Leadership Award |
| Interconnect Product of the Year | 13. EMS Company of the Year |
| Test, Measurement & Inspection Product of the Year | 14. Most Outstanding PR Agency/Media House for promoting Electronics |
| Automotive Electronics Product of the Year | 15. Best Customer Service support for Electronic Product |
| Leadership in Medical Electronic devices | 16. Electronics Manufacturer of the Year |
| Engineering Development/ Design Tool of the Year | 17. Excellence in Innovation in Electronics including security devices. |
| Internet of Things Product of the Year | 18. Power Electronic Product/design of Year |
Enter your nomination here: