Bangalore, INDIA, August 14, 2014 – Cadence Design Systems (India) Pvt. Ltd., a subsidiary of Cadence (NASDAQ: CDNS),  announced the winners of the Cadence India Design Contest 2014. A flagship initiative of the Cadence University Program, the 10th annual edition provided engineering students an opportunity to showcase their talents in electronic design.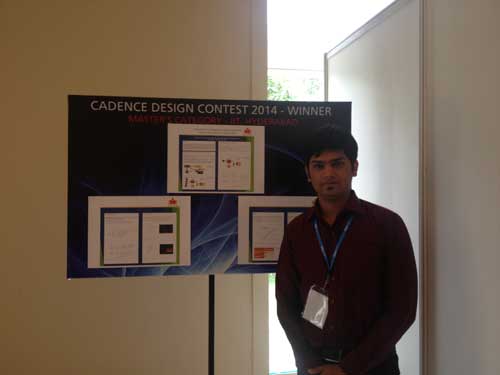 The team from Indian Institute of Technology (IIT) Hyderabad took the prize in the Master's category for their project titled "Inductor-Less Reconfigurable Charge Pump Based Micro-Scale Energy Harvesting System For Self-Powered Devices" and the Bachelor's category prize was awarded to the team from the National Institute of Science and Technology (NIST) Behrampur for their work on "Windows-Based Optimized Digital FIR Low-Pass Filter For iPod MP3 Player." Two teams from NIT Hamirpur and BMS College of Engineering received Special Mentions in the Master's and Bachelor's categories respectively.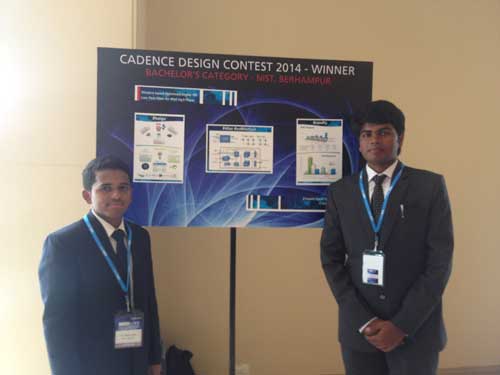 As in year's past, participating students were allowed to submit two different projects for the competition. The projects were judged by an specialist committee consisting of Cadence and industry experts against criteria including inventiveness, complexity, feasibility, breadth of design, effective tool usage, and presentation.
"Over the years, Cadence Design Contest has become one of the most eagerly awaited design competitions in the EDA and electronic eco-system thanks to the enthusiastic participation from the engineering student community," said Jaswinder Ahuja, corporate vice president and managing director, Cadence Design Systems (India) Pvt. Ltd. "Through the Design Contest and the Cadence University Program, we will continue to provide the next generation of Indian innovators and entrepreneurs an avenue to showcase and advance their engineering skill sets. Congratulations and thank you to all the winners and the participants."