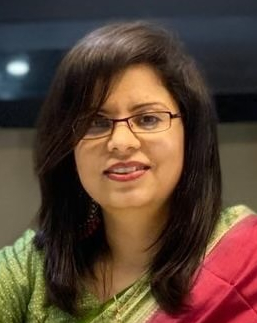 International Women's Day Special talk with Jaya Bindra, Sr Manager Applications Engineering, Infineon Technologies India
About your Journey
I love developing teams and employees to enable creativity in developing innovative solutions that make life easier, safer and greener. I believe in solving problems in simple and innovative ways. Today, I take pride in heading the Applications and Solutions Development group at Infineon India in Bangalore. My team develops solutions in the field of Internet of Things (IoT) that make the world "Smart", creating a direct impact to many lives, in the way we live, work and play. My team always encourages me to be a better version of myself by showing me their trust, and enabling me to learn something new and different every-day. I have built, coached and established several successful self-sustaining teams in the semiconductor industry.
I am passionate about technology and have authored more than 45 articles in international magazines related to IoT and Embedded systems. I am a column owner in an online magazine called "Embedded-Computing.com". I love to teach as well.
With 18+ experience in semiconductor Industry, I earned my MBA credential from IIM, Bangalore and hold a Bachelor's degree in Electronics Engineering from the Kurukshetra University.
My Motto: Coming together is the beginning; keeping together is progress; working together is Success!
How do you achieve work life balance?
When you love what you are doing, you don't feel overburdened and the need to "balance" reduces. That being said, we still need time for important things outside of daily work. For me, balance is more about prioritizing, and making choices. I keep myself open to redirecting and assessing my needs basis the situation.
I believe balance is achieved over time and not possible to achieve in one day. I never strive for the perfect schedule rather look for a realistic one. Some days, I might focus more on work, yet other days I might spend time with my loved ones or friends, and then there are those times when I save up energy to spend time on my hobbies.
What would you say are the main challenges facing women at present in India?
It is important for women to assert themselves. This is what I feel is the main challenge women face at present in India. The key is to identify first and then ask for what you want, providing a clear explanation as to why that aligns with the goals of the business. If you're able to define and communicate your goals effectively, you will have a better chance of excelling in this competitive industry.
Every day, there are more and more women breaking records, starting businesses, standing up for one another and radiating independence and confidence. I am grateful to be living in a time when women are ready and taking charge. The ball is definitely in our court, and I cannot wait to see all the amazing things we are going to achieve in the future!
Where do you want to see yourself in the next 5 years?
Five years seems like a long time but much can be achieved with sustained focus and effort. I see myself continuing the pursuit of excellence, chasing my professional & personal goals and creating value — for myself and for the society and people around me.
What would you change about the world for women if you could?
I believe the biggest barrier in the world for women is an unconscious bias. Although there is an increasing desire to create diversity and to look for a variety of skills, backgrounds and strengths on our teams, it is also a common human trait to hire and promote people who are of the same background, beliefs and gender. I want to have more discussion, forums, conferences to ensure this unconscious bias is known and we completely eradicate it one day!