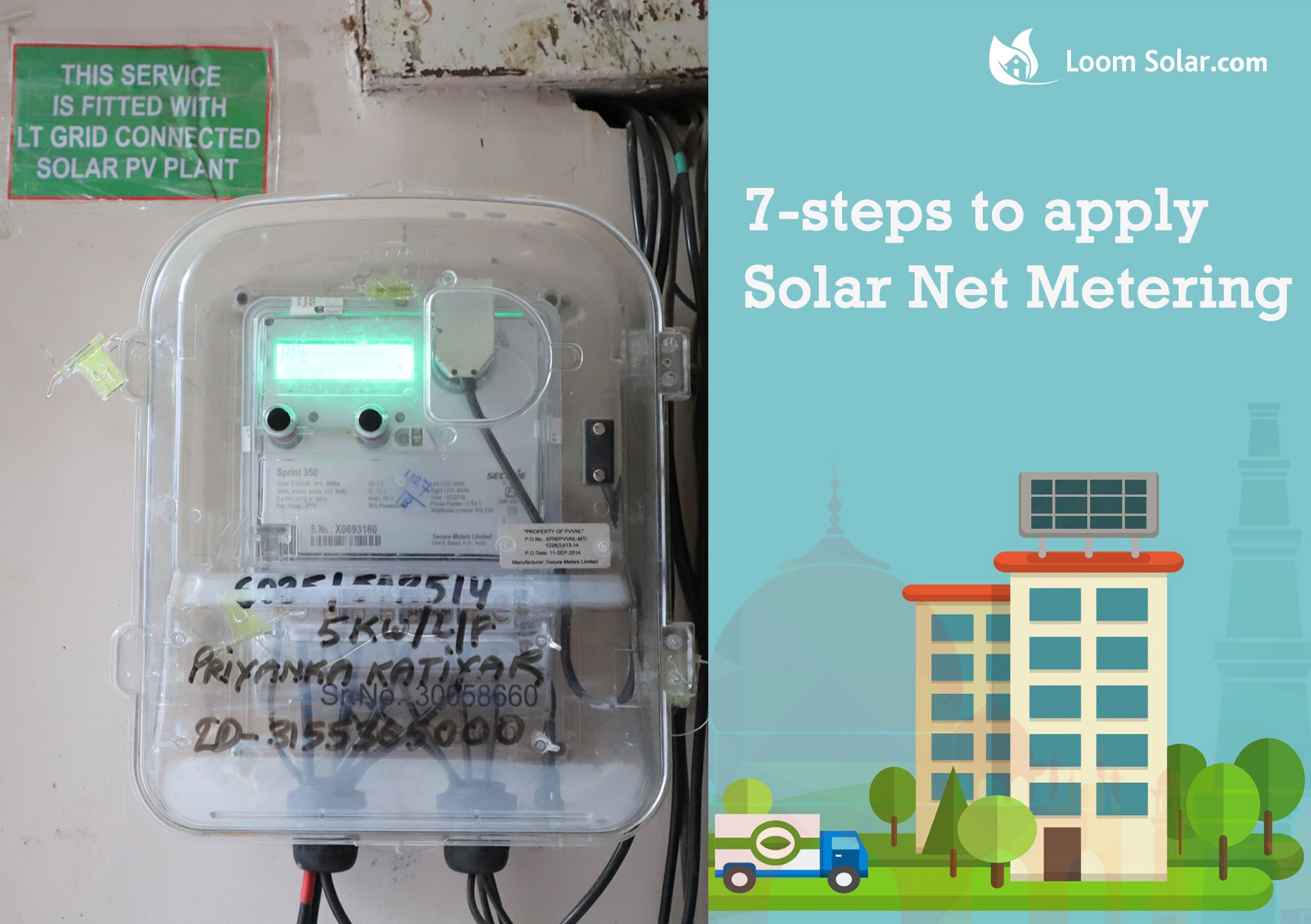 We all know energy is most important thing in our life, at this time price of coal and other energy is very expensive and not environment friendly, so we have a cheaper and environment friendly solutions that is renewable energy. Solar is fastest growing clean energy sector in India.
Net metering is a concept where you use solar and utility grid at same time, and excess power add into grid by net meter arrangement after taking approval from Discoms. Net meter and Bi-directional are same thing in net meter direction both side (clockwise and anti-clockwise).
Net metering (also known as net energy metering or NEM) is a billing arrangement that allows businesses and individuals generating their own electricity to deliver unused energy back to their local power grid and get credited back for its retail price.
Net Metering Process Flow (How it works?)
7 Steps Guides for Applying Net Metering
Here, we will know about how solar net metering process work In Delhi, we have to follow simple 7 steps for net meter file submission.
STEP 1- Express intent to install via Net Metering Application Form
Receiving all required document from the client (ID proof, Residential Proof, latest paid light bill and NOC copy (if any co-owner/landlord), written request application of net meter by client site.
STEP 2- After completing all documents, we summit (annexure-1) application form online or offline mode to the discoms.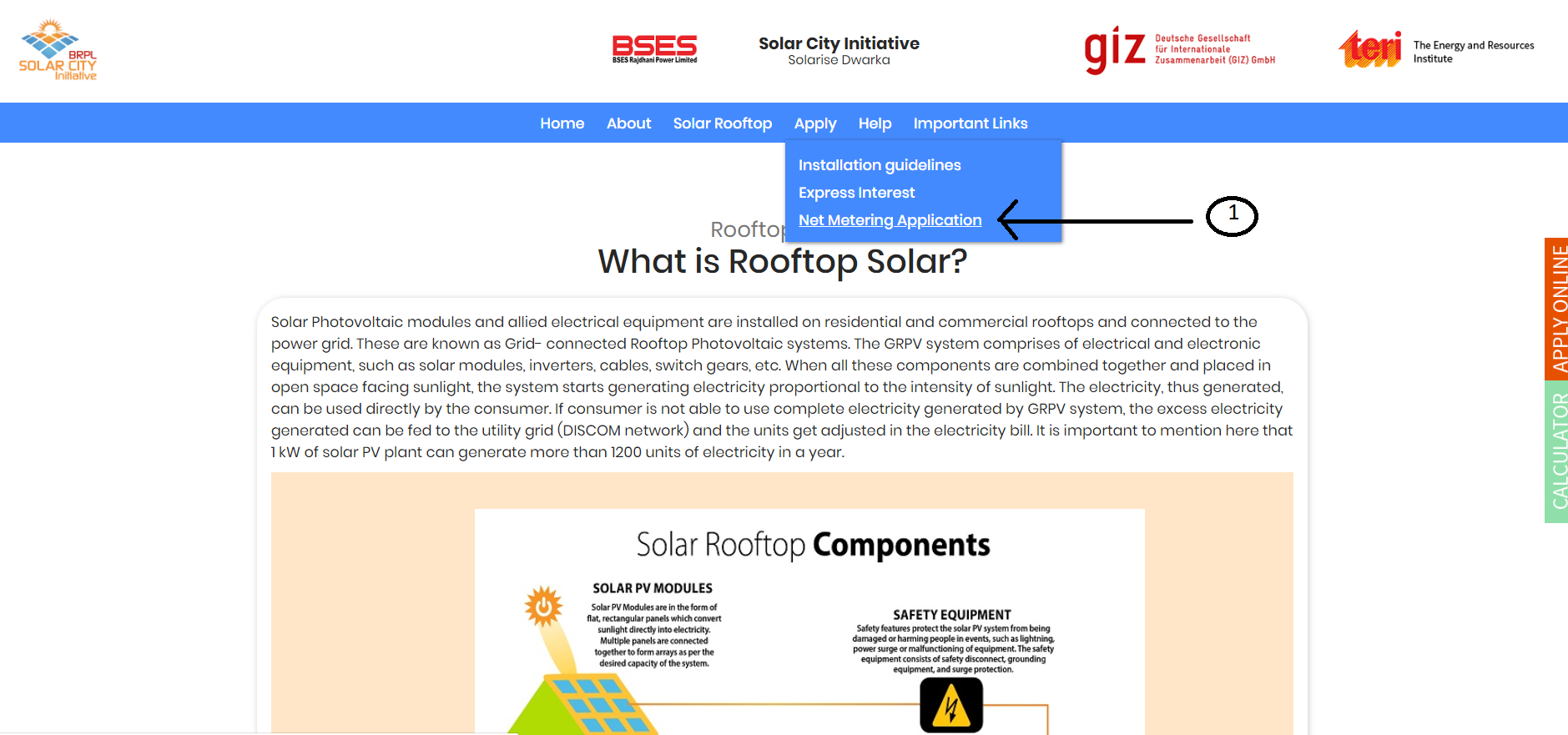 STEP 3- Discom site engineers visit customer site and verify all parameters as per Delhi electricity regulation policy (like existing approval of old meter, shadow area, nearest transformer etc.) and give approval for rooftop solar project by E-mail.
STEP 4- After approval, (usually we get in 7 days) vendor/customer will install and commission solar rooftop project as per IPGCL solar policy.
STEP 5 – After installation site, we summit annexure-2(Detailed SLD of solar plant signed by customer and Solar Plant Installer with stamp)
Example: Certificates of system such as IEC 61727, IEC 62116 for Inverter, IEC 61215, IEC 61730 for PV modules signed by Customer and Solar Plant Installer with stamp
Detailed list of components (Wire/structure/connector/shadow area/direction etc.)used in Renewable Energy System signed by Customer and Solar Plant Installer with stamp
Net Metering Connection Agreement on Rs.100/- non judicial stamp paper, duly attested by Notary public signed by customer on each page with stamp
Solar Plant Installation Certificate signed by customer and Solar Plant Installer with stamp, post installation of plant)
STEP 6- After submission of the annexure-2 within 6-7 days discom site engineers visit site and verify all solar components and electrical connectivity parameters by CEA regulations and summit test report to discom.
STEP 7– After successfully commission site discom install solar net meter at site(in Delhi, net meter is provided by discoms only, so you don't need to buy it from local market). Net meter cost (usually rs. 8000-10,000) auto debited by client end in next billing month.
For better understanding, we have given filled application form for net metering.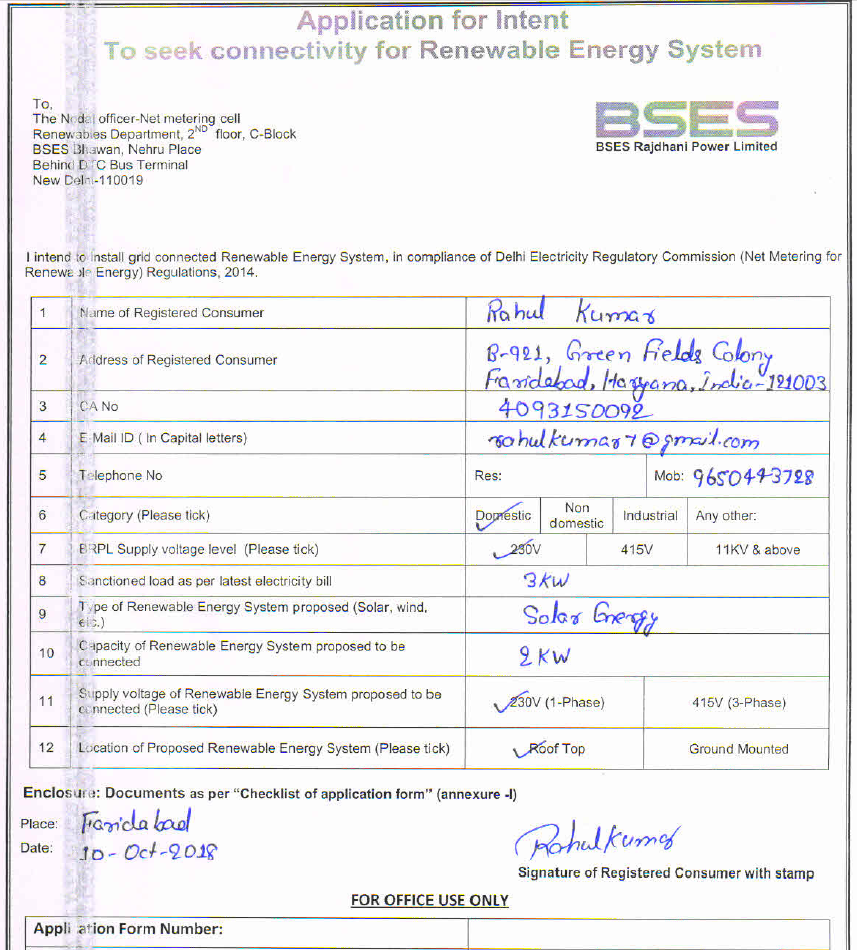 Now, if you are to planning to install on grid solar system for your home, office, hospital, petrol pump, shops, factory and other commercial spaces, Loom Solar, India's premium brand store, is one of the solar company in India, will assist you in solar subsidy/net metering in NCR location, such as Gurgaon, Faridabad, Ghaziabad, Noida and Delhi. It has already installed rooftop grid tie and off grid solar system in real estate, offices, healthcare hospitals, schools, and residential houses.