Offering Visitors Hands-on Experience to Learn Capabilities of Honeywell Sensors

Showcasing the Industry's first Nanopower Anisotropic Magnetoresistive Sensor ICs, Basic Board Mount Pressure Sensors

Top Honeywell Experts Demonstrate Full Product Portfolio 
ROLLE, SWITZERLAND – Sept.16, 2014 – Honeywell  will be showcasing a variety of products at the upcoming Electronica show in Hall 13, Booth 325 November 11-14 in Munich. Among those, will be two new products introduced this year, Honeywell's Anisotropic Magnetoresistive (AMR) Sensor ICs, Nanopower Seriesand new additions to Honeywell's Basic Board Mount Pressure Sensors – the Basic Compensated, Unamplified Board Mount Pressure Sensors.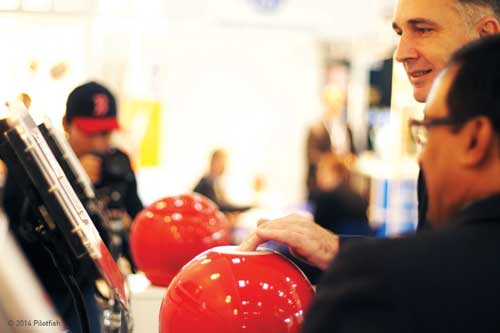 Being demonstrated for the first time in Europe, Honeywell's AMR Sensor ICs, Nanopower Series are an industry first and provide the highest level of magnetic sensitivity while requiring Nanopower. They offer design engineers a number of advantages compared to other widely used magnetic technologies and can be used in a variety of applications including water, gas and electricity meters, industrial smoke detectors, exercise equipment, security systems, handheld computers, as well as white goods, medical equipment and consumer electronics. Honeywell Sensing and Control (S&C) team members will be on hand to provide demonstrations of the new AMR sensors at the show.
The new Basic Board Mount Pressure Sensors, Compensated, Unamplified, TBP Series are designed for customers who require simple, high quality, cost-effective, basic performance. They have an mV output sensor that is compensated and unamplified so customers can do their own amplification while retaining maximum resolution. The TBP Series was designed to be flexible and meet varying needs. Their small size and numerous package options simplify placement on crowded PC boards, a wide pressure range allows for use in applications requiring higher pressures, and their low current consumption allows for use in battery applications.
Honeywell will have a number of interactive displays in their booth including their unique "Sensing Sensation" sphere displays showcasing Honeywell sensor technology in a very hands-on, interactive video game-like display. The spheres are built around three key Honeywell products; the RTY Series Hall-effect Rotary Position Sensors, the Zephyr Series Digital Airflow Sensors and Honeywell's TruStability premium board mount pressure sensors.
These interactive displays were developed using techniques from Honeywell's Human User Experience (HUE) initiative, a recently introduced Honeywell corporate initiative which focuses on creating good user experiences for customers – from the early design process, to user feedback sessions and on to final product development.
Users play a video game which simulates the key performance techniques of the sensor which is built into and driving the video game on screen – focusing on the sensitivity and performance of the sensor inside. Players need to blow into a tube, rotate a sphere back and forth, or push down with just enough pressure to avoid or gather rocks during the video game. Winners get bragging rights of having the high score for the day on the system.Once the game is finished, players can then choose to view a video about the product inside, view the datasheet or request more information to be sent to them after the show.
To learn more about these products and to try out the spheres, visit Honeywell Sensing and Control in Hall 13, Booth 325.To set a meeting with one of the Honeywell Sensing and Control representatives at Electronica, please contact +44 (0) 1698 481481 or e-mail sc.emea.info@honeywell.com.