With consolidated revenue across all its businesses in India estimated at $970 million for March 2013, Hitachi, the Japanese multinational engineering and electronics conglomerate, is all set to roll out aggressive plans for the country in the next few years. This would entail an investment of Rs. 4,700 crore.
The company is to bolster its business in India by increasing localised production, said Nakajima. As a part of this new strategy, startup of activities will target batch orders for facilities in solar power generation from the Neemrana project. The company is also planning expansion of manufacturing and sale of power electronics products. This would include expansion of its Ahmedabad facility which would manufacture industrial high voltage power electronics and solar power components.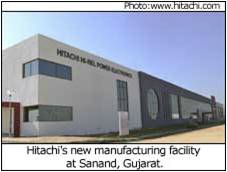 Besides, Hitachi is ready for a startup of automotive powder metallurgy and friction materials plant at Neemrana and intends to strengthen construction machinery R&D facility in Bengaluru. The company has also started construction of an automotive device manufacturing facility at One Hub, Chennai.
The company's investment in India till now is Rs. 2,300 crore. Revenue from various businesses in India in 2011 was Rs. 6,700 crore and the target for 2015 is Rs. 20,000 crore. The company is planning to increase number of employees from 6,800 to 13,000 by 2015.
Hitachi's most lucrative business is construction machinery (Tata-Hitachi) which contributes 40 per cent of its revenue from India. The group has recently acquired ATM services provider Prizm Payment Service. Nakajima said that the company was looking to expand its footprint in the Indian IT sector through acquisitions. Hitachi is making its foray into the Indian industrial electronics market through its Indian subsidiary, Hi-Rel Power Electronics, for electronic equipment manufacturing. It has recently established and started operations at a new manufacturing facility in Sanand-II Gujarat Industrial Development Corporation estate.
Hitachi is also planning about 15 projects in Delhi-Mumbai Industrial corridor. The company plans to work with Delhi Metro for the monorail project in the capital. Hitachi India Managing Director Ichiro Iino said that in January 2014 the company would bid for the railway signalling systems of the Delhi-Mumbai section of the Dedicated Freight Corridor project.
Ichiro Iino further informed that Hitachi was seriously looking at an opportunity to supply nuclear power plants in India. It has a joint venture with US-based GE for its nuclear power business called GE-Hitachi Nuclear Energy.
With India planning to install 20 GW of solar power by 2022, Hitachi is very optimistic about its project at Neemrana. Ichiro Iino also referred to his company's joint venture with Chennai-based power company, BGR Energy, to supply boilers and turbines for a Rs. 1,600-crore order from NTPC, which would be carried out according to original plans.
Besides, Hitachi has signed six boiler contracts and one turbine contract and the facilities are under construction. The company, however, said it may review the capacity of the power equipmentmanufacturing facility being set up in a joint venture with BGR Energy to align it with market requirement. "Hitachi is looking up to this JV with great hopes of the power sector reviving to its thrust levels," said Iino. The company is also in talks with Misubishi Heavy Industries in energy equipment business.
On Hitachi's growth in India this financial year, Iino said that he expected Hitachi India's revenue for financial year 2013 to grow in double digits. The company expects the revenue contribution from India to grow 3 per cent in 2015-16 from 1 per cent this financial year.