Hikvision has secured Deesa City in North Gujarat in association with partner Safe Solutions. Deesa City surveillance Project turned out to be a landmark achievement for the Deesa Nagar Palika and its citizen.
Overview
Deesa is a city located in the heart of the Banaskantha District of Gujarat. The city is situated on the banks of River Banas. The city was earlier recognised by the name of Camp Deesa, when it was under the rule of Deewan Saheb. In today's time, these localities are recognised by the name of New Deesa.The city of Deesa is popular for potato plantation, it is also a major business city of North Gujarat.
Challenges
Today's cities face a wide spectrum of threats ranging from terrorism to rising crime rate, civil unrest, shootings, natural disasters and other emergencies. To mitigate the impact of these situations, city authorities require real-time information and insights into what is happening in and around their districts. There is a growing case for utilizing new and emerging technologies in the drive for safer and efficient cities.
Solutions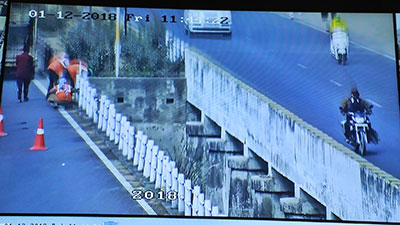 In this context, we at Hikvision integrated public infrastructure security solutions to provide a comprehensive framework for a single, holistic operational view and access to real-time visual, audio and location-based information. These solutions help make cities safer and more secure by empowering authorities to prevent, manage and respond to potential risk scenarios effectively.
There are several challenges that local and state authorities face in ensuring high levels of physical security. These include significant manpower and associated costs, limited budgets, multiple and often legacy systems, and most daunting, the lack of interoperability between these systems. With real-time visibility and quick responses an absolute imperative in today's fast-evolving cities, there is a strong need to move towards integrated security systems and centralized information.
An integrated public security system should ideally encompass three main elements – Monitoring, Communication and Mobility solutions. These aspects are linked together with the fourth element, a Command and Control Centre Solution (CCCS) to mitigate risk across the city environment by providing actionable intelligence and enabling speedy security incident resolution.
Key features of our proposed camera & backend design:
Video Surveillance / CCTV Cameras
Video Analytics (Intrusion detection System, Left or abended baggage)
ANPR (Automatic Number Plate recognition)
Facial Recognition System
Smart Vehicle tracking system
Control command Solution
Unified
Mobility Solutions
Vehicle Mounted Camera for on road surveillance
Vehicle Tracking System on GIS for public transportation system and waste management systems.
The ultimate goal of today's City Surveillance solution is to create a unified security fabric to ensure an effective response to any major emergency situation. At the core of this is information technology that enables seamless integration of various individual components into a complete, consolidated view of the city's security infrastructure.
In association with the partner Safe solution,Hikvision installed various types of cameras and systems to suit the Deesa City Surveillance project, including PanoVu camera, ANPR (Automatic Number Plate Recognition) camera, Smart PTZ with bulk storage supported NVR.
Result
The result of Deesa City Surveillance project was outstanding for the civic administration and police. "We are happy with the enhanced safety and security of the township. There were drastic fall in the cases of casualties caused by traffic accidents. It was also observed that the cases of theft or crime dropped due to City Surveillance solution," Mr. Pravin Gordhanji Mali, President, Deesa Nagar Palika.
He further added, "The productivity of city infrastructure was enhanced drastically with increased capacity of current road for vehicular traffic. It has further improved the efficiency of the road. It also resulted in a better environment by reducing the fuel consumption and greenhouse gas emissions."
"The constant video data feed captured and aggregated by special analytics cameras and tracking applications reduces the threats of human stampede, vandalism and theft," said Mr. Pravin Gordhanji Mali.
"The Information technology that enables seamless integration of various individual components into a complete, consolidated view of the city's security infrastructure,"said Mr. Amit Pandya, Director, Safe Solutions.