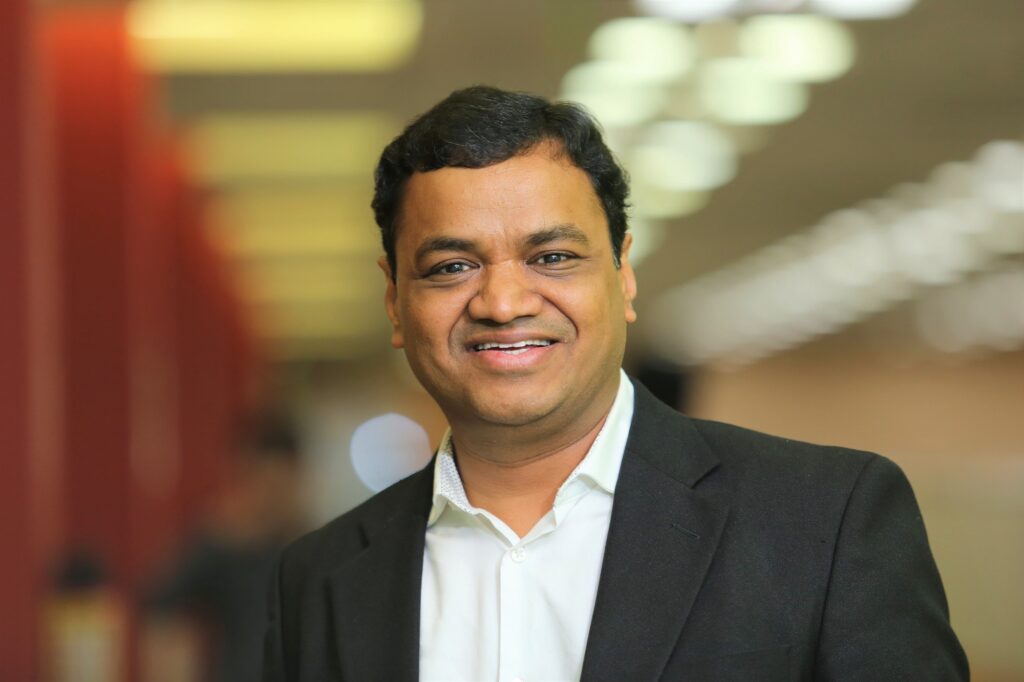 Interview with Mr. Sanjay Gupta (India Head), Vice President and India country manager on how Government of India's initiative to set up Semiconductor FAB facilities in India will boost innovation and R&D sector.
1. According to you, how far India is from achieving an electronics sector worth $400 bn by 2025?
The use of electronics and semiconductors in different sectors, including automobile, defence, IT, healthcare, telecom and manufacturing, has increased over the last decade. The requirements of end consumers and businesses have evolved and with it, the demand for more advanced electronics and IoT has increased manifold. According to Statista, the Indian market for electronics has reached around USD 50 billion. The increased penetration of mobile phones, TVs and consumer appliances have contributed to the promising growth of this sector. With the new age technologies like AI, AR, VR, Bots etc. becoming an integral part of all electronic products, we can only expect a further surge in demand.
Currently, we are heavily dependent on imports to fulfill the electronics demand in the country. However, we have witnessed a renewed focus from the government towards the Electronic Hardware Design and Manufacturing (ESDM) industry of India. There have been several policies and initiatives to provide regulatory support and incentives in order to promote the domestic design and manufacturing ecosystem. Policies like Make in India, National Policy of Electronics, Net Zero Imports in Electronics and Zero Defect Zero Effect indicate a positive direction for the industry and serve to provide a platform for promoting domestic manufacturing. The government has also approved a Scheme for Promotion of Manufacturing of Electronic Components and Semiconductors (SPECS) and a Production Linked Incentive (PLI) scheme with the total outlay of INR 1.97 lakh crore over the next five years in 13 key sectors. This will also be helpful in attracting investment to set up manufacturing units in India.
Considering all these factors and the commitment of the government to position India as a global hub for the electronics industry, we are certainly moving closer to the USD 400 billion target by 2025.
2. What is your outlook on rising India's electronics manufacturing sector under 'National Electronics Mission' set up by Indian Govt?
It is clear that the government is keen to incentivise and attract investment in setting up electronics manufacturing units in India. Schemes like Modified Incentive Special Package Scheme (M-SIPS), Electronic Development Fund (EDF), Production-Linked Incentive (PLI), Scheme for Promotion of Manufacturing of Electronic Components and Semiconductors (SPECS) and Modified Electronics Manufacturing Clusters (EMC 2.0) offer great impetus for the electronics industry. This would help in increasing exports, reducing the import bills and boost the overall GDP of the country. Promoting the Indian electronics manufacturing sector would also generate large scale employment opportunities for the youth of our country.
Indian electronics manufacturing sector has a strong foundation and its further expansion will certainly prove to be beneficial for the entire economy. We have the third-largest pool of scientists and technicians in the world. Also, the electronics sector is anticipated to grow at a CAGR of 16.6 % in 2020-25. We also believe that these initiatives by the Government of India (GoI) would help in highlighting the capabilities of Indian industry on a global level. This would certainly prove beneficial in attracting further investments and improving the R&D space for future growth. There is a positive outlook towards government's efforts that are coming at an opportune time when electronics consumption is increasing rapidly in the country.
3. Other than the mobile industry, which other sectors fuel high semiconductor demand in India?
The semiconductor consumption in India was about USD 21 billion in 2019, growing at the rate of 15.1%, according to IESA ESDM Market Report 2020. In fact, the overall consumption of electronic components is USD 31 billion, of which about two-thirds are semiconductors. Semiconductors are playing a critical role in today's technology revolution. The demand for semiconductors has increased in several sectors and is expected to further rise backed by the rapid advancement in new technologies such as AI, Internet of Things (IoT), 5G and robotics. Advent of electric and autonomous vehicles have fuelled the demand of semiconductors for the automobile sector. These microprocessors are at the heart of the vehicles and are responsible for converting cars into computers on wheels with capabilities ranging from automated radio tuners and electronic power steering to advanced machinery such as auto-pilot, telematics, etc.
Industrial electronics segment and implementation of robotics has contributed to this demand. The rise in smart consumer appliances and the massive demand across the world will further boost the need of semiconductors. Healthcare industry has also adopted new technologies and equipment, that makes the use of semiconductors all the more important. Telecom industry, including broadcast and communication devices other than mobile phones, is looking at a new era with 5G and the semiconductor industry is certain to benefit from this.
4. How Indian Government's move aims to position India as a global hub for Electronics System Design and Manufacturing?
India is now moving from Semi Knocked Down (SKD) to the Fully Knocked Down (CKD) stage of manufacturing. Over the past several years, semiconductors have played a key role in the advancement of electronics and will continue to play an even greater role in the implementation of new technologies like IoT, AI, 5G, data analytics etc.
In an effort to bring increased investments in the country and boost the domestic manufacturing sector, the Government of India has announced several initiatives. The government introduced National Policy on Electronics 2019 (NPE 2019) with the main aim of facilitating the setting up of semiconductor FAB facilities along with the ecosystem for the design and fabrication of chips and chip components in India. As mentioned earlier, the government has also come up with the PLI scheme to fuel the domestic manufacturing ecosystem in India in 13 key sectors like telecom and networking equipment, automobile and related components, white goods such as air conditioners and LED bulbs as well as tech products. This would provide the necessary impetus for global companies to move their manufacturing and large parts of their supply chain to India.
In India, the electronics market has been steadily increasing and is expected to grow in the same way. The market has grown at a CAGR of 14% from 2016-19 and is anticipated to accelerate at a CAGR of 16.6% in 2020-25, with the total demand likely to account for USD 540 billion in FY25. To further support the ESDM sector and its growth trajectory, Government has made electronics production an important pillar of other initiatives such as Make in India, Digital India and Start-up India.
5. How will this boost the innovation and R&D sector in India?
With its diverse market, India is the land of immense opportunities for businesses across sectors. So far India has performed really well in design and corroboration for the semiconductor industry, with most of the global semiconductor companies having R&D centres in India. Now, Government of India's initiatives to boost domestic electronics manufacturing along with setting up semiconductor FAB facilities are expected to further propel the country in the right direction. This would certainly help the overall manufacturing ecosystem in India for telecom and networking gear, components as well as tech products. This combined with a proactive government, cost efficiencies, technical competencies, and the biggest pool for R&D engineers in India both in software as well as chip design as compared to any other country, will give a boost to innovation and R&D in India. This will also help in attracting investment from more and more companies in manufacturing as well research facilities.