Microchip's INIC enables simplified in-car mobile as well as Wi-Fi® connectivity and
modern head-unit design for MOST® infotainment networks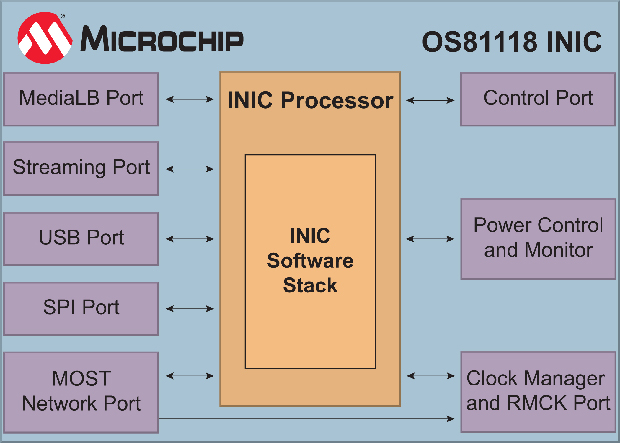 29 April 2013, Bangalore, India [NASDAQ: MCHP] – Microchip Technology Inc., a leading provider of microcontroller, mixed-signal, analog and Flash-IP solutions, has announced the OS81118, the first MOST150 Intelligent Network Interface Controller (INIC) with a USB 2.0 high-speed device port and an integrated coax transceiver.
The MOST150 technology was successfully deployed in the first car models in 2012. Now, Microchip is proud to announce the latest member of its MOST150 INIC family, to continue the success story of MOST® in the future.
With its USB 2.0 port, including USB PHY and High-Speed Inter-Chip interface (HSIC), the OS81118 allows designers to create in-car mobile and Wi-Fi® connectivity applications on the MOST150 network by connecting a standard Wi-Fi/3G/LTE module via USB. This simple solution reflects today's market demands for consumer applications within the automotive environment, such as Internet access, e-mail, social networking and local services. Furthermore, the OS81118 enables automotive engineers to connect the most
up-to-date multi-core consumer Systems-on-a-Chip (SoCs) to in-vehicle MOST networks.
Besides the optical physical layer (oPHY) interface, the OS81118 integrates a coax transceiver, which opens a cost-reduction path on the MOST physical layer. Additionally, this coaxial physical layer (cPHY) could be used for Advanced Driver Assistance Systems (ADAS).
"We see a trend in the infotainment market to use high-end SoCs, developed for consumer and mobile devices, within automotive applications," said Dan Termer, vice president of Microchip's Automotive Groups. "However, those SoCs have no automotive-specific interfaces, such as CAN, LIN, MediaLB® or MOST. The high-speed USB port on our new OS81118 makes it easy to connect SoCs to any MOST150 automotive network, and the coax transceiver provides added flexibility."
MOST multimedia networking technology enables the interconnection of feature-rich infotainment systems in automobiles, by providing the means to distribute multimedia entertainment functions among the various control devices inside the car. For example, CD or DVD changer, radio, GPS-navigation, mobile-telephone and digital-media interfaces can supply signals to this efficient network. The signals are sent digitally and static-free to the amplifier and monitors.
Development support
To further enable development and speed time to market, Microchip is also announcing the Physical+ Interface Board OS81118. This board encapsulates the entire physical hardware interface of a MOST network. The Physical+ Interface Board OS81118 comes with a USB 2.0 interface supporting optical and coaxial physical layers. The Physical+ Interface Board OS81118 is expected to be available in Q3/2013.
Availability
The OS81118 is expected to be available for volume production in January 2014. You can apply for early adopter samples today, and sampling production is expected to start in Q3/2013. The OS81118 is offered in a 72-pin QFN package.
For additional information, contact any Microchip sales representative or visit Microchip's website at http://www.microchip.com/get/472T. To purchase products mentioned in this press release, contact Microchip's sales team.
Resources
High-res images available through Flickr or editorial contact (feel free to publish):
Chip Graphic: http://www.microchip.com/get/MP27
Block Diagram: http://www.microchip.com/get/TQV3
Tool Photo: http://www.microchip.com/get/4EUB
Follow Microchip:
About Microchip Technology
Microchip Technology's Automotive Information Systems Group is a supplier of TrueAuto™ infotainment and information semiconductor solutions to major auto-brands, including Audi, BMW, Cadillac, Hyundai, Jaguar, Land Rover, Mercedes-Benz, Porsche, Toyota, Volkswagen and Volvo. Microchip Technology is a founding member of the MOST Cooperation, a cooperative of automakers, automotive systems architects and manufacturers and key components suppliers working to extend and refine the MOST standard for the evolving requirements of automotive multimedia networking.
Microchip Technology Inc. (NASDAQ: MCHP) is a leading provider of microcontroller, mixed-signal, analog and Flash-IP solutions, providing low-risk product development, lower total system cost and faster time to market for thousands of diverse customer applications worldwide. Headquartered in Chandler, Arizona, Microchip offers outstanding technical support along with dependable delivery and quality. For more information, visit the Microchip website at http://www.microchip.com/get/RNJQ
# # #
For more information, please contact:
Daphne Yuen (Microchip): (852) 2943 5115 (email: daphne.yuen@microchip.com)
Rohini A.V (PRHUB) 09986499342 (email: rohini@prhub.com )