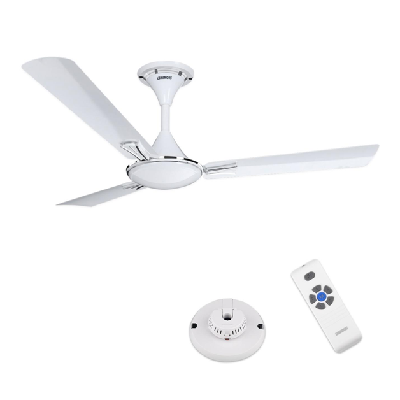 Considering the rising popularity of the latest IoT enabled smart fans, several fan manufacturing companies are introducing their own smart fans. This makes smart fan buying a daunting task for customers as they are confused between the various options available out there. While some buy a smart fan without any proper research, there are some who make a buying decision based on a smart fan price. This, however, is not the right way of doing things. And therefore, in this post, we have listed a few important features and factors that you must consider before buying a smart fan.
Ease of Control
The most unique feature of an IoT enabled smart fan is that it can be used from anywhere, anytime. Imagine, you are back home after a tiring day at work and you don't have the energy to do anything. Not even, stand and walk to the switch board to switch on the ceiling fan. Here's when you need a smart ceiling fan that can be switched on and off from wherever you are. You can also vary the speed of the fan. And all of this can be done with the help of the following devices/software.
Voice control assistant – It's a digital assistant that listens to voice command and follows specific instructions that it is programmed for. The Audie by Luminous India, for instance, can be controlled using the voice control assistant, Alexa. All you have to do is ask Alexa to switch on or switch the fan. You may even ask it to vary the fan speed.
Smartphone – Most fan manufacturing companies provide users an app that can be downloaded on the mobile phone, and be used for controlling the ceiling fan. For example, Luminous India gives its smart fan buyers the option to download its Luminous SmartLife app that can be used to easily control the fan.
Remote – Just like your television, you can now control your ceiling fan with the click of a button. Most remotes come with an on/off button. They also allow users to vary the speed of the fan.
Superior Air Delivery
The air delivery of a fan is a good parameter to determine its cooling efficiency. It is measured in CMM (Cubic meters per minute) and represents the quantum of air that a fan displaces. Since fans with a superior air flow displace more air, they provide more cooling effect. Some of the factors that determine the air delivery of a fan are the fan's sweep size, speed, shape and design of fan blades and material of fan blades.
Beautiful Design
Who doesn't want to spruce up their home decor? A ceiling fan is one of the most important aspects of home decor. And that's because the fan is placed right in the centre of any room. Also, with the introduction of false ceilings one cannot afford to install the same old plain ceiling fans. We therefore recommend that when buying a smart fan you should also focus on the aesthetic appeal of the fan.
Energy Efficient
Power consumption is not only directly proportional to the electricity bills we pay but it is also responsible for increased global warming (due to increase in carbon footprint). So being a responsible citizen, one should compare smart fans of different brands to find out which fan consumes the least power.
Join the Smart Fan Revolution with the Luminous Audie
If you want to skip the research and want us to recommend a smart fan that has all the features we just discussed, we suggest you go with the Audie smart fan from Luminous India. The best part about this fan is that it is not just feature-rich but it is also very reasonably priced which makes it a great value for money proposition.