August 7, 2015 – Mouser Electronics, Inc. is now stocking the FIS1100 Evaluation Kit from Fairchild Semiconductor. This low-power, highly accurate 6D MEMS Inertial Measurement Unit (IMU) provides the always-on sensor technology required for a range of application such as wearable sensors for sports, fitness, and health; pedestrian navigation; autonomous robots; and virtual and augmented reality.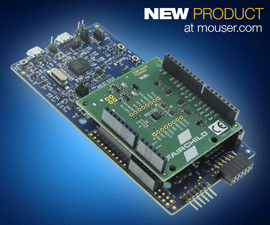 The FIS1100 Evaluation Kit, available from Mouser Electronics, is Fairchild's first MEMS product. The kit includes the FIS1100 6D IMU, which incorporates a 3-axis accelerometer and 3-axis gyroscope and can connect an external 3-axis magnetometer through an I2C master, forming a complete 9‑degrees-of-freedom (9DOF) system. The FIS1100 IMU integrates a proprietary AttitudeEngine™ motion processor with best-in-class 9‑axis sensor fusion algorithms to provide designers with an easy-to-implement, system-level solution for superior user experiences with low processing power consumption in a wide range of motion enabled, battery-powered applications.
The AttitudeEngine processes 6-axis inertial data at a high rate internally and outputs to the host processor at a lower rate matching the application needs, eliminating the necessity for high-frequency interrupts. This allows the system processor to remain in sleep-mode longer, providing longer battery life without compromising functionality or accuracy. The sensor fusion also includes background auto calibration that enables higher degrees of accuracy, consistency, and fluidity.
The FIS1100 Evaluation Kit provides a development environment for many low-power applications, including fitness tracking, navigation, robotics, and light industrial projects.
With its broad product line and unsurpassed customer service, Mouser caters to design engineers and buyers by delivering What's Next in advanced technologies. Mouser offers customers 21 global support locations and stocks the world's widest selection of the latest semiconductors and electronic components for the newest design projects. Mouser Electronics' website is updated daily and searches more than 10 million products to locate over 4 million orderable part numbers available for easy online purchase. Mouser.com also houses an industry-first interactive catalog, data sheets, supplier-specific reference designs, application notes, technical design information, and engineering tools.