24th & 25th June 2013, ICC, Birmingham,UK
Confirmed Conference Agenda
The 

euroLED

 conference will be the place to learn about the technology of LEDs and 

LED

 systems for use in applications such as solid state lighting, biophotonics and many other enabling applications.
24th June 2013
09:00 Welcome David Hardman , CEO, Birmingham Science Park
Session One: The
LED
 Engine and Lighting System
09:10 Tom van de Buschee, Bridgelux – LED modules / engines the way to more than lighting
09:40 Heinz Seyringer, Zumtobel  – Horizon2020- Roadmaps and the additional focus there on the biological impact of LED lighting
10:10  Patrick van der Meulen, Xicato – The consistency and stability of lighting systems starts but doesn't end with the source
10:40 Refreshment Break
Session Two: Current trends and future developments
11:00 Jared Davidson, Nichia – LED performance and future trends (inc quality of light)
11:30  Jamie Fox, IMS Research – LED Driver IC Revenues and Shipment Forecast
12:00 Mark van den Berg, Philips Lumileds – LED Components 'what are the industry trends for LEDs' 12:30  LUNCH
Session Two: Current trends and future developments 13:20  Fenella Frost, Photonstar – LED Retrofit
13:50  GE Lighting14:20  Seoul Semiconductor14:50  Refreshment Break
Session Three: Drivers, Controls and Thermal Management
15:10  Paul Fleming, Meanwell – The future of LED Driver Specifications
15:40 Polymer Optics – New Light control techniques for multi-die or COB type LEDs
16:10  Refreshment Break Session Three: Drivers, Controls and Thermal Management
16:30 Bob Kottritsch, Vice President, Lynk Labs – Driverless LEDs 17:30  Drinks in the Exhibition Hall
19:00  Pre Gala Dinner drinks
19:30 euroLED 10th anniversary Gala Dinner- BOOK NOW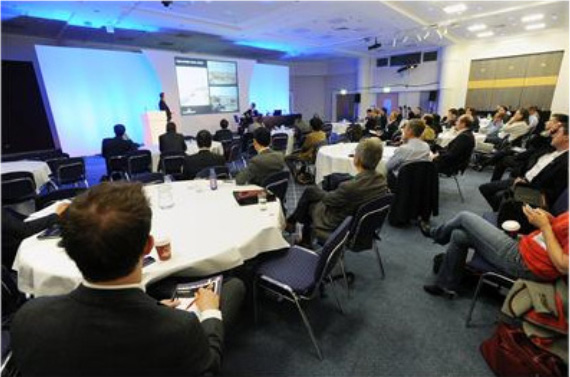 25th June 2013
09:30 – 09:40 Welcome to day two of the euroLED conference from Birmingham Science Park
Session One: Phosphors,Packaging and Optics 09:40 Guido Campadelli, Fraen – Secondary Optics efficiency
10:10 David Nauth, Intematix – Advancing Remote Phosphor Technology and Addressing New Market
11:10 Refreshment Break
Session Two: Standards and Testing
11:30 Maria Mueller, UL – Global Certifications for LED Products
12:00 Gareth Jones, LUX TSI – Better Quality LED Lighting Products – the role of Standards and Regulations.
12:30 Jon Linn, DLC Program Manager from Northeast Energy Efficiency Partnerships – The Design Lights Consortium Programme
13:00 LUNCH 
Session Two: Standards and Testing
14:00 Denan Konijhodzic, Instrument Systems – Measurement of SSL-based Luminaires with Goniospectroradiometers'
14:30  Jaap Nuesink, Dekra – Zhaga
15:30  Nick Wainwright, York EMC –  York EMC Obtaining and Maintaining EMC Compliance for LED Lighting
Session Three: Bio-Photonics

16:00 Dr Caerwyn Ash, The Dezac Group LTD – Efficacy and Safety Study for Mild to Moderate Acne using High Intensity 414nm Solid State Diode
17:00 Close of 2013 euroLED conference
Meet with over 100 international exhibitors
euroLED

 creates an unbeatable arena to network with a vast number of industry professionals and catch up on all the latest in 

LED

 innovations.

The Exhibition features the biggest brands in LED lighting, alongside innovative newcomers to the market. euroLED has a focus on components such as drivers, PCBs, optics and heat sinks, as well as testing competences and LED products for the medical and industrial sectors.