Plymouth, WI — September 2014 — Kurtz Ersa North America, a leading supplier of electronics production equipment, announces that the i-CON 1, its best-selling industrial soldering station, now is available for sale worldwide.
The reliability and quality of this high-value 80W station already has convinced thousands of users.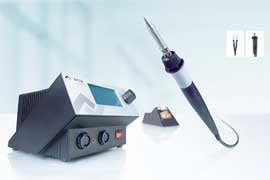 The i-CON 1 is a professional industrial soldering station that uses the 150 W i-Tool. Its outstanding measure and control technology ensures quick heating and heat recovery times as well as the constant temperature of the soldering tip. Excellent soldering results can be achieved at very low tip temperatures.
The i-CON 1 features a large selection of tips from the 102 Series with more than 40 standard tips, as well as low operating costs through separately replaceable wear parts, standby and sleep functions. The soldering station is operated via an illuminated text display and the i-Op control knob. All of the important soldering parameters, including a secure password protection, can be easily configured. Additionally, the i-CON 1 can be configured with an optional interface for an IR preheating plate or a solder fume extraction unit. The ESD-safe station is suitable for continuous operation in industrial environments, and for THT and SMT soldering tasks with high energy demands.
For more information about Kurtz Ersa North America, visit www.ersa.com.