AFEs integrate up to eight 24-bit ADCs with programmable data rate and
industry-leading accuracy of 94.5 dB SINAD, -106.5 dB THD and 112 dB SFDR
18 February 2014  – Microchip Technology Inc., a leading provider of microcontroller, mixed-signal, analog and Flash-IP solutions, announced its next-generation family of energy-measurement Analog Front Ends (AFEs) with industry-leading accuracy.  The MCP3913 and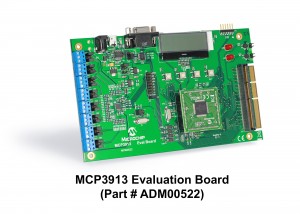 MCP3914 integrate six and eight 24-bit, delta-sigma Analog-to-Digital Converters (ADCs), respectively, with 94.5 dB SINAD, -106.5 dB THD and 112 dB SFDR for high-accuracy signal acquisition and higher-performing end products.  The MCP3914's two extra ADCs enable the monitoring of more sensors with one chip, reducing cost and size.  Additionally, the programmable data rate of up to 125 ksps with low-power modes allows designers to scale down for better power consumption or to use higher data rates for advanced signal analysis, such as calculating harmonic content.  These AFEs also feature a CRC-16 checksum and register-map lock, for increased robustness.
As the energy-metering infrastructure is being upgraded worldwide, designers are demanding increased AFE accuracy, performance and flexibility to develop the latest generation of smart meters.  These features are also required by the designers of advanced power-monitoring systems for applications such as server power supplies and power distribution units, uninterruptible power supplies, smart power strips and data-acquisition products in the industrial and commercial markets.  Microchip's new AFEs improve application performance with their industry-leading accuracy, while providing the flexibility to adjust the data rate to optimize each application's rate of performance versus power consumption.
"Our new AFEs make it easier to design high-accuracy energy measurement systems for 3-phase metering and multiple-load monitoring," said Bryan J. Liddiard, marketing vice president of Microchip's Analog and Interface Products Division.
Development support
Microchip also announced two new tools to aid in the development of energy systems using these AFEs.  The MCP3913 Evaluation Board (part # ADM00522) and MCP3914 Evaluation Board (part # ADM00523) can each be purchased .
Availability
The MCP3913 and MCP3914 AFEs are both available today for sampling and volume production in 5,000-unit quantities.  Both AFEs are offered in 40-pin uQFN packages, and the MCP3913 adds a 28-pin SSOP package option.
For additional information, contact any Microchip sales representative or authorised worldwide distributor, or visit Microchip's website at http://www.microchip.com/get/TEND.  To purchase products mentioned in this press release, go to microchipDIRECT(http://www.microchip.com/get/EUJ9) or contact one of Microchip's authorised distribution partners.