Essemtec, the Swiss manufacturer of production systems for electronic assembly and packaging, announces that Electronic Manufacturing Solutions, Inc. (EMS, Inc.) recently installed its second SMT line consisting of a Tucano screen printer, Paraquda SMT machine with Jet valve dispenser, conveyors and an upgraded Zonda oven. Additionally, the company is upgrading its original RO400FC reflow oven to a Zonda. This will result in two identical lines for the company, allowing production to be doubled.
Steve Pollock, Vice President of Essemtec USA, commented: "EMS is a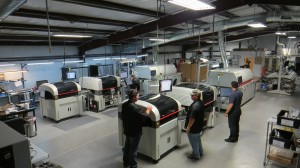 great customer and we are so pleased to continue this partnership with the installation of their second line. We look forward assisting them with their future growth and success."
According to Clayton Hornsby, production manager, EMS, Inc. purchased its first Essemtec equipment in May 2011 after reviewing the product line on display at the IPC APEX EXPO. "We bought an entire line (Tucano screen printer, Paraquda SMT machine, inspection conveyor, and an RO400FC reflow oven). This setup has been the heart of our operation here and continues to be today," he added.
Founded approximately eight years ago, Electronic Manufacturing Solutions, Inc. (EMS, Inc.) provides expertise in PCB assembly, electro-mechanical assembly, electrical panels, cable assembly and wiring harnesses, and provides a turnkey solution for customers' electronic manufacturing needs. Originally focused on supporting its customers' requirements for cable and harness assemblies, the company used its strengths and core values to grow and expand. EMS, Inc. is a small, family-owned establishment with an unequaled focus on customer service and quality. "Exceptional Quality, Superior Service, Improved Economic Value" are the cornerstones of the business, and the company's primary objectives when serving customers. For more information, visit www.emscable.com.