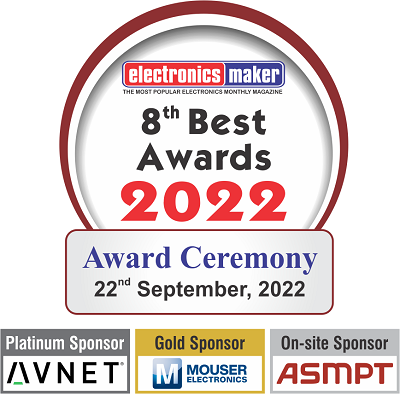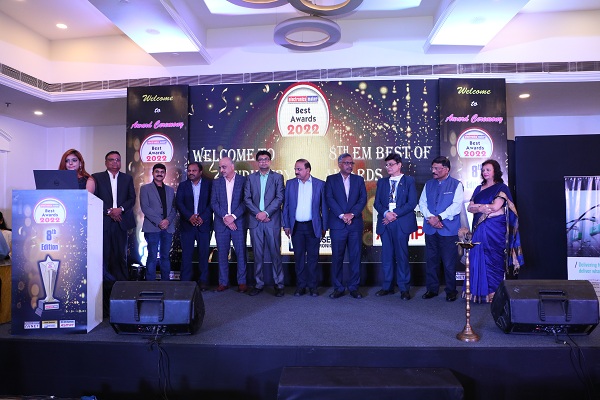 Greater Noida, India (22 September 2022) – Today EM Media has announced the winners of its 8th edition EM Best Awards 2022 at the gala ceremony held in The Stellar Gymkhana, Greater Noida, UP. Nearly 250 of the leading figures gathered at the ceremony for the celebration. EM Best Awards is India's biggest electronics industry awards celebrate excellence and achievements of true pioneers.
Mr. Arvind Kumar, Chief Editor of Electronics Maker, stated in her welcoming speech "It's a pleasure to see so many companies from such a variety of industries and geographies are working hard towards our common goal."
The honorable guests at the award ceremony:
Shri Arvind Kumar, Director General, Software Technology Parks of India (STPI).
Mr. Sanjeev Keskar, Industry Chairman, Advisory Board for ESDM at Messe Munchen India & CEO of Arvind Consultancy
Mr. Ashwini K Aggarwal, Director- Government Affairs, Applied Materials & Reg. Chairman, North, ELCINA
Mr. Amrit Manwani, Chairman, ESSCI
Dr Sandeep Garg, Dy. Executive Director, The Society of Indian Automobile Manufacturers Association
Mr. Gaurab Majumdar, Executive Director, IPC India
Over the years, the EM Best Awards have established themselves as the industry standard for honouring contributions to electronics industry. EM Awards selection criteria are based on the nominees having demonstrated leadership, product innovation, excellence in their field and effectiveness in addressing a need or defining a new market. The awards reflect organisation's particular focus and ensure the company with the core values of business success and innovation.
EM Best Awards 2022 includes key electronics categories as Semiconductor, Test and Measurement, Electronics Components, Automation, SMT, PCB, EMS.
In its eight year, EM Best Awards are sponsored by Avent – Platinum sponsor, Mouser Electronics – Gold sponsor and ASM Assembly Systems – On-Site sponsor.
The complete list of winners as follows:
| | |
| --- | --- |
| Award Name | Winner |
| Lifetime Achievement Award | Mr. K.Vijay Kumar Gupta, CEO, Kwality Photonics P Ltd & LEDchip Indus P Ltd |
| PR & Marketing Excellence Person of the Year Award | Dr Mamta Pant Abichandani, Head Public Affairs & Communications, Infineon Technologies India Pvt. Ltd. |
| Global Sustainability Achievement Award | STMicroelectronics Pvt Ltd. |
| Most Innovative Company of the Year Award | VIAVI Solutions |
| Most Innovative Company of the Year Award | Applied Materials India Pvt Ltd |
| Smart Factory of the Year Award | ASM Assembly Systems |
| Test and Measurement Company of the Year | Keysight Technologies |
| Electronics Manufacturer of the Year Award | Phoenix Contact (India) Pvt. Ltd. |
| Best Circuit Protection Solutions Award | Littelfuse |
| Semiconductor Supplier of the Year Award | Analog Devices India Pvt Ltd |
| Outstanding Semiconductor Partner of the Year Award | Digi-Key Electronics |
| Electronics Component Distributor of the Year Award | Mouser Electronics India Pvt Ltd. |
| Outstanding Global Components Brands Distributor of the Year Award | Avnet |
| Electromechanical Distributor of the Year Award | Heilind Asia Pacific (SG) Pte. Ltd. |
| Best Performing Distributor of the Year | Mouser Electronics India Pvt Ltd. |
| Service Excellence Distributor of the Year Award | Digi-Key Electronics |
| | |
| Most Innovative Semiconductor Company of the Year Award | Infineon Technologies India Pvt. Ltd. |
| Most Innovative Product of the Year Award | ST NanoAdge AI Studio |
| New Product of the Year Award | Metcal HCT-910 |
| Best IoT Platform | Avnet IoTConnect |
| Best Energy Efficient Industrial Semiconductor Product of the Year Award | STMicroelectronics Power Devices GaN Family – VIPerGaN50 / MasterGaN1 and ST-One Devices |
| Best Memory Manufacturing Company of the Year Award | Micron Technology |
| Best IoT Innovation of the Year Award | Nordic Thingy:53 |
| Best Computing Software Company of the Year | MathWorks India Pvt Limited |
| Best Power Supply Manufacturer of the Year Award | RECOM Power |
| Best Converter Manufacturer of the Year Award | MORNSUN Guangzhou Science & Technology Co., Ltd. |
| Best Design and Innovation Center of the Year Award | Renesas Electronics Next Generation EV Innovation Center (NEVIC) |
| Best Design and Development Resources Award | Texas Instruments |
| Best Connector Product of the Year Award | Harwin's Archer .8 and .5 mezzanine connector series |
| Best Optical Solutions Award | Khatod optoelectronic Srl |
| SMT Equipments Manufacturer of the Year Award | ASM Assembly Systems |
| SMT Rework Company of the Year Award | OK International |
| Best Resin Manufacturer of the Year Award | Electrolube (part of MacDermid Alpha Electronics Solutions) |
| Best SMT Assembly Manufacturer of the Year Award | Juki India Pvt Ltd |
| Best Dispensers Manufacturer of the Year Award | Viscotec India Private Limited |
| Best Electronics Assembly Materials Manufacturer of the Year Award | Indium Corporation |
| Best Soldering Station product of the Year Award | JBC B·iRON |
| Best Conformal Coatings Manufacturer of the Year Award | HumiSeal India Pvt Ltd |
| Best PCB Design Software | Pulsonix |
| SMT Equipments Distributor of the Year Award | Accurex Solutions |
| Best Oscilloscope Manufacturer of the Year award | Pico Technology |
| Best Signal Analyser Manufacturer of the Year award | Anritsu |
| Best 5G Test Equipments Manufacturer of the Year award | Keysight Technologies |
| Best Electrical Tools Manufacturer of the Year award | Kusam Electrical Industries Ltd. |
| Fastest Growing Distributor of the year | Millennium Semiconductors |
| Top Growth Electronics Component Distributor of the Year Award | Rabyte Technologies LLP |
| Best Overseas Manufacturer's Representative in India Award | Saison Components & Solutions |
| Best Regional Electronics Component Distributor of the Year Award | Cirkit Electro Components Pvt. Ltd. |