September 26, 2018, Bangaluru, India: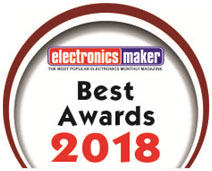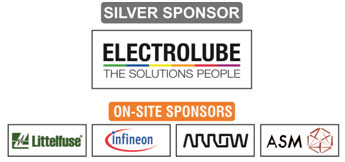 The winners of 4th edition of EM Best Awards, an initiative set up by EM Media LLP announced today at an exclusive gala celebration at Bangalore International Exhibition Centre [BIEC], Bangaluru India.  EM Best Awards is India's only electronics industry awards celebrate excellence and achievements of true pioneers. The aim of the awards is to celebrate and praise the companies for their entrepreneurial spirit, bringing innovations, outstanding performance and best services.
The winners revealed to an audience of more than 250 people, with categories covering technology innovation, company performance and individual achievement in electronics sector. EM Media congratulates all winners for their great achievements and wishes a healthy and successful future ahead.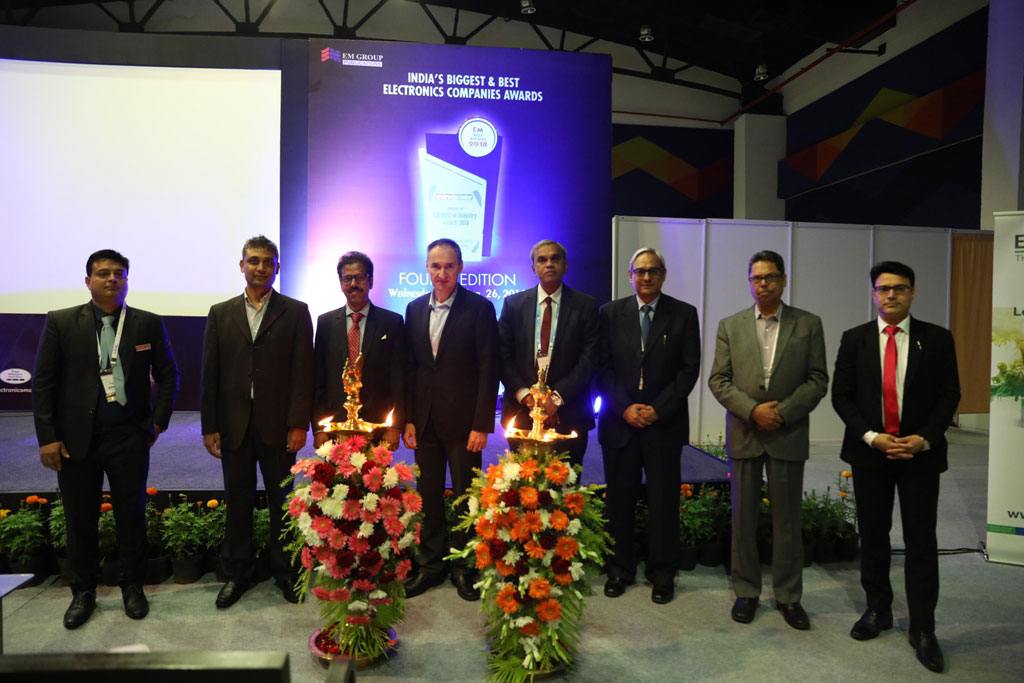 The honorable guests at the award ceremony:
KishoreKumar G, Engineering Officer, Central Power Research Institute, Bangalore, Ministry of Power
Pankaj Gulati, President, ELCINA
Anilkumar Muniswamy, Chairman – I E S A
N . K . Mohapatra, CEO, ESSCI
Navin Bishnoi, Director, ASIC India Design Center,  GLOBALFOUNDRIES
Speaking at the ceremony, EM Editor in Chief Mr. Arvind Kumar said:
"Tonight is our 4th Live Awards Event. We are honored to celebrate award winners for their contributions to the industry. I am very happy to see the huge success of EM Awards and would like to thank all our readers and industry partners for making this happened"
EM Awards selection criteria were based on the nominees having demonstrated leadership, product innovation, excellence in their field and effectiveness in addressing a need or defining a new market.
Electronics Maker worldwide audience selected the companies for nominations through online voting process. EM's editorial staff and Expert Advisory also take part in determining the final winners.
EM Award 2018 includes key electronics categories as Semiconductor, LED and Lighting, Test and Measurement, Electronics Components, Automation, SMT, PCB, EMS. The awards reflect organisation's particular focus and ensure the company with the core values of business success and innovation.

Winners 2018 List below:
AWARD NAME

WINNERS

LEADERSHIP/INDIVIDUAL AWARDS
Lifetime Achievement Award
1.  Mr. Pankaj Gulati, Executive VP &COO, CDIL

2.  Mr.  S R Sabapathi, Chairman and Managing Director, Qmax Test Equipments Pvt. Ltd.

Woman Entrepreneur of the Year
Mrs. Kalpana Naagaraj, Managing Director, Micron EMS Tech Pvt Ltd
Man of Innovation
PowerSquare
Electronics Company of the Year
SLN Technologies Pvt. Ltd.
Make in India Initiative
Kaynes Technology India Private Limited
Young Entrepreneur of the Year
Mr. Raj Gaurav Batra, Director,

Rabyte Electronics Pvt. Ltd.

Best Organisation for Industry and Skill Development
Electronics Sector Skills Council of India
Best Global Electronics Component Distributor Partner
Digi-Key Electronics
Business Excellence and High Sales Growth Award
RS Components & Controls (India) Ltd
SEMICONDUCTOR PRODUCTS & MANUFACTURING
Semiconductor Market Leader
Analog Devices India Private Limited
Semiconductor research and Innovation Award
Infineon Technologies India Pvt. Ltd.
Best Semiconductor Supplier
STMicroelectronics Pvt Ltd.
Best LED Drivers
Allegro MicroSystems
Best Wireless Semiconductor
Microchip Technology Inc
Best Automotive Semiconductor
Renesas Electronics India Private Limited
Best Power Semiconductor Devices
ROHM Semiconductor India Pvt. Ltd.
Best IoT Partner
Arrow Electronics India Pvt. Ltd.
Best Microcontrollers
STMicroelectronics Pvt Ltd.
Best Wearable Design Platform
Maxim Integrated
Best Sensors Innovation
PIC GMBH
Best Electromechanical Sensors
Littelfuse
Best Wireless modules
U-blox Singapore Pvt. Ltd.
Electronics Manufacturing Innovation & Excellence Award
Vishay Intertechnology Inc.
Best Passive Components Manufacturer
EPCOS India Pvt. Ltd.
Best Embedded Design Platform
Toradex Systems (India) Pvt. Ltd.
Smart City Vision
STMicroelectronics Pvt Ltd.
Test &Measurement
Test & Measurement Company of the Year
Keysight Technologies India Pvt. Ltd.
Best Oscilloscopes
Rohde & Schwarz India Pvt Ltd
Best  Network Analyzers
Anritsu India Pvt Ltd
Best  IoT Test Solutions
NI Systems (India) Private Limited
Best Insulation Tester
Meco Instruments Pvt. Ltd.
Best Multimeters
Kusam Electrical Industries Ltd.
Best Thermal Imagers
Testo India Private Limited
Best Digital Power Modules
RECOM Asia Pte Ltd
Best Industrial Power Supply
MORNSUN GUANGZHOU SCIENCE & TECHNOLOGY CO., LTD.
Best Educational Test Equipment
Scientech Technologies Pvt. Ltd.
Best Digital Panel Meter
Meco Instruments Pvt. Ltd.
Best Test and Measurement Rental
Livingston India Private Limited
Best Test and Measurement Distributor
Agmatel India Private Limited
Best Relay Manufacturer
Hongfa India
LIGHTING/AUTOMATION
Best Circuit Protection Components
Littelfuse
Best Optics Innovation
Khatod Optoelectronic Srl
Best Industrial Automation
Moxa India

RELAYS/CONNECTORS/SECURITY

Best Interconnect Solutions
PHOENIX CONTACT India Pvt. Ltd.
Best Connectors
TE Connectivity India Pvt Ltd
Intelligent Security Solutions
Matrix Comsec

COMPONENTS DISTRIBUTION

Best Connectors & Electromechanical products Distributor
Heilind Electronics
High Service Distribution Award
Transfer Multisort Elektronik Sp. Z o.o
Electronics Component Distributor of the Year
Rabyte Electronics Pvt. Ltd.
Best Overseas Manufacturer's Representative in India
Saison Components & Solutions
Best Regional electronics component Distributor
Cirkit Electro Components Pvt Ltd
Distribution Excellence in Automotive Electronics Components
Millennium Semiconductors
Best Electronics Component Distributor in Lighting
Componix India
Product Innovation for Programmable, Touch enabled T-shirt
Broadcast Wearables
SMT/EMS/PCB
Manufacturing Excellence in Conforming Coating Materials
Electrolube India
Manufacturing Excellence in Pick & Place Machine
JUKI India PVT Ltd
Reader's Choice High Performance Pick & Place Platform
ASM Assembly Systems – Placement Solutions Divisions (SIPLACE)
Best Rework Solutions
JBC Soldering Tools India Private Ltd.
Best Automated Optical Inspection Equipments
Omron Asia Pacific Pte Ltd
Best Automated Test Equipments
Qmax Test Equipments Pvt Ltd.
Manufacturing Excellence in Stencil & Screen Printing
ASM Assembly Systems – Printing Solutions Divisions (DEK)
Best EMS Firm in India
East India Technologies Pvt. Ltd.
Best PCB Design Services
PCB POWER MARKET
Best Hand Soldering
OK International
Best Overseas SMT Equipments Distributor
Accurex Solutions Pvt. Ltd.
About EM Media
Electronics Maker published by EM Media LLP under the license of RNI, Ministry of Information & Broadcasting since 1996.
This is the most popular technical journal and online portal uniquely design and publishes technical articles, market trends, news, reviews, interactions, case studies, application notes, product information, business and financial news, and a wide variety of other information relevant to the electronics industry.
At present it has readership in the range of over half million per month, which is growing at a very rapid rate of 10%- 20% per annum. Electronics Maker particularly read by Design Engineers, researchers, Scientist, Industry Managers, Application Engineers, Project Makers, Hobbyists, Students, Professors, Govt people, Purchase Managers, Dealers/Distributors.
For advertisers, EM provides an exciting opportunity to reach a wide mass of potential clientele. This has been made possible through a competitive advertisement tariff and a corporate motto that believes and enables quality and quantity.
We are biggest electronic print media house and professional keeping the overhead cost to minimum and yet delivering better than other electronics magazine.