Award honored industry and individuals for their excellence and innovation.


September 21, 2016, Bangalore, India:
EM Media is pleased to announce the winners of 2nd edition of EM Best of Industry Awards 2016 at an exclusive celebration on Wednesday evening, September 21st at the Convention Centre, Bangalore International Exhibition Centre that brought together industry leaders to celebrate excellence. We congratulate all the winners and wish all the best for their further success.
The honorable guests at the award ceremony are:
Kumaran Venkatesh, Vice President-Strategy and Operations at IESA
Prakash Barjatia, Hon. General Secretary, Indian Society of Lighting Engineers
B N Pal, CEO, Srishti ESDM
Terence Tan, Regional President, South Asia and Korea, Avnet Electronics Marketing
Trevor Galbraith, Editor-in-Chief, Global SMT & Packaging
Bhupinder Singh, Chief Executive Officer, MMI India Pvt. Ltd.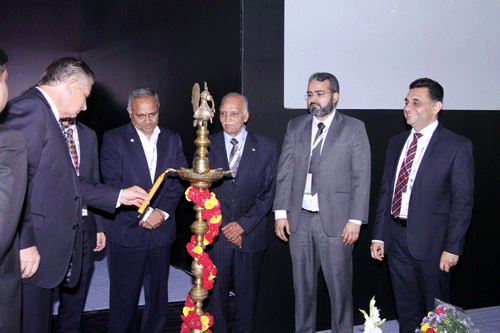 Mr. Arvind Kumar, Chief Editor of Electronics Maker said, "It's a proud moment to share my views on the special occasion of EM Best of Industry Awards. We started this award last year and highly appreciated by industries. The inspiration of award came from the insightful industries and talented people working in this industry and to motivate them further to achieve a grand success."
He adds, "Thanks to all readers and industries supported for this initiative and taking this step forward. We congratulate all our winners of 2nd edition of EM Best of Industry Awards and we are celebrating it with leading business people"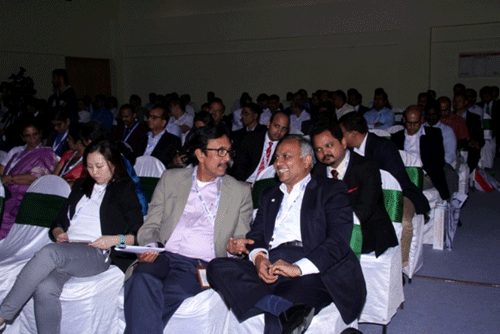 EM Award 2016 includes key electronics categories as IoT, Semiconductor, LED and Lighting, Solar and Power, Test and Measurement, Electronics Component, Automation, SMT, PCB, EMS and honors them for their innovations, excellence and leading performance in the industry. These awards will reflect organisation's particular focus and ensure the company with the core values of business success and innovation.

The 2016 Best of Industry Award winners are:
Award Name
Company Name
Lifetime Achievement Award
N Ramachandran, Managing Director, MEL Systems and Services Ltd
Lifetime Achievement Award
Mr. Subhash Goyal, MD, Digital Circuits Pvt. Ltd.
Lifetime Achievement Award
Mr. Chandmal P. Goliya, Director, Kusam Electrical Industries Limited
Man of Innovation Award
Pratul Shroff, Founder & CEO, eInfochips
Engineering Innovation Award
Tata Elxsi
Test and Measurement Company of the Year Award 

| | |
| --- | --- |
| | Tektronix India Private Limited |

Best Semiconductor Supplier
Infineon Technologies India Pvt Ltd
Readers Choice Most Favorite Electronics Component Distributor
Digi-Key Electronics
Shaping the Future Award
OSRAM Lighting Private Limited
Smart City Vision Award
Cisco India
Make in India Initiative Award
CELKON Impex Pvt. Ltd.
Best Semiconductor Design
Maxim Integrated
Best Microcontroller Innovation 
Renesas Electronics India Private Limited
Best Semiconductor Product Innovation and Excellence
STMicroelectronics Pvt  Ltd.
Best Semiconductor Innovation for Industrial Applications
Analog Devices (India) Private Limited
Best Semiconductor Innovation for Lighting Applications
Texas Instruments (India) Pvt. Ltd
Best Semiconductor Power Management Innovation
Intersil Corporation
Best Semiconductor Sensors Innovation
Microchip Technology (India) Pvt. Ltd
Best SoC Innovation
MediaTek India Technology Pvt. Ltd
Best Semiconductor Innovation for Automotive Applications
ROHM Semiconductor India Pvt. Ltd.
Best Secure Semiconductor Innovation
NXP Semiconductors
Best Wireless Semiconductor Innovation
Broadcom Limited
Best MEMS Innovations
STMicroelectronics Pvt  Ltd.
Best FPGA Innovation
Altera now part of Intel
Best EDA Tools
Cadence Design Systems
Best Sensors Innovation
PIC GmbH
Next IoT Frontier
Murata Electronics (India) Private Limited.
Best IoT development Platform
STM32ODE from STMicroelectronics
Best  Oscilloscope Innovation
Keysight Technologies India Pvt. Ltd.
Best Spectrum Analyzer Innovation
Siglent Technologies
Best Wireless Test Innovation 
Rohde & Schwarz India Pvt Ltd
Best  Network Analyser Innovation
Anritsu India Pvt Ltd
Best  Modular Instrumentation

| | |
| --- | --- |
| | NI Systems (India) Private Limited |

Best Portable Test Solutions
Pico Technology
Best Power Analyzer Innovation
Yokogawa India Ltd.
Best Automated Test Equipment Innovation
Teledyne LeCroy India
Best  Educational Test Equipment Innovation
Dynalog [India] Limited
Best Digital Clampmeter Innovation 
Meco Instruments Pvt. Ltd.
Best  Power Supply Innovation
RECOM Asia Pte. Ltd.
Best Data Acquisition Solutions
VTI Instruments Pvt. Ltd.
Best Thermal Imagers Innovation
FLIR Systems India Pvt. Ltd
Best Modeling and Simulation Design Innovation

| | |
| --- | --- |
| | MathWorks India private Limited |

Best  Test and Measurement Distributor
SPI Engineers Pvt. Ltd.
Best Rental Test and Measurement equipment Provider
Livingston India Pvt Ltd
Best Training Center for Electronics Design and Development
SchemaZen Technologies Pvt. Ltd., Bangalore
Best  LED Manufacturing Innovation
Cree
Best LED Lighting Innovation
Lumileds
Best LED Lighting Brand
Syska LED
Best Solar Player of the Year
Tata Power Solar
Best Optics Innovation
Khatod Optoelectronic Srl
Best  Industrial Automation Innovation
OMRON Automation
Best Robotics Revolution
Universal Robots
Smart Factory Vision
Bosch India
Best UPS innovation
Numeric UPS
Best Battery Innovation
Exide Industries Limited
Best Solar Inverter Innovation
Hitachi Hi-Rel Power Electronics Pvt. Ltd.
Best  Relays and Switches Innovation
Hongfa India
Best Interconnect Solutions
Phoenix Contact (I) Pvt. Ltd.
Best Cable Solutions
LAPP India
Intelligent Security Solutions
Matrix  Comsec Pvt Ltd
Best Regional electronics component Distributor
1.       Circkit Electro Components Pvt Ltd2.       SM Electronic Technologies Pvt Ltd
Best product support in emerging market
Saison Components & Solutions
India's Electronic Component Distributor of the year
Rabyte Electronics Pvt. Ltd.
Electronics Component Distribution Excellence
RS Components & Controls (India) Ltd
Best e-catalogue Distributor
Arrow Electronics
Best Global Electronics Distributor Partner
Avnet
Best Marketing and New Product Introduction Distributor
element14
Best Performance in Electronics Component Distribution
Mouser Electronics
Women Entrepreneur of the Year
Mrs. Kumud Tyagi, Vice President, Bergen Associates Pvt. Ltd.
Manufacturing Excellence in Pick & Place Machine – High Volume
ASM Assembly Systems – Placement Solutions Divisions (SIPLACE)
Manufacturing Excellence in Pick & Place Machine – Medium and Low Volume          
Juki India Pvt. Ltd.
Excellence in Dispensing Equipment
Nordson Asymtek
Manufacturing Excellence in Stencil & Screen Printing   
ASM Assembly Systems – Printing Solutions Divisions (DEK)
Manufacturing Excellence in Solder Paste Inspection
KOH YOUNG TECHNOLOGY
Manufacturing Excellence in Automated X-Ray Inspection
Nordson DAGE
Manufacturing Excellence in Automated Optical Inspection
MIRTEC
Manufacturing Excellence in Conforming Coating Materials
H K Wentworth India Pvt Ltd
Manufacturing Excellence in Reflow Soldering
VITRONICS SOLTEC
Export Excellence in Electronics Manufacturing Services
Jabil Circuit
Best EMS Firm in India
SGV Industries
Quality Excellence in Electronics Manufacturing Services             
Centum Electronics Ltd
SMT Visionary Award  
ASYS Group Asia Pte Ltd
Excellence in PCB Design Services and PCB Manufacturers
PCBPOWER
Best Overseas SMT Equipments Distributor
1.       NMTronics India Pvt Ltd2.       Accurex Solutions Pvt. Ltd.
Best Technical Support-Manufacturing Process
Mectronics Marketing Services
Hi-Tech Electronics Adhesives and Bonding Solutions

Henkel Electronic Materials

Manufacturing Excellence in Soldering Solutions
OK International Inc.
Manufacturing Excellence in Selective Soldering
KURTZ ERSA
High Performance Electronics Assembly Excellence
Alpha Assembly Solutions
Best Manufacturing and Automation Software for SMT Platforms
Mentor Graphics Corporation
Hi-end PCB Manufacturing Excellence
AT&S India Pvt. Ltd.
About EM Media
Electronics Maker published by EM Media LLP under the license of RNI, Ministry of Information & Broadcasting since 1996.
This is the most popular technical journal uniquely design and publishes technical articles, market trends, news, reviews, interactions, case studies, application notes, product information, business and financial news, and a wide variety of other information relevant to the electronics industry.
At present it has readership in the range of over half million per month, which is growing at a very rapid rate of 10%- 20% per annum.
Electronics Maker particularly read by Design Engineers, researchers, Scientist, Industry Managers, Application Engineers, Project Makers, Hobbyists, Students, Professors, Govt people, Purchase Managers, Dealers/Distributors.
The most popular segments we regularly cover are test and measurement, electronics components, automotive electronics, consumer electronics, semiconductor, electronics manufacturing, industrial electronics, medical electronics, energy/lighting, telecommunication, security, aerospace and defense, power electronics, embedded design, educational tutorials, circuits/constructions etc.
To ensure maximum reach and longevity of advertisement, each edition of Electronics Maker is sent to our database as a digital magazine and is also housed on EM website.
Electronics Maker is media partner for leading shows in India and EM sign up as media partner for many International events that benefits our advertisers and readers.
For advertisers, EM provides an exciting opportunity to reach a wide mass of potential clientele. This has been made possible through a competitive advertisement tariff and a corporate motto that believes and enables quality and quantity.
Our approach to understand the client and his business and then creating a services around that it is what set apart.
We are biggest electronic print media house and professional keeping the overhead cost to minimum and yet delivering better than other electronics magazine. Lower overhead cost means a more cost effective and values for money services to our clients.
Contact 
EM Media LLP
Tel: 011-456299412
Email: info@electronicsmaker.com    Web: www.electronicsmaker.com