Arduino's open source accessories are ideal for battery powered IoT edge applications used for environmental monitoring, tracking, agriculture, energy monitoring and industrial automation.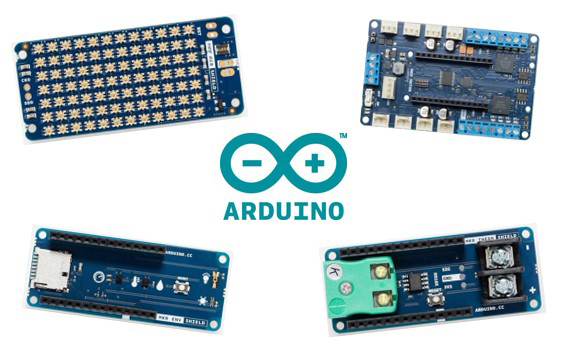 Bangalore, India, 6 June 2019: element14, the Development Distributor, has extended its embedded product offering to include four powerful and compact Arduino MKR Shields, designed to extend the capability and application of Arduino boards.
element14's extended Arduino product line provides maker engineers and prototype developers with a new suite of accessories that can be seamlessly integrated into an array of IoT applications, streamlining the journey from prototype to production.
Featuring embedded connectivity and extremely low power consumption, the open source Arduino accessories are suitable for a range of battery powered IoT edge applications. All three MKR Shields combine a standardised, modular form factor with the power of a 32-bit Arm microcontroller and the choice of integrated Wi-Fi, GSM, NB-IoT, SigFox or LoRa connectivity.
The new products now available from the element14 website include:
The Arduino MKR Motor Carrier: The perfect companion for Arduino MKR boards as it allows users to rapidly prototype and build projects.  With the MKR Motor Carrier users can connect several motors and sensors to their mechatronic project and control servo, DC, and stepper motors. The Carrier can also be used to connect other actuators and sensors via a series of 3-pin male headers.
The Arduino MKR ENV Shield: With its compact 61mm x 25mm design, 32g weight and an input voltage of 3.3V, the ENV Shield allows an MKR board to easily gather and store environmental data collected by a range of sensors. Sensors monitor atmospheric pressure, temperature and humidity, light intensity (LUX) and ultraviolet intensity (UVA and UVB). The shield is equipped with a microSD card reader and features a ready-to-use library, programmed to read values from different sensors to ensure smooth integration and data collection.
The Arduino MKR RGB Shield: Users can now write messages and add graphics to show values from an MKR board using the RGB Shield. The RGB Shield is controlled from the Arduino IoT cloud and features 84 dense and bright-mounted LEDs offering full RGB colour. With its simplistic design, the RGB Shield can be easily plugged onto an MKR board with no need for soldering or special adaptors. This powerful 61.5mm shield x 27mm shield has an input voltage of 5V, a maximum current of 2.5V and weighs 32g.
The Arduino MKR Therm Shield: With an input voltage of 3.3V and the ability to work in temperatures ranging from 200oC to 700oC, the Therm Shield allows an MKR board to deliver highly accurate and an extended range of temperature measurements from a Type K thermocouple and a DS18Bxx digital one wire sensor. Two connectors on the shield enable the Type K thermocouple to be used with or without a plug attached to the metal wires while the unit takes advantage of the MAX31855 thermocouple digital interface. The MKR Therm Shield has the same footprint as the ENV Shield.
"The addition of Arduino's new MKR Shields to our portfolio helps extend the capabilities of the MKR boards for our customers." says Hari Kalyanaraman, Global Head of Single Board Computers for element14. "With a versatile mix of wireless connectivity and sensor options, the MKR series provides flexibility for engineers and makers looking to develop and deploy IoT applications easily using the Arduino ecosystem."
The four new Arduino MKR Shields are now available from Farnell in EMEA, Newark in North America and element14 in APAC.